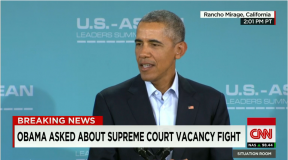 President Barack Obama took a firm tone with reporters on Tuesday afternoon as he spoke about his plan to nominate a successor to Justice Antonin Scalia, who died unexpectedly Saturday at the age of 79.
Obama skirted around the question of whether he would consider making a recess appointment—an appointment that the President is entitled to make while Congress is out of session—and instead chose to remark on the aggravating state of politics in Washington. "This has become just one more extension of politics," he said, referring to the rhetoric over blocking or filibustering (as Ted Cruz has referenced) any nominee. "It's not the fault of one political party."
The President showcased amusement over the contradictory remarks of the Republican Presidential candidates who claim to be strict constitutionalists, or originalists, but appear to be reading unwritten requirements into how the Appointments Clause of the Constitution should be interpreted.
Obama explicitly addressed his plan to exercise his right and responsibility to nominate a candidate to the Supreme Court:
The Constitution is pretty clear about what is supposed to happen now. When there is a vacancy on the Supreme Court, the President of the United States is to nominate someone, the Senate is to consider that nomination, and either they disapprove of that nominee or that nominee is elevated to the Supreme Court. Historically, this has not been viewed as a question. There is no unwritten law that says this can only be done on an off year.
President Obama did not provide any specific insight on who he plans to nominate, other than to speak generally about his plan to nominate someone who is indisputably qualified for the seat. The President's ostensible pragmatism was apparent as he remarked, "Any fair minded person, even if they disagreed with my politics, would say this person would serve with honor and integrity on the court." However, at the press conference, a reporter asked the President whether the media should interpret any of his remarks as insinuating a moderate nominee. Obama sharply retorted, "No." This might indicate the President does not plan to back down from what may become a historic political fight.
Nevertheless, Obama appeared to make a call for bipartisan cooperation, saying, "[t]his would be a good time for us to rise above that [rankor in the capitol]."
The President preceded his remarks on the divisiveness of Washington by reiterating his heart felt condolences to the Scalia family. The President did not shy away from acknowledging the distinct political orientations between him and Justice Scalia. In spite of that, Obama repeated his feeling that Scalia was a giant on the Supreme Court and, by all accounts, a good friend.
President Obama made his remarks from the Association of Southeast Asian Nations (ASEAN) summit at Sunnylands in Rancho Mirage, California, where he spoke about commerciality, economics and tense ongoing maritime disputes with Beijing.
Have a tip we should know? [email protected]