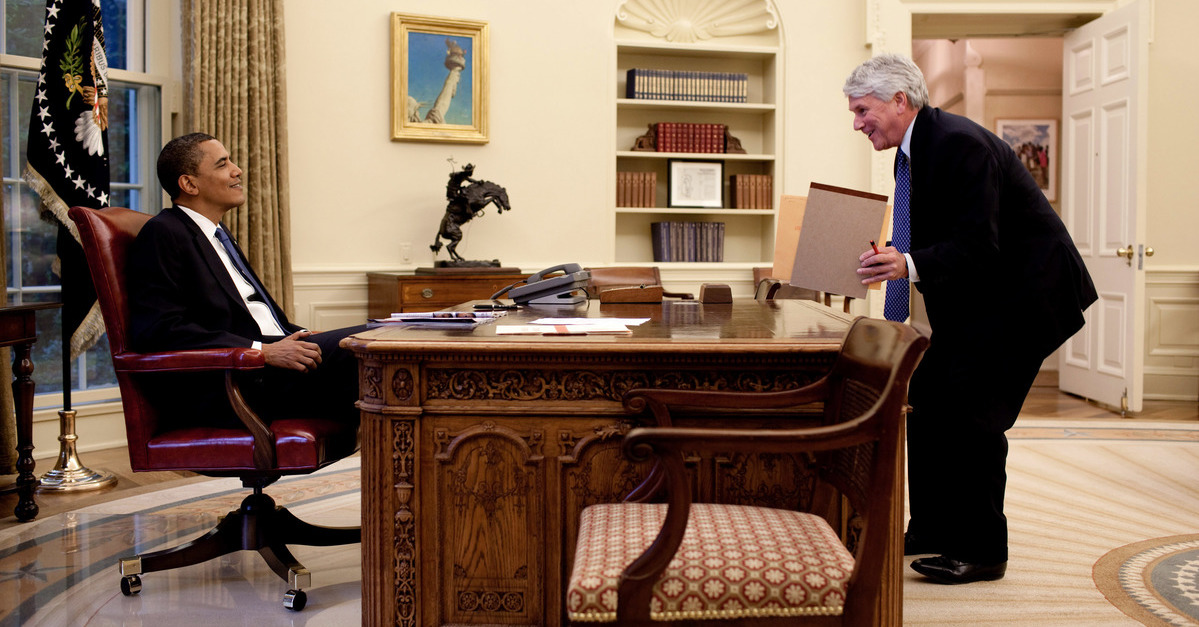 Greg Craig, former president Barack Obama's initial White House counsel, could be indicted in short order over allegations that he improperly failed to register as a foreign agent under the federal Foreign Agents Registration Act (FARA).
According to The New York Times, the Justice Department will soon make "a decision about whether to charge [the] prominent Democrat as part of a more aggressive crackdown on illegal foreign lobbying." Craig wasn't just a part of the Obama White House. He held jobs in the Bill Clinton presidency as well, and even helped Clinton mount a defense in the face of impeachment.
As Law&Crime previously reported, the U.S. Attorney's Office for the Southern District of New York (SDNY) has long eyed Craig for possible charges over his efforts to supervise the construction of a report authored by the Ukrainian government.
Special counsel Robert Mueller previously alleged that former Trump 2016 campaign chair Paul Manafort conspired with various parties–foreign and domestic–to help Ukrainian authorities conceal the fact that they paid in excess of $5.2 million for said report.
SDNY investigators apparently declined to pursue those charges over Craig's apparent work on the Ukraine project and recently punted–transferring the Craig probe to Washington, D.C. in January of this year, according to the Times. Mueller referred the case to SDNY in Sept. 2018.
Per that report:
The previously undisclosed move was driven by Justice Department officials in Washington, and reflects an eagerness within the department to prosecute violations of lobbying laws…
The D.C.-based FARA team is reportedly "aggressive" and ready to exert its influence after a recent restructuring by freshly-minted Attorney General William Barr. The team itself is being overseen by a high-profile former lieutenant in the special counsel's wide-ranging Russia probe, Brandon Van Grack, who was one of the Assistant U.S. Attorneys working on the government's case against Manafort in the Eastern District of Virginia last summer.
Craig would be the first Democrat to face charges as a result of the Mueller investigation–and this move would likely be interpreted as proof that the special counsel's investigation is quite a bit more than a partisan witch hunt solely focused on the 45th president.
Craig himself is a model of the revolving door between elite, high-priced law firms and government work–seamlessly transitioning between stints in both previous Democratic Party administrations and his legal work. In 2010, he joined "Wall Street's most powerful law firm," Skadden, Arps, Slate, Meagher & Flom.
Skadden Arps also once employed a direct target of Mueller's wide-ranging Russia probe–convicted felon Alex Van Der Zwaan, the Dutch-born attorney who pleaded guilty to lying to federal investigators and who was the first person sentenced in the special counsel's corruption-focused dragnet.
The trouble started after Manafort steered the Ukraine job to Skadden. Under Craig's direction, the firm put together a report backing up then-president of the Ukraine, Viktor Yanukovych. The report was intended to build support for Yanukovych in Washington–in part by stressing Craig's own significant contributions; apparently proof of a bi-partisan consensus–and simultaneously stamp out criticism after the now-former Ukrainian president jailed one of his political rivals, former prime minister Yulia Tymoshenko.
During their work on the project, Craig and other Skadden lawyers declined to register as foreign agents under the FARA reporting statute. Concurrent inquiries by the Justice Department were brushed off and the agency initially determined Skadden should have registered. In 2013, however, Craig convinced investigators in the Obama administration to backtrack on their decision.
Mueller picked up the inquiry again in 2017 after subpoenaing Skadden in addition to two lobbying firms who also worked on the Ukraine project referred by Manafort: the Mercury Public Affairs and the Podesta Group.
A January settlement between Skadden and the Justice Department singled out Craig–claiming he made "false and misleading" statements to other Skadden attorneys and the Justice Department regarding his work on the report. Craig lawyered up in September of last year. And, now, it looks like those alleged misstatements could quickly come back to haunt him.
[image via Pete Souza/The White House via Getty Images]
Have a tip we should know? [email protected]