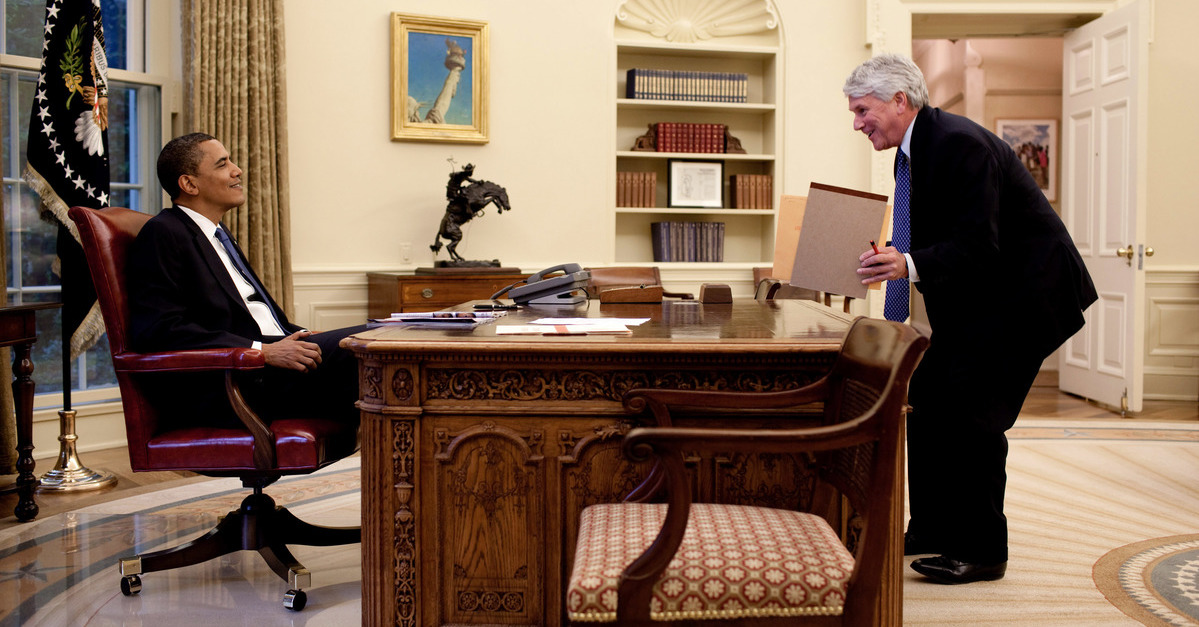 Greg Craig, former president Barack Obama's very first White House counsel, has retained a lawyer of his own. The move comes as federal prosecutors in the Southern District of New York (SDNY) weigh charges against Craig and other high-profile Democratic Party influence peddlers after special counsel Robert Mueller referred the cases to the U.S. Attorney's Office in southern Manhattan.
As reported by the National Law Journal, Craig is now represented by William Taylor III, a founding member of the elite Zuckerman Spaeder law firm, which is based out of Washington, D.C. with an additional office located in one of Midtown Manhattan's glitzier quarters–due south of Central Park.
Craig himself is a former counsel at Skadden, Arps, Slate, Meagher & Flom, another high-priced mega law enterprise which has been described as "Wall Street's most powerful law firm."
Skadden Arps also once employed a direct target of Mueller's wide-ranging Russia probe–convicted felon Alex Van Der Zwaan, the Dutch-born attorney who pleaded guilty to lying to federal investigators and who was the first person sentenced in the special counsel's increasingly corruption-focused dragnet.
Craig is currently under scrutiny as part of the SDNY's investigation into whether he improperly failed to register as a foreign agent under the federal Foreign Agents Registration Act (FARA). Notably, Paul Manafort pleaded guilty to a similar violation of the FARA statute in a superseding indictment released on Friday morning by the special counsel's office.
In terse comments to the National Law Journal, Taylor said, "Greg Craig was not required to register under the Foreign Agents Registration Act."
According to CNN, Skadden Arps itself is also caught up in the SDNY's probe though it's presently unclear whether Mueller's army of attorneys still have their sights set on anyone at the firm. The specific allegations of wrongdoing leveled at Skadden Arps are related to their role in Manafort's Ukrainian lobbying. To wit, the production of a since-discredited report defending the imprisonment of former Ukrainian prime minister Yulia Tymoshenko by then-president Viktor Yanukovych–one of Manafort's longtime clients in Ukraine.
If the U.S. Attorneys' Office in Manhattan follows through with action against the well-connected firm, however, prosecutors are likely to issue the legal equivalent of a slap on the wrist by working with the firm on a civil settlement or by simply doling out a deferred prosecution agreement–the latter of which is typically afforded to first time criminal offenders for non-felony charges–per sources cited by CNN.
Mueller's team referred the investigation into Craig and Skadden Arps earlier this summer.
At the time, Mueller also referred an investigation into longtime Democratic Party lobbyist and influence peddler Tony Podesta, who co-founded the Podesta Group lobbying firm with his brother John Podesta, an influential member of pro-Democratic Party think tank the Center for American Progress and chair of Hillary Clinton's 2016 presidential campaign.
The potential wrongdoing in the Podesta case is also likely related to Ukrainian lobbying work.
According to court filings, two companies–referred to as Company A and Company B–were hired "to lobby in the United States on behalf of President Yanukovych, [the pro-Russian] Party of Regions and the Government of Ukraine."  The Podesta Group is believed to be one of the companies in question.
[image via Pete Souza/The White House via Getty Images]
Follow Colin Kalmbacher on Twitter: @colinkalmbacher
Have a tip we should know? [email protected]