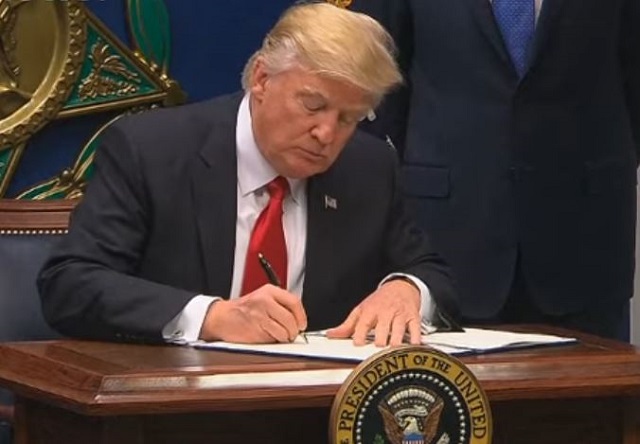 The Ninth Circuit Court of Appeals has reached a decision regarding a lower court's temporary restraining order (TRO) on President Donald Trump's executive order that restricted travel from seven Muslim countries and refugees from all over the word. After reviewing briefs and hearing oral arguments from the U.S. Justice Department and the Washington State Solicitor General (who also represented the state of Minnesota, who sued as well), the three-judge panel ruled that the TRO shall remain in place, continuing to block the travel ban.
"The Government has pointed to no evidence that any alien from any of the countries named in the Order has perpetrated a terrorist attack in the United States. Rather than present evidence to explain the need for the Executive Order, the Government has taken the position that we must not review its decision at all. We disagree," the three judges wrote in an unanimous 30 page opinion.
President Trump had this to say after the decision was announced:
SEE YOU IN COURT, THE SECURITY OF OUR NATION IS AT STAKE!

— Donald J. Trump (@realDonaldTrump) February 9, 2017
Judges Michelle Friedland, William Canby Jr., and Richard Clifton grilled attorneys from both sides over the merits of their cases and the TRO in general. While they were not ruling on the validity of the executive order, they were looking at the likelihood of Washington and Minnesota winning their case, as well as the necessity of the immediate action of placing the temporary hold on the travel ban, in determining whether the TRO was appropriate.
The case will now go back down to the district court, where Judge James Robart had been presiding over it. With the Court of Appeals saying that the TRO is proper, President Trump's travel ban is set to remain stayed for the duration of the trial. However, the DOJ could ask for a rehearing en banc, meaning by the entire Ninth Circuit, to try to get Thursday's ruling reversed, or they can appeal to the U.S. Supreme Court.
Have a tip we should know? [email protected]