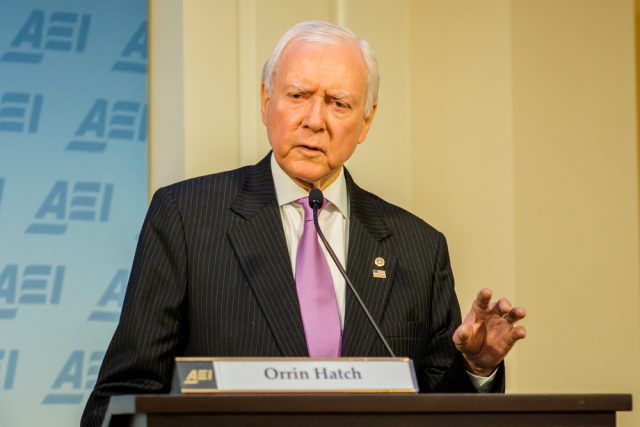 In a new opinion piece posted by SCOTUSblog, a Supreme Court blog that is well-read in the legal world, Sen. Orrin Hatch (R-Utah) pushed for the confirmation of Neil Gorsuch by trying to appeal to Democrats who may be afraid of what President Trump might do.
Well, to be clear, Hatch never mentioned Trump by name but his message couldn't be clearer based on the headline of his article: Worried about the separation of powers? Then confirm Judge Gorsuch. In the piece, Hatch emphasized Gorsuch's commitment to an independent judiciary. "With respect to the power of the executive branch, Judge Gorsuch has a strong record of reining in unlawful overreach," Hatch wrote.
This Hatch piece comes at the heels of some controversial statements made by President Trump, including calling a federal judge who ruled against his travel ban, a "so-called" judge. Others have also criticized Trump for overreaching by passing a flurry of executive orders without making sure they passed constitutional muster, and were run by the proper departments.
But Hatch's opinion piece was careful to tow the political line. He emphasized that Judge Gorsuch is not "a supporter of federal judges who go beyond their constitutional role in interpreting the law," and highlighted Gorsuch's recent opinion against President Obama's Affordable Care Act.
Hatch concluded:
To be sure, that Justice Gorsuch would be a fierce defender of the separation of powers and the rule of law does not mean his rulings will match his policy preferences, much less mine. In fact, in his tribute speech to Justice Scalia last year, Judge Gorsuch embraced Justice Scalia's philosophy of judicial restraint: "If you're going to be a good and faithful judge, you have to resign yourself to the fact that you're not always going to like the conclusions you reach." That is precisely why Judge Gorsuch is the right choice for the Supreme Court.
Have a tip we should know? [email protected]
Rachel Stockman - President / On Air Host