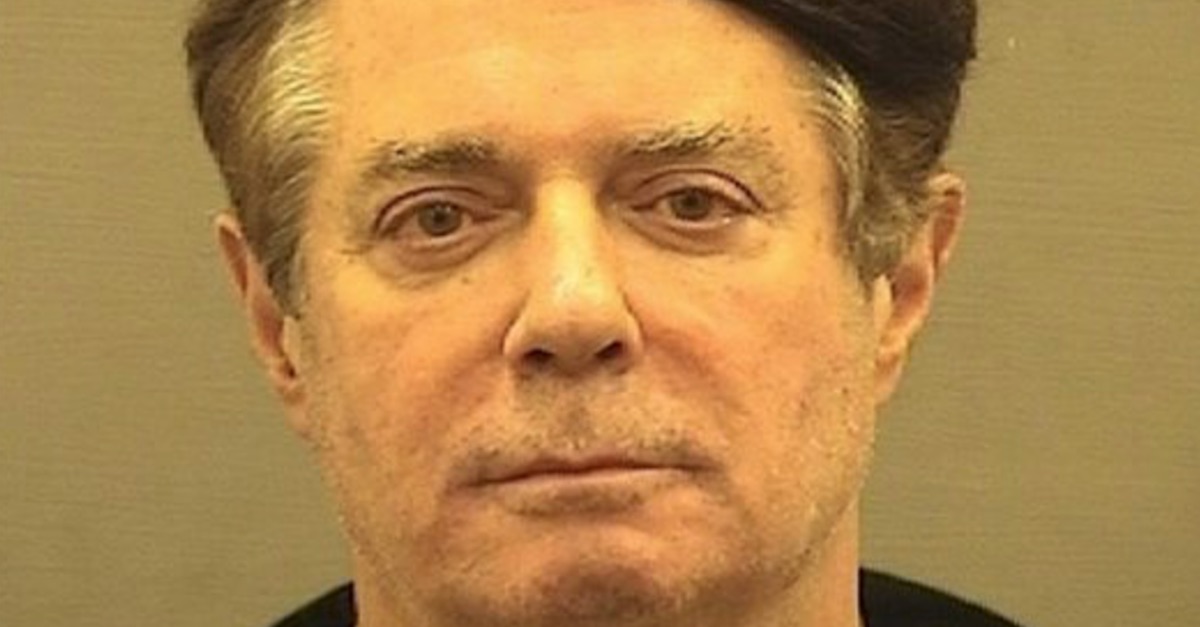 Special Counsel Robert Mueller is prepared to have witnesses clear up any issues of fact when it comes to proving Paul Manafort "lied repeatedly" in five areas, in breach of a cooperation agreement.
Mueller and his prosecutors on Friday filed a relatively innocuous response in the case, but one which also provides a bit of a roadmap heading forward.
As Mueller notes, Team Manafort has disputed that the former Trump campaign manager "intentionally lied" as alleged, and said there were a variety of factors to Manafort needing his memory refreshed. They mentioned Manafort's time in prison, depression and anxiety, gout, and how much time had passed regarding events that were the subject of Mueller's inquiry.
They said Mueller had no proof that he lied, while Mueller countered by saying that he was prepared to prove his case. Then Mueller submitted his redacted evidence. Mueller, you may recall, later provided a justification for redacting much of the Manafort filing.
"The government seeks to seal Attachment A (including its exhibits) and make the redactions reflected in Attachment B and its exhibits because the redactions relate to ongoing law enforcement investigations or uncharged individuals," Mueller said in a filing dated Jan. 15. "Public discourse of certain information in the submissions could unduly risk harming those efforts."
Mueller acknowledged on Friday that Manafort is disputing "all five alleged breaches."
The court ordered Mueller and Manafort's lawyers to settle issues about witness testimony. Mueller said that now the evidence filing is out of the way with regard to the breaches, we must turn to the question of witnesses.
"The defendant in his last submission 'disputes all five alleged breaches.' As a result, the Court required the government to submit its evidentiary basis for the five identified subject matter areas involved in its breach determination. The government made the requisite evidentiary filing, submitting to the Court a sworn declaration with exhibits."
"The question of whether live testimony will be necessary to resolve any factual issue will depend on the defendant's upcoming submission," he added.
Mueller said that Manafort hasn't submitted any evidence, so if there are issues of fact to be resolved that has to do with the government evidence. If Manafort does not submit evidence, Mueller suggested that Judge Amy Berman Jackson resolve the issues at a conference scheduled for Jan. 25.
"[T]he Court can resolve the factual issues based on the evidence submitted, drawing inferences regarding intent from that evidence, with the benefit of the parties' arguments," Mueller said.
If larger disputes arise, Mueller added, then witnesses may need to come into play. If so, he'll be prepared to proceed.
"If there are material factual disputes, however, witness testimony will assist in the resolution of those issues. Finally, the government is of course prepared to proceed with witness testimony if the Court believes it will assist in resolution of the matter," he said in closing.
In summary, you may see factual issues resolved next week or you may see new fights that will get witness accounts on record.
[Alexandria Detention Center]
Have a tip we should know? [email protected]