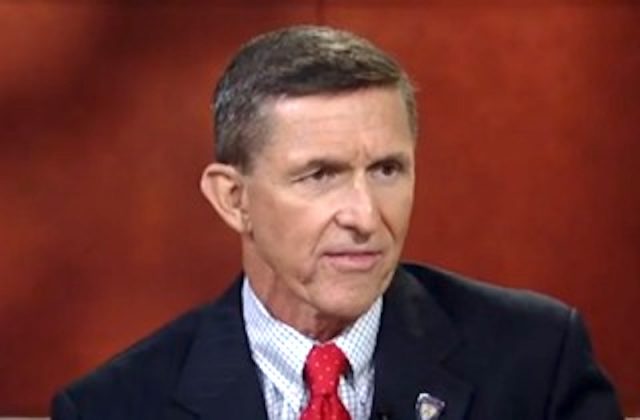 Retired Lt. Gen. Michael T. Flynn wants other people to pay for his mounting legal fees.
Flynn's Twitter feed went dark in December 2016. This morning it lit up with the following plea:
Lori and I are very grateful to my brother Joe and sister Barbara for creating a fund to help pay my legal defense costs…We deeply appreciate the support of family and friends across this nation who have touched our lives.
The second tweet includes a link to mikeflynndefensefund.org, where users can donate to the disgraced former national security adviser via PayPal. The site itself is decked out with high-resolution and highly-cropped images of Old Glory as well as a splash page bearing a low-resolution image of Flynn himself–half-smirking; half-sad.
After clicking on the "Contribute" link, an explainer reads: "The Michael T. Flynn Legal Defense Fund has been established by friends and family of Lt. General Mike Flynn (Ret.) to help his family meet the tremendous costs of legal representation, amid multiple investigations related to the 2016 election. Friends and supporters can aid in his defense by contributing. Any support provided is greatly appreciated."
Flynn was famously cast aside by President Donald Trump after reports of his contacts with the Russian ambassador, Sergey Kislyak, reached a fever pitch. It's been widely speculated that Flynn misled Vice President Mike Pence about those contacts. When commenting on the first high-profile firing during the still-tumultuous Trump administration, then press secretary Sean Spicer noted that Flynn's tenure ended, "[N]ot based on a legal issue, but based on a trust issue."
In all, Flynn was national security adviser for 24-days–a record low.
Since then, the typically outspoken former lieutenant general has mostly kept quiet. His name has occasionally popped up in the news as special counsel Robert Mueller's Russiagate investigation continues to ensnare Trump associates and various documents related to the inquiry. Flynn's son, Michael G. Flynn, has also become a person of interest in the Russia probe.
Flynn's online ask is perhaps indicative of how expansive Mueller's investigation is proving to be. Flynn himself is fairly well-paid, or at least he used to be. In ethics forms filed when Flynn applied for his fleeting White House job, Flynn noted a series of nearly two dozen speaking fees which ranged from $10,000 to $90,000 apiece. Other "consulting" work hauled in just shy of $1 million.
The site puts it plainly:
The costs of legal representation associated with responding to the multiple investigations that have arisen in the wake of the 2016 election place a great burden on Mike and his family. They are deeply grateful for considering a donation to help pay expenses relating to his legal representation.
The lone disclaimer on Flynn's don't-call-it-a-kickstarter notes that only U.S. citizens and permanent residents can donate.
[image via screengrab]
Follow Colin Kalmbacher on Twitter: @colinkalmbacher
Have a tip we should know? [email protected]