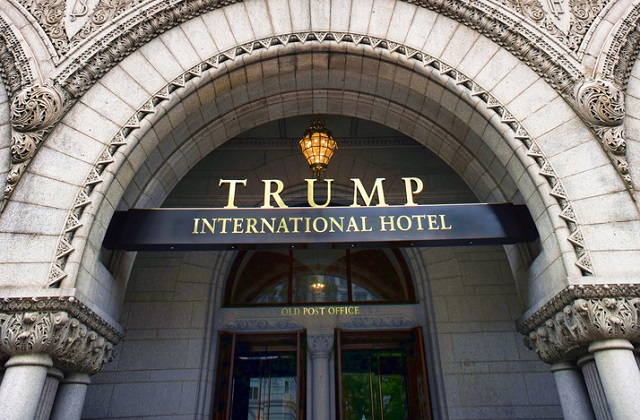 Critics of President Donald Trump have had concerns over the real estate mogul's business dealings since before he even took office, but a new report is likely to spark the controversy–and legal battles–all over again. A Daily Beast article about the Trump International Hotel in Washington, D.C. includes an email from the hotel's director of revenue management that claims the President is much more involved in his business than he let on.
The email, which was supposedly sent by Jeng Chi Hung, said:
DJT is supposed to be out of the business and passed on to his sons, but he's definitely still involved… so it's interesting and unique in that way. I had a brief meeting with him a few weeks ago, and he was asking about banquet revenues and demographics. And, he asked if his presidency hurt the businesses.
Remember, Trump said when he took office that he was leaving the operation of his businesses to his children, even though he would not divest from them completely. That alone was enough for Trump to be hit with multiple lawsuits claiming that Trump was in violation of the Constitution's Emoluments Clause, which prohibits those in office from receiving gifts from foreign countries or their representatives. One concern was that foreign actors would stay at Trump's D.C. hotel in order to curry favor from the president.
In fact, while it is common for hotels to lose money when they first open, the Washington Post reported that Trump's D.C. hotel made $1.97 million in profits from the time Trump took office through April 15 of this year. The hotel expected to lose $2.1 million during that stretch.
The Emoluments Clause lawsuits have been unsuccessful, but this evidence that Trump was meeting with hotel management to discuss revenue and his job's impact on business could encourage more critics to give it a shot.
While the email may seem like strong evidence to some, however, the truth of its contents have already been denied by the hotel's managing director, Mickael Damelincourt.
"This is total nonsense," Damelincourt told The Daliy Beast. He went on to say:
Upon review of the email referenced in your inquiry, we have met with the individual and he has confirmed that he made these comments up in an effort to enhance his sense of importance to a former employer. In fact, this individual confirmed to me today that he has never met the President nor did any conversation ever take place. We are continuing to investigate this matter internally.
Whether the email was truly bogus, or if Damelincourt was just trying to cover for Trump likely won't matter for litigious NeverTrumpers, because it's something new they can add to a lawsuit as "proof" that the president is breaking the law. Of course, if the Southern District of New York's recent decision is any indication, they won't have much luck. Judge George B. Daniels wrote in his opinion that only Congress can determine whether the President has stepped out of line in receiving emoluments.
[Image via Shutterstock]
Have a tip we should know? [email protected]