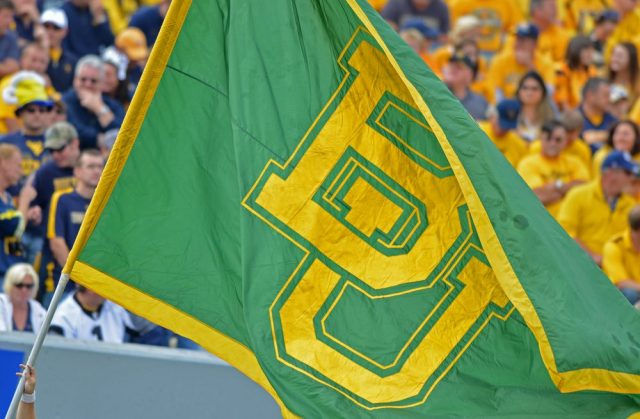 A former member of the Baylor University women's volleyball team filed a Title IX lawsuit against the school on Tuesday, alleging that the university improperly handled allegations that she was gang raped by school football players in February 2012. The lawsuit paints a detailed picture of a rape culture at the school that university officials allegedly failed to control, as well as fostered. This is the seventh Title IX lawsuit against the school in recent years.
The woman, going by the name "Jane Doe" in the lawsuit to maintain anonymity, claims that between four and eight members of the Baylor football team raped her, and that the University not only didn't respond to her claims appropriately, but that they created the environment that encouraged the attack.
"This case arises from Baylor's deliberately indifferent response to multiple events of student-on-student sexual assault and subsequent sex-based harassment," the complaint says. Doe claims that because the university didn't effectively handle past allegations of campus sexual assault, they created conditions that increased her chances of being assaulted, and brought about increased sexual harassment on campus.
The lawsuit alleges that the Baylor football program, led by Coach Art Briles, had a "'Show em a good time' policy" for their players, as a means of attracting top recruits. That allegedly included taking underage recruits to strip clubs, and funding off-campus parties where players allegedly gang raped female students.
The allegations specifically state that as a method of hazing freshman teammates, players would bring freshman girls to parties hosted at players' houses. "At these parties, the girls would be drugged and gang raped, or in the words of the football players, "trains" would be run on the girls," the lawsuit says. These were allegedly "bonding" experiences for the team. Players then allegedly circulated photos and videos of the rapes among themselves. Doe claims that she was the victim of one of these gang rapes, where players took turns having sex with her while she was barely conscious and couldn't move.
In addition to sexual assault, Doe claims that player parties featured dog fighting as well, resulting in one dog almost dying from serious injuries.
The lawsuit states, "Sexual assault and dating violence permeated Baylor's football program dating back to at least 2007." It notes that an investigation by law firm Pepper Hamilton turned up allegations of sexual assault or domestic violence from 17 different victims against 19 different Baylor football players. Those allegations included claims of four gang rapes in 2012, one of them being Doe's. Adding to this number, the complaint says that more recent reports show that between 2011 and 2014, there were at least 52 alleged rapes by at least 31 players.
According to the complaint, coaches and staff looked the other way when it came to accusations against football players, failing to report incidents to anyone outside the athletic department, and in some cases trying to pressure victims into not reporting incidents of sexual assault to law enforcement.
Doe says that after her alleged rape, her mother spoke to an assistant coach about the incident, naming the players allegedly involved. Months later, the complaint says, Doe was harassed by players after the assistant coach spoke to two of the alleged offenders. She also claims players burglarized her apartment. She says she reported the burglary to Coach Briles, and that Briles later learned of the sexual assault. Still, similar incident continued to occur involving other female students. The school's athletic director allegedly denied knowing about Doe's assault at a 2015 hearing, only to later admit that he had known about it since 2013, but didn't report it to the school's Judicial Affairs department.
Baylor fired Coach Briles in May 2016. Former President Ken Starr was demoted and then resigned in the midst of university sexual assault scandals, brought to light after the Pepper Hamilton investigation.
In a statement, Baylor University said:
The alleged incident outline in the court filing occurred more than five years ago, and Baylor University has been in conversations with the victim's legal counsel for many months in an attempt to reach an amicable resolution. … Baylor remains committed to eliminating all forms of sexual and gender-based harassment and discrimination within our campus community."
Jane Doe v Baylor University Complaint by LawNewz on Scribd
[Image via Shutterstock]
Have a tip we should know? [email protected]