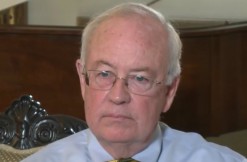 Baylor University announced on Friday that former president Ken Starr no longer works there. He'll leave behind a tenured professorship. The statement attempted to convey warmth in no uncertain terms.
The mutually agreed separation comes with the greatest respect and love Judge Starr has for Baylor and with Baylor's recognition and appreciation for Judge Starr's many contributions to Baylor. Baylor wishes Judge Ken Starr well in his future endeavors. Judge Starr expresses his thanks to the Baylor family for the opportunity to serve as president and chancellor and is grateful for his time with the exceptional students of Baylor University who will lead and serve around the world.
The phrase "respect and love" doesn't show up on many official statements.
But Starr's last months at this Texas university was anything but pleasant. He got demoted from the presidency on May 26 because lawyers hired by the school conducted an external review and discovered that sexual assault allegations on campus were mishandled under his leadership. Within a week, he resigned from his position as Chancellor.
While it's easy to guess this controversy caused the new "separation," Friday's statement makes no reference to it, or any other reason Starr would leave. His future plans also remain unclear.
Starr became (in)famous when, as independent counsel investigating Paul Jones' sexual harassment lawsuit against then-president Bill Clinton, helped discover the affair between intern Monica Lewinsky and Clinton. 
[Screengrab via KWTX]
Update – August 22, 12:46 p.m.: We reached out to Baylor for clarification–why exactly is he leaving, and what his future plans are–but spokeswoman Lori Fogleman told us Friday's statement is all they had to share.
Starr told The Waco Tribune in an interview Friday that him leaving was Baylor's idea.
–
Follow Alberto Luperon on Twitter (@Alberto Luperon)
Have a tip we should know? [email protected]