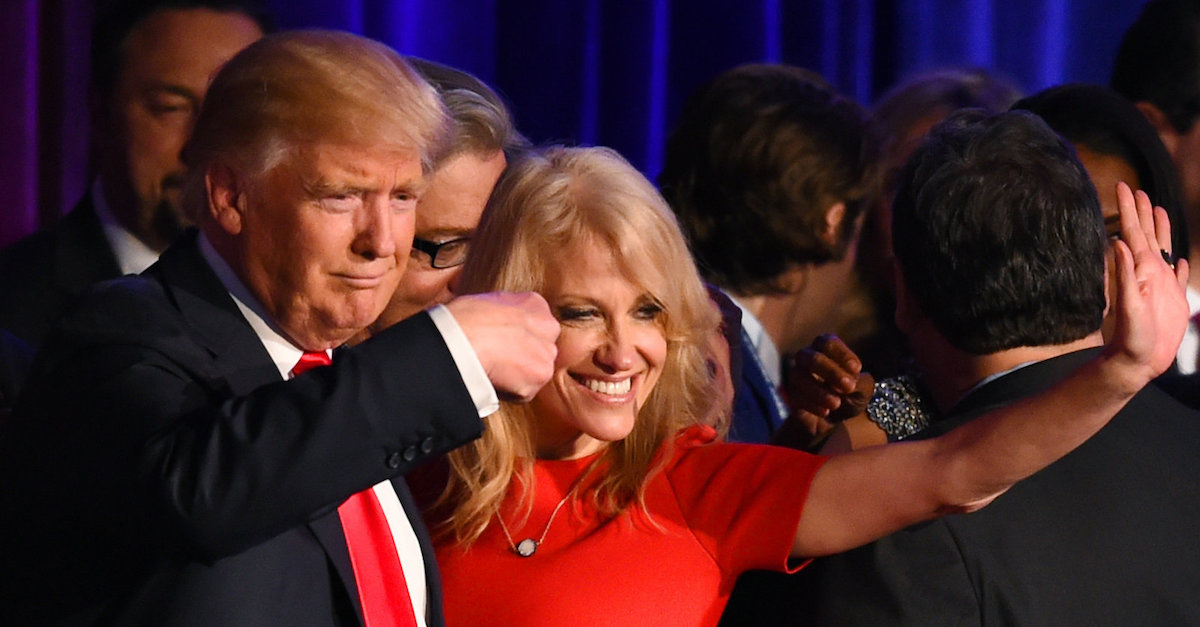 George Conway wouldn't be the first person who disliked his spouse's boss, but it's a little different when it's the President of the United States. He called out Donald Trump's claim last week that the appointment of Special Counsel Robert Mueller was "totally" unconstitutional.
"He didn't explain what his argument was, or where he got it, but a good guess is that it came from some recent writings by a well-respected conservative legal scholar and co-founder of the Federalist Society, professor Steven Calabresi," Kellyanne Conway's husband wrote in a newly published piece for Lawfare, titled "The Terrible Arguments Against the Constitutionality of the Mueller Investigation."
We wrote about Calabresi's Wall Street Journal op-ed in May. He argued that Mueller's appointment was constitutional because the special counsel was acting like a "principal officer" (which are confirmed by the Senate) and that Russia probe stepped over the legal line by "investigating a large number of people" and charging defendants for alleged crimes unrelated to Moscow collusion.
"That's too much power for an inferior officer to have," Calabresi wrote. "Only a principal officer, such as a U.S. attorney, can behave the way Mr. Mueller is behaving. Mr. Mueller is much more powerful today than any of the 96 U.S. attorneys. He is behaving like a principal officer."
Conway, a conservative attorney once up to join the Trump administration, argued that Calabresi mis-categorized the U.S. attorneys.
"It is true that, typically, the 93 (not 96) U.S. attorneys are presidentially nominated and Senate-confirmed," he wrote. "But Congress has established an alternative method of appointment."
He pointed out that federal law lets the Attorney General fill vacancies for up to 120 days, and that local district courts can fill the spot indefinitely.
"Today, the sitting United States attorneys in two of the most important judicial districts in the country—the Southern and Eastern Districts of New York—were appointed by the judges of those districts under Section 546(d)," he wrote.
In short, U.S. Attorneys are inferior officers, not principal. On top of that, the size of Mueller's office was about on par on the U.S. Attorney's Office for the District of Wyoming, and dwarfed by the larger officer at the U.S. Southern District of New York. He also said the scope of the special counsel's probe is "quite narrow" compared to the U.S. Attorneys.
"If the U.S. attorney who runs that office [SDNY] is an 'inferior officer,' then so too is Robert Mueller," he wrote.
Conway also took Calabresi to task over interpretations of the Appointment Clause, Deputy Attorney General Rod Rosenstein's order appointing Mueller, and congressional testimony by Rosenstein.
"Rosenstein's testimony thus confirms that Special Counsel Mueller does have an active principal-officer boss—indeed, it suggests that Mueller is probably being supervised and directed more closely than any of the 93 U.S attorneys from Maryland to Guam," he wrote.
Conway was once up to work for the Trump Justice Department, but bowed out of consideration in June 2017. In a statement, he said it wasn't the right time for him and his family if he left the private sector, and voiced support of the president. That sentiment doesn't seem to have lasted. Through his Twitter account, Conway often threw subtle and shady digs at the administration's legal decisions and related controversies. He wasn't usually overt about it, then the president called the Mueller appointment "totally" unconstitutional last week, and Conway weighed in.
Pretty awkward considering his wife Kellyanne Conway is one of the president's most consistent defenders, and the campaign manager at the end of the 2016 race.
[Image via Timothy A. Clary and AFP/Getty Images]
Have a tip we should know? [email protected]