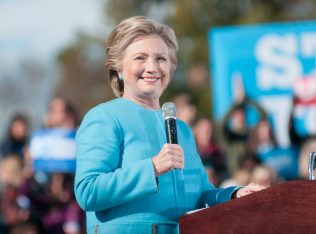 The government watchdog group Judicial Watch filed a motion to compel on Thursday, asking a federal judge to force Hillary Clinton to provide responses to three questions she previously refused to answer under oath.
Earlier this year, U.S. District Court Judge Emmet Sullivan issued an order allowing Judicial Watch to submit written questions for Clinton to answer as part of a Freedom of Information Act (FOIA) lawsuit.  Judicial Watch filed the lawsuit to obtain information about the unique employment status of Huma Abedin and whether Clinton and her aides at the State Department attempted to thwart FOIA requests.
Clinton filed her responses to the questions on October 13, but she refused to answer three of the questions about the decision to set up the email system, her decision to continue using the system even after emails appear to show other State Department officials expressed concerns, and the basis for her claims that the State Department system captured "90% — 95%" of her emails.
"By refusing to answer our simple questions, Hillary Clinton is obstructing our efforts to get basic information about her email practices," Judicial Watch President Tom Fitton said in a statement obtained by LawNewz.com. "Because she has not – and cannot – demonstrate that her refusal to answer our questions is proper, Hillary Clinton should be required by the court to answer them promptly."
In its motion to compel, Judicial Watch further argues Clinton failed "to provide sufficient reasons for refusing to answer [the questions], and the limited reasons she provides do not warrant sustaining her objections."  They also cite Rule 33 of the Federal Rules of Civil Procedure that states, "[t]he grounds for objecting to an interrogatory must be stated with specificity…. In addition, the party objecting to the interrogatory 'bears the burden of 'show[ing] why discovery should not be permitted….'"
However, it is unlikely that Judicial Watch will receive answers to these questions prior to the election. Clinton, through her attorneys, will first likely file a response to the motion to compel before Judge Sullivan ultimately issues a final decision.
[image via Andrew Cline/shutterstock]
Have a tip we should know? [email protected]