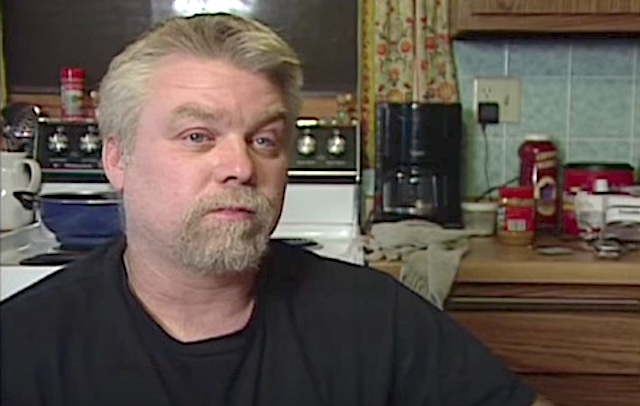 A trial judge in Manitowoc County, Wisconsin has ruled that convicted killer Steven Avery should not receive a new trial. The cases against Avery and his nephew Brendan Dassey were featured in the hit Netflix film Making A Murderer. Both were convicted during separate trials for the October 31, 2005 murder of freelance photographer Teresa Halbach.
In a decision posted today, Judge Angela W. Sutkiewicz issued a wholesale denial of Avery's original request for a new trial, a subsequent motion to reconsider, and numerous supplements. Avery's attorney, Kathleen Zellner, who boasts a record of getting other prisoners out from behind bars, had already sought an appeal before the judge issued this decision.
Zellner filed a motion for post-conviction relief on June 7th. Judge Sutkiewicz denied it on October 3rd. Zellner subsequently filed a motion for reconsideration on October 23rd, which she supplemented with additional claims on November 1st, November 2nd, and November 17th, the judge pointed out. Zellner's final supplement appeared in part to be a response to this analysis of  just a few of her earlier claims.
The tone of the judge's decision is professional, but the judge ultimately ripped Zellner's procedural tactics and called her characterizations of evidence "speculative."
(1) Is Zellner's "New" Evidence Really "New"?
Zellner has repeatedly argued that she needs to keep submitting additional documents to the court to keep on top of newly-discovered evidence. The judge appeared irritated by that tactic, saying the "new" evidence wasn't really "new" and that Zellner's attempts to characterize it as "new" are "incorrect":
In its numerous filings after October 6th, the defense submits a substantial amount of what it calls newly discovered evidence. That characterization is incorrect. The defendant chose to submit a motion on June 7, 2017, with, as he asserts, the need for further scientific testing to be done to support claims that he argued in his original motion. In the subsequent documents, the defense outlines new arguments and new theories of the case for the court to consider. What is missing in the wealth of arguments and documentation is any explanation as to why the defendant filed his motion on June 7, 2017, knowing that further scientific testing was required to complete his motion and that considerable investigation was still being conducted by the defense.
While Zellner has over the last several months pointed to new transcripts of jailhouse recordings, new affidavits, new forensic examinations, and new relevant fights between Avery family members, many of her "new" theories play off of, make use of, or — in some cases — ignore information which has been contained on the record since the original investigation and trial. The judge dismissed her notion that the evidence is "new" in wholesale fashion and without parsing through Zellner's filings to determine what truly is based on a "new" test and what is not. That failure of inquiry raises questions about the fairness of this particular order denying Avery a new trial, but it points to a reality known to practicing attorneys everywhere:  burying the judge with paperwork without seeking leave to do so usually is perilous.
(2) Is Zellner's So-Called "New" Evidence Really That Strong?
The judge doesn't think so, and that's why the judge dismissed the motion for a new trial wholesale. The judge pointed to "speculative" defense conclusions on "interim opinions" by experts in Zellner's motions.
[T]he court quoted the defendant's experts, indicating that they could not reach definitive conclusions regarding items of evidence without further testing. Without such conclusions, the reports are speculative and do not present facts that the court must consider. The defendant did not wait for the final tests to be run and conclusive reports to be issued before submitting his motion. The court must accept the allegations in the motion as true only if there are facts of record to support them; the court is not required to accept as fact the defendant's interpretation of the expert's interim opinions.
(3) Can Zellner Keep Filing Documents After Losing An Initial Argument?
The judge appears to be irritated that Zellner keeps piling information into the record after suffering an initial loss. At first blush, it looks like Zellner is spinning her wheels, hurdling mud at the judge and hoping something eventually sticks. Courts do not generally like that. The judge, perhaps feeling buried at this point, stated:
No communication was made to the court indicating that the original motion was incomplete and would be supplemented with further information. Only after the court fully considered the evidence submitted and issued its final ruling did the defense finally alert the court to the fact that it was working on further evidence to support its arguments.

[ . . . ]

It is for the court, and not the parties, to determine if amendments to motions previously filed will be permitted.

[ . . . ]

The defense cannot try to amend a motion that was filed without reservation only after it receives an adverse ruling.

[ . . . ]

[T]here is no reason asserted or good cause shown as to why the motion was submitted prior to the conclusion of all scientific testing.
Bottom line:  most judges like to make decisions with all the information up front, and this judge appears to be no different.
(4) Agreements With Prosecutors Were Not Rubber-Stamped By The Court
The judge also chastised Zellner for making agreements on scheduling, testing, and other matters with prosecutors while not keeping the court in the loop:
None of the agreements were submitted to the court for its approval until after the final decision was made in the defendant's original motion.

[ . . . ]

Furthermore, it is for the court, and not the parties, to establish scheduling for matters pending before it. While cooperation between parties is to be encouraged, that cooperation and any agreements reached are not binding on the court. Agreements should have been submitted for approval of the court prior to the final decision on the original motion being reached.
The judge concluded:
The court does not find that the defendant's interpretations of the facts of this case or his interpretation of legal precedent are correct and finds no basis to reverse its previous decision. Furthermore, a Motion to Reconsider is not the appropriate forum for the court to consider new arguments based on a defendant's additional arguments for a new trial. Such arguments should have been asserted in the defendant's first motion.
Because Kathleen Zellner had already sought to move the case to an appeals court, she tweeted that this judge's decision carries no weight:  "Avery trial court issues new opinion 11 days after it no longer has jurisdiction of case which is now with the appellate court… oops."
Avery trial court issues new opinion 11 days after it no longer has jurisdiction of case which is now with the appellate court… #MakingAMurderer #Oops

— Kathleen Zellner (@ZellnerLaw) November 28, 2017
That tweet led to a smattering of back-and-forths about whether Zellner's tweet an incorrect read of Wisconsin procedural law:
The appellate court acquired no jurisdiction over your motions to vacate and reconsider, because you can't file a Notice of Appeal from a "refusal to grant" a motion. You actually need an Order. #OopsOops.

— puzzledbyitall (@puzzledbyitall2) November 28, 2017
Hint: This is NOT an appeal under Wis. 809.30, which means that under Wis. 808.075 the trial court may rule until the record is filed with the Court of Appeals. An absolutely clear answer. Zellner is absolutely wrong. Again.

— puzzledbyitall (@puzzledbyitall2) November 28, 2017
11-28-2017 Memorandum Decision and Order (Wisconsin v. Steven Avery) by LawNewz on Scribd
Aaron Keller is an attorney and a live streaming trial host for the Law&Crime Network. Formerly a local  journalist in Wisconsin, he covered the disappearance of Teresa Halbach and the subsequent trials of Steven Avery and Brendan Dassey between 2005 and 2007.
[Editor's note: this piece has been updated to include a PDF of the judge's order.]
Have a tip we should know? [email protected]
Aaron Keller - Deputy Editor-in-Chief