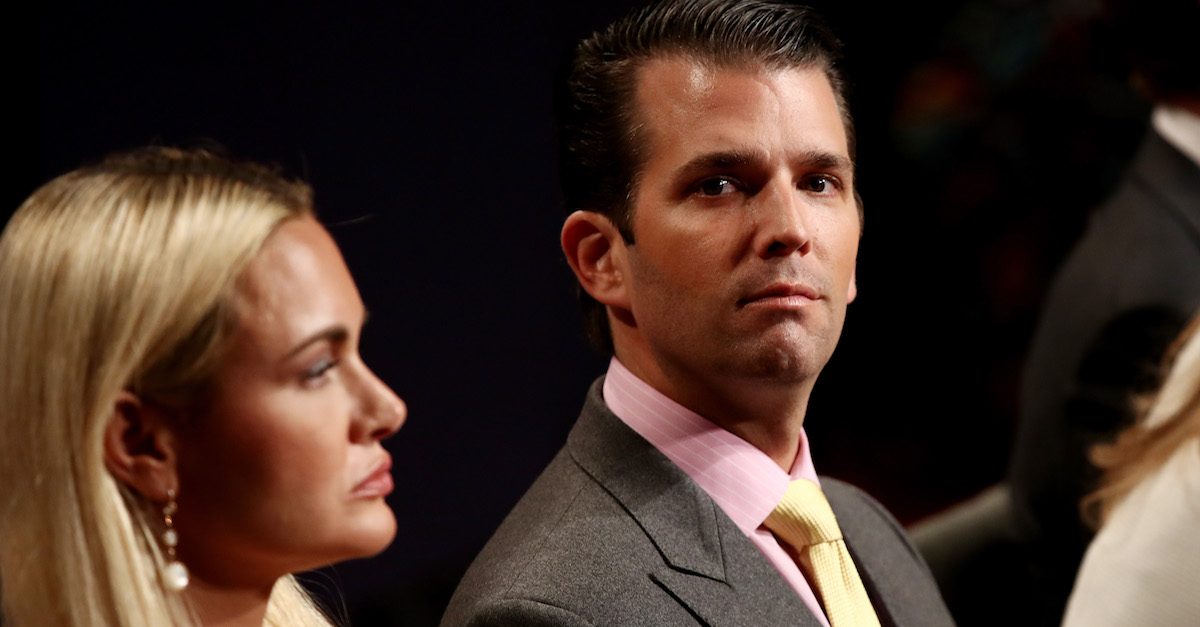 Going by this judge's assessment of things, Donald Trump Jr. and Vanessa Trump are in the middle of an amicable divorce.
Page Six reported the Thursday morning goings on at the New York Supreme Court in Manhattan, where Judge Michael Katz noticeably praised the pair for, basically, being adults through this process. The couple has five children together (Kai, Donald Trump III, Tristan, Chloe and Spencer).
"I very much would like to commend both of you for working out whatever differences you may have had regarding those issues and committing to co-parenting with each other," the judge said. "You have prioritized your children and taken steps to shield them from what could have been an invasive litigation process. Not everyone is able to do that."
According to the Associated Press, the couple has already resolved child custody issues. Among the remaining issues are financial conflicts. Trump Jr.'s lawyer Norman Heller indicated that the legal matter will be resolved in the "next several weeks."
The couple married in 2005; Vanessa Trump filed for divorce in March.
Donald Trump Jr. has been spotted often of late with his new girlfriend, former Fox News personality Kimberly Guilfoyle. We say former because Guilfoyle recently accepted a vice chairwoman position at pro-Trump super PAC America First. They reportedly started dating in the spring.
https://www.instagram.com/p/BlncYeCH-8H/?utm_source=ig_embed&utm_campaign=embed_loading_state_control
Multiple unidentified friends of the ex-couple have whispered about what led to the divorce.
"The problems have been there for a long time, the couple had hoped to stay together during the president's time in office, but it is getting harder to resolve their issues. He's never there," one said.
"Vanessa is by nature is a very low-key person, and she is uncomfortable with the attention her family is getting now the Trumps are on the world stage. She is also worried for her kids, particularly after she received the threatening letter containing the white powder," said another.
The second friend was alluding to a day there was serious concern for Vanessa Trump's safety. She had opened a letter that contained a white powder. It was corn starch.
Nonetheless, she was taken to the hospital as a precaution.
[Image via Win McNamee/Getty Images]
Have a tip we should know? [email protected]