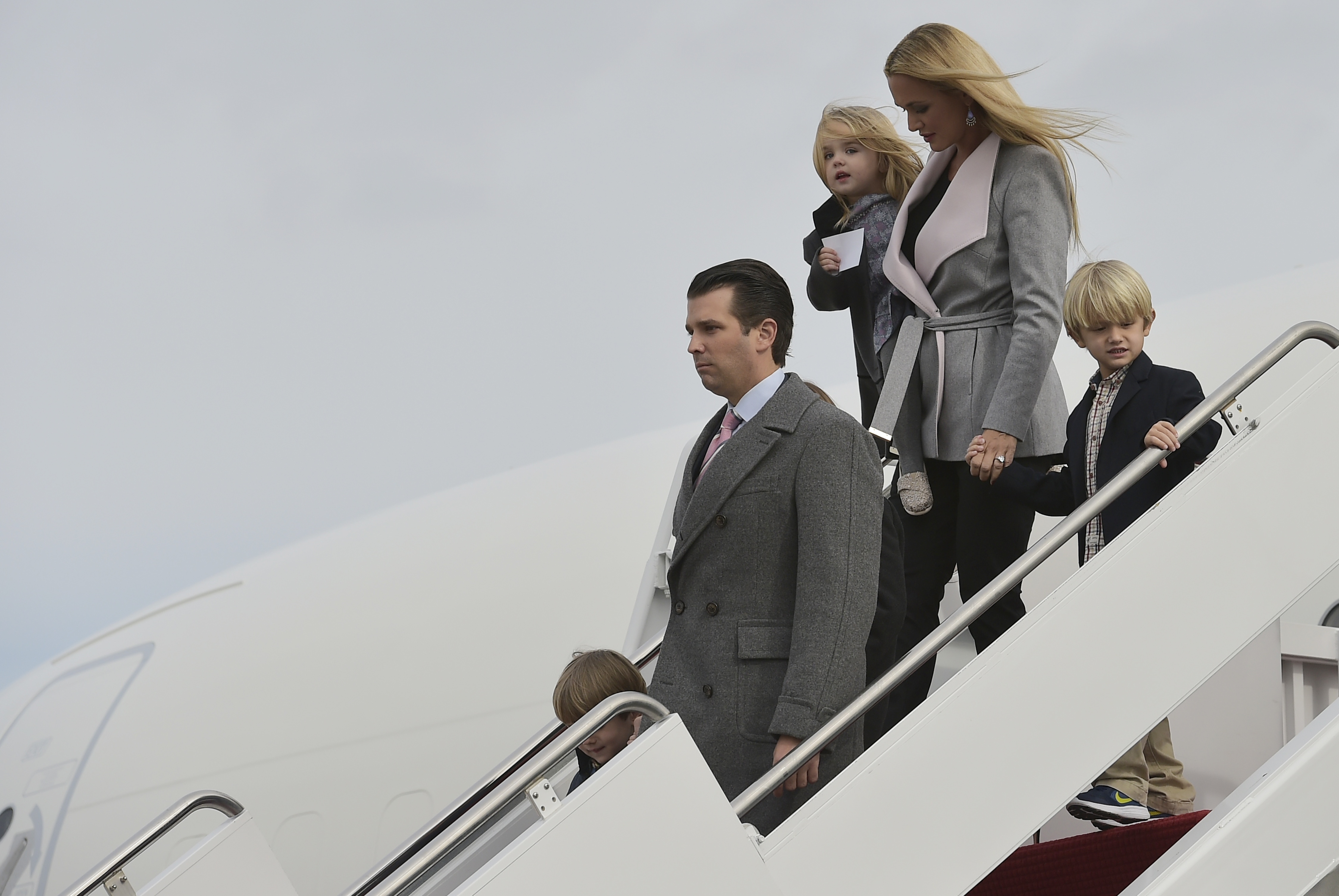 Donald Trump Jr. and his wife, Vanessa Trump, are allegedly heading toward the Big D—and that doesn't mean Dallas.
Multiple friends of the couple "exclusively confirmed" the eldest presidential son's marital woes to celebrity gossip website Page Six. According to that report, while not legally separated, they're effectively separated and "living separate lives."
Those friends expect divorce proceedings to be filed soon—due in no small part to friction caused by President Donald Trump's assumption of presidential duties.
One anonymous source said, "The problems have been there for a long time, the couple had hoped to stay together during the president's time in office, but it is getting harder to resolve their issues. He's never there."
Another source noted, "Vanessa is by nature is a very low-key person, and she is uncomfortable with the attention her family is getting now the Trumps are on the world stage. She is also worried for her kids, particularly after she received the threatening letter containing the white powder."
But it's not just because his dad's the president.
Donald Trump Jr.'s proclivity for hunting big game animals is also apparently taking a toll on his marriage. Not because Vanessa Trump has a soft spot for endangered species—but because her husband's still-frequent hunting trips have kept him away from the family.
A source said, "Don Jr. has been busy traveling, which has contributed to their problems. Vanessa is a devoted mother, but she is increasingly lonely and alone in the house with the children."
Other friends of the couple cited a marked "change" in Donald Trump Jr.'s behavior as of late—essentially speculating that his harsh right-wing theatrics over the past two years have been a stunning break from his previous conduct. Of major concern was a tweet linking antidepressant use to mass murder, liking a tweet attacking a survivor of last month's massacre in Parkland, Florida, and his strident defense of gun rights after that incident.
How would a divorce like this work in New York State? That is, what's in store for the Trumps?
To begin, New York is what is known as an "equitable distribution" state. In New York, property and assets acquired during marriage belong to the spouse who earned them. When spouses divorce, their property and assets are to be divided in a fair and equitable manner–but there are no legally-defined rules for how to do that. So, what does this actually mean? It means a judge will make a decision based on a variety of factors like relative earning contributions, future earning potential, the value of staying home to raise the children, et, al. When it comes down to it, a spouse will likely be awarded between one-third and two-thirds of the marital property.
So, that's the basic legal starting point–but the basic law here might not really matter at all.
Law&Crime reached out to famed New York State divorce attorney Nicole Noonan who noted that Donald Trump Jr. likely has "an ironclad prenup." She said, "The interesting issue in this case will be child support and custody. Something you cannot pre plan for in a prenup."
Donald Trump Jr. and Vanessa Trump have five children between them. And, aside from Trump Jr.'s vast inherited wealth, custody issues are likely to be the major sticking point between the couple if and when they separate.
As Law&Crime's own Elura Nanos (patiently) explained, "In the event of a divorce, most couples settle all of their legal issues through a settlement agreement. Their lawyers battle out the terms of that agreement–and that battle can be very quick or very protracted. So, if these two agree that mom gets the kids or that they have joint custody, then it won't be an issue and they'll move on to fighting about money for the next five years."
Nanos continued, "But that could change if one or other other decides that they want sole custody." Since there's no indication from Page Six's reporting that Donald Trump Jr. and Vanessa Trump have any real animus–and that Donald is, by all indications, a good and capable parent–sole custody isn't likely to be requested here. And, even if it were, the spouse requesting sole custody would then have to move for a rare (in New York State) custody trial–one they'd likely lose anyway.
TL;DR–it sure looks like part of the presidential family is splintering, but this is all sourced from a gossip rag, so read with salt if you can. When it comes down to it, most of the money issues are probably pre-solved by a prenup and don't expect much fuss when it comes to the kids. Miraculously, this looks like one Trumpian legal battle that doesn't offer much in the way of drama–unless someone on either side simply relishes the drama, that is.
[image via MANDEL NGAN/AFP/Getty Images]
Follow Colin Kalmbacher on Twitter: @colinkalmbacher
Have a tip we should know? [email protected]