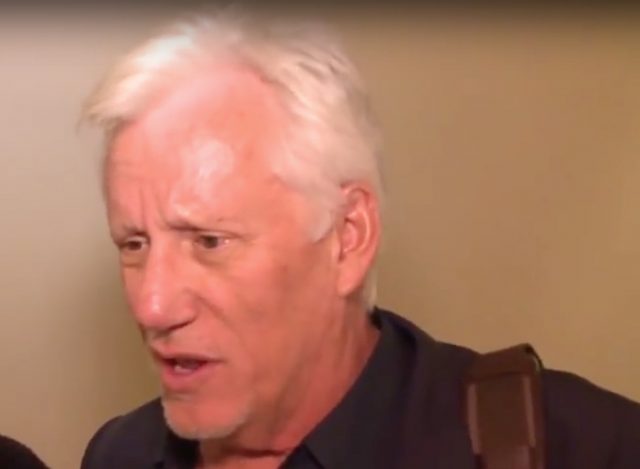 Hollywood actor James Woods has been sued by a 64-year-old Ohio woman who was falsely accused of being the woman pictured giving a Nazi salute at a Donald Trump rally in March 2016. Portia Boulger filed the lawsuit on March 3 in federal court in Ohio, accusing Woods of defamation and invasion of privacy for his alleged role in spreading the rumor via Twitter that she was the woman in the picture.  Further investigation by media outlets revealed that Boulger was not the woman in the picture.
According to a copy of the lawsuit obtained by LawNewz, Boulger alleges that Woods sent out a tweet saying, ""The 'trump Nazi' is Portia Boulger, who runs the Women for Bernie.'"  After Woods' tweet, Donald Trump Jr. allegedly sent it out as retweet, allegedly spreading the rumor that she was the woman in the picture even further.
Not long after the Woods' initial tweet, media outlets confirmed that Boulger was not the woman in the picture.
Nonetheless, the lawsuit alleges Woods left the incorrect tweet up for an additional 10 days until he was contacted by Boulger's legal counsel and asked to remove the tweet and issue a public apology.  Boulger claims Woods did remove the tweet, but he did not issue the public apology.  Instead, she says he posted these three new tweets:
"I have an opportunity to clarify something I challenged immediately when it hit Twitter. Portia A. Boulger was NOT the 'Nazi salute lady."

"Ms. Boulder [sic] has reached out to me and asked me to use my many followers to stop people from harassing her. I am more than happy to do so."

"Though she supports @BernieSanders, I am happy to defend her from abuse. I only wish his supporters would do the same for other candidates."
The lawsuit claims Boulger received a number of threatening messages over social media and over the telephone during the 10 days Woods left the tweet up on his account.  The lawsuit also claims that Woods damaged Boulger's reputation as a teacher and in the activist community by creating a false impression that she attempted to harm a rival campaign through dishonest tactics.  She claims it all caused her to suffer anxiety, depression and to develop a real fear that she may be physically harmed at any moment.  As a result of these alleged damages, Boulger seeks $3 million in actual damages and punitive damages.
Woods attorney issued a statement in response to the lawsuit denying the tweets were defamatory.
"My client is no doubt surprised by this patently bogus lawsuit. In response to a rumor circulating on the internet about Ms. Boulgar's [sic] alleged affiliation with a Trump rally, Mr. Woods tweeted a question seeking clarification," attorney Michael Weinsten said in the statement. "On its face, that is not defamation. In fact, Mr. Woods went out of his way to defend Ms. Boulgar against alleged harassment. This case proves the adage 'no good deed goes unpunished.'"
[image via screengrab]
Have a tip we should know? [email protected]