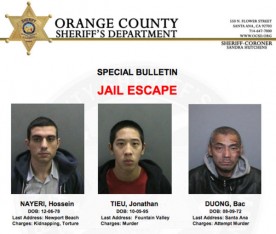 Orange County authorities have provided shocking new details about how three very violent and dangerous criminals managed to escape the maximum security Orange County Men's Jail.
At a Saturday evening press conference, the escape was described as a "very well thought out plan" that likely took weeks, or even months to complete.  Authorities said the inmates cut through steel bars and plumbing pipes to gain access to an unsecured portion of the roof.  The three escapees then used a "makeshift rope" —possibly clothing or bedding tied together— to rappel down the side of the facility to the ground and fled on foot.
The three men were last seen in the jail at 5:00 AM PST on Friday morning and were not discovered unaccounted for until 9:00 PM PST on Friday night, meaning it is possible they had up to a 16-hour head start on investigators.
Orange County Sheriff Sandra Hutchens also released a statement on Saturday night informing citizens that her office was utilizing all available resources, including the FBI and U.S. Marshals, to ensure the inmates would be brought back into custody as soon as possible.
The Los Angeles FBI Field Office has also upped the reward offer to $20k for information leading to the arrest of any of the three escapees:
The three inmates were identified as: Hossein Nayeri, 37, Jonathan Tieu, 20, and Bac Duong, 43. All three men were in custody on pending charges for violent criminal acts; Nayeri for kidnapping and torture, Tieu for suspicion of murder, and Duong for attempted murder.
The three men should be viewed as very dangerous and although authorities do not have any specific information that the escapees are armed, members of the public should expect the worst if they encounter either man, according to O.C. Sheriff's Office spokesman Lt. Jeff Hallock.
There will be another press conference at 9:00 AM PST today to provide further updates:
Anyone with information is asked to call the Orange County Sheriff's Office at 714-647-7000, O.C. Crime Stoppers at 855-847-6227, or the FBI at 714-628-7085.
[image via O.C. Sheriff's Department]
Have a tip we should know? [email protected]