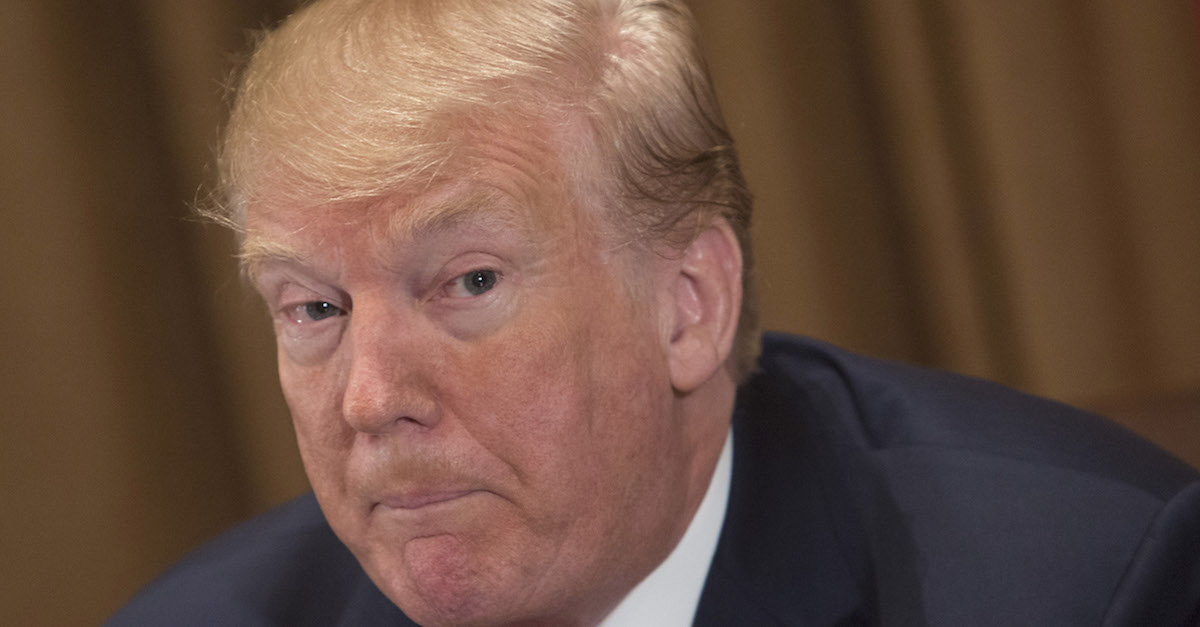 President Donald Trump has once again lashed out against Special Counsel Robert Mueller and the Russia investigation, sparking legal experts to speculate that another proverbial big shoe is about to drop.
Here's what the president said Thursday morning:
The inner workings of the Mueller investigation are a total mess. They have found no collusion and have gone absolutely nuts. They are screaming and shouting at people, horribly threatening them to come up with the answers they want. They are a disgrace to our Nation and don't…

— Donald J. Trump (@realDonaldTrump) November 15, 2018
….care how many lives the ruin. These are Angry People, including the highly conflicted Bob Mueller, who worked for Obama for 8 years. They won't even look at all of the bad acts and crimes on the other side. A TOTAL WITCH HUNT LIKE NO OTHER IN AMERICAN HISTORY!

— Donald J. Trump (@realDonaldTrump) November 15, 2018
The only "Collusion" is that of the Democrats with Russia and many others. Why didn't the FBI take the Server from the DNC? They still don't have it. Check out how biased Facebook, Google and Twitter are in favor of the Democrats. That's the real Collusion!

— Donald J. Trump (@realDonaldTrump) November 15, 2018
So let's recap: the Mueller probe has "gone absolutely nuts," they are "screaming and shouting" at people to "come up with the answers" they want (referencing "perjury trap"?), universities will study this, and what about Democrat crimes? Also, the president knows about the "inner workings" of the probe? Hmm.
These tweets came not long after the president basically confirmed what everyone already thinks — that Matthew Whitaker's replacement of Jeff Sessions as acting Attorney General of the United States has everything to do with the Mueller probe. The transcript of Trump's Wednesday interview with the Daily Caller, when he was asked about Whitaker:
POTUS: Matthew Whitaker is a very respected man. He's — and he's, very importantly, he's respected within DOJ. I heard he got a very good decision, I haven't seen it. Kellyanne, did I hear that?

WHITE HOUSE ADVISER KELLYANNE CONWAY: 20 pages.

POTUS: A 20-page?

THE DAILY CALLER: It just came out right before this, sir.

POTUS: Well, I heard it was a very strong opinion. Uh, which is good. But [Whitaker] is just somebody that's very respected.

I knew him only as he pertained, you know, as he was with Jeff Sessions. And, you know, look, as far as I'm concerned this is an investigation that should have never been brought. It should have never been had.

It's something that should have never been brought. It's an illegal investigation. And you know, it's very interesting because when you talk about not Senate confirmed, well, Mueller's not Senate confirmed.
He was asked about Whitaker, said the Office of Legal Counsel issued a 20-page "very good" and "strong" opinion, and then immediately steered the conversation toward Robert Mueller's "illegal investigation" that "should have never been brought."
The next morning, he went on a rant that contained, by and large, recycled bluster. So, what gives? Why is he doing this and why now?
At least two former federal prosecutors suspect that, actually, Trump has heard something from someone that would indicate he knows more indictments are coming.
I agree with @eliehonig: Trump's rants against Mueller have often preceded significant developments in investigation. Let's hope he's getting information from other targets' lawyers, not Whitaker. (But it's further evid of need for his recusal that that thot crosses our mind.) https://t.co/eCMiPCQuL6

— Daniel Goldman (@danielsgoldman) November 15, 2018
CNN legal analyst Elie Honig's theory: "When prosecutors are done with [a] subject's lies, there's an unpleasant talk where [the] pros[ecutor] says 'We're done, you're getting charged.' Subjects perceive [this] as yelling, angry. Subject's lawyer tells Trump team about 'the talk,' Trump sees indictments coming, flips out."
Daniel S. Goldman, legal analyst for NBC and MSNBC, agreed. He pointed out that "Trump's rants against Mueller have often preceded significant developments in investigation."
And at least one Democratic lawmaker agreed on both accounts — that this means indictments are coming, and that it is concerning that the president professed knowledge of the investigation's "inner workings […] when he and his friends & family are under investigation."
This tweet by @realDonaldTrump leads me to think that more indictments are coming soon.

Also, it would be highly inappropriate for Trump to be told of any inner workings of the Special Counsel probe when he and his friends & family are under investigation.#ThursdayThoughts https://t.co/2bySSshVL4

— Ted Lieu (@tedlieu) November 15, 2018
The logic here is ultimately pretty simple: the president is privy to certain information in advance of the media, and thereby the public. Therefore, he lashes out ahead of bad news in order to get ahead of the story. If family is involved, all the more reason for him to be angry and motivated. It makes a great deal of sense, and Trump has done it time and again.
Meanwhile, a federal judge has agreed to delay the sentencing of former Trump campaign deputy chairman Rick Gates, as requested by both Mueller and Gates in a joint status report filed Thursday.
As @realDonaldTrump unleashes a torrent of Tweets this morning, at a federal court in D.C., a judge has agreed to delay the sentencing of Rick Gates so that he may continue to cooperate with Mueller's investigation.https://t.co/1avaIbOLvE@CourthouseNews

— Brandi Buchman (@BBuchman_CNS) November 15, 2018
As Law&Crime pointed out before, the next status report was pushed back to Jan. 2019, indicating that the investigation will continue to drag on.
Gates is cooperating in "several" ongoing investigations, the filing said.
[Image via Chris Kleponis/Pool, Getty Images]
Have a tip we should know? [email protected]