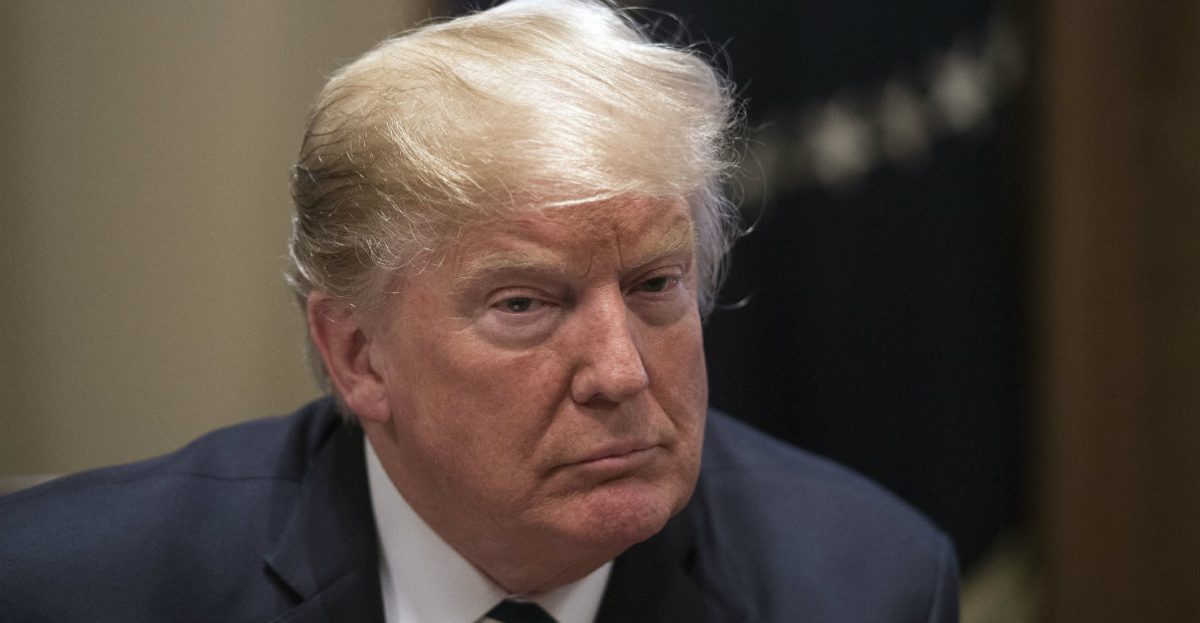 From Apprentice personality to assistant to the president of the United States to whistleblower?
After claiming that she had already sat down with special counsel Robert Mueller, Omarosa Manigault Newman made another wild claim during her book tour on Tuesday: President Donald Trump knew that WikiLeaks was going to release emails that would damage Hillary Clinton beforehand.
In other words, Trump knew about the 2016 hack of the DNC before it hit the fan in the media.
The relevant exchange, via Mediaite:
Omarosa: "There's a lot of corruption that went on both in the campaign and in the White House. And I'm going to blow the whistle on all of it."

MSNBC's Katy Tur: "Did Donald Trump know about those [Clinton] emails before they came out?"

Omarosa: "Absolutely."

Tur: "He knew what was coming out before Wikileaks released them?"

Omarosa: "Yes."
If that's true, it means Mueller has a lot more on Trump than tweets and an obstruction of justice case.
It was already reported Mueller was looking at Trump's tweets and other public statements targeting former FBI directors James Comey and Andrew McCabe, as well as sitting Attorney General Jeff Sessions. Not long after that revelation, Trump tweeted about all three of them, adding to a mountain of similarly worded tweets. Trump then memorably said Sessions "should stop this Rigged Witch Hunt right now, before it continues to stain our country any further."
This was basically exhibit A in problematic tweets from the president.
Even so, it's one thing to have something like that under investigation, it's another to be on record encouraging a foreign state to find Clinton's emails on the same day a hack was allegedly perpetrated by Russian military intelligence officials. It's still another thing, on top of that, to be accused of knowing "about what was coming out" beforehand.
This kind of complicity in Russian election interference has up to now not been spelled out quite like this. Omarosa said that she has spoken with Mueller, but did not discuss former Trump advisor Roger Stone. This is notable. The obvious connection here is to Stone, since he is known to have been in contact with WikiLeaks through Randy Credico. 
Credico was subpoenaed by Mueller after declining a voluntary interview. Credico, a radio host-comedian acquaintance of Stone's who was a Bernie Sanders supporter, was reportedly asked by Stone to contact WikiLeaks founder Julian Assange.
Assange's website was the dumping ground for the internal communications of the Democratic National Committee (DNC). One of the effects of the hack was Democratic infighting, as Sanders supporters saw party support tilted towards Clinton.
Credico has said that "the last thing that I would like to be known as is a rat" and that he had no plans of speaking to House or Senate committees.
As CNN reported, Stone said Credico served as an intermediary between him and Assange. In the past, Stone has called Credico a "good man" who "merely confirmed what Assange had said publicly."
"He was correct. Wikileaks did have the goods on Hillary and they did release them," Stone added.
What Omarosa is saying is that these conversations about "the goods" allegedly stolen by Russian military intelligence were communicated as high up as then-candidate Trump.
All of this being said, there are plenty of reasons to doubt what Omarosa is saying: 1) Omarosa has written a book called Unhinged: An Insider's Account of the Trump White House. She wants that book to sell; 2) Omarosa was fired by Trump and has motive to smear him 3) Some claims of hers have already been debunked, others (like the N-word tape) haven't been and may never be verified; 4) She is a reality TV star, creating buzz is what she does; 5) Former Apprentice associates like Piers Morgan have gone on record to savage Omarosa's methods and morals in the past, and 6) Trump may not be able to do very much about anything Omarosa is saying, despite the threat of legal action.
As the Washington Post's Josh Dawsey pointed out, though, while some claims in Omarosa's book can't be verified, recordings she's played "match quotations in the book."
In terms of the claim at hand, it doesn't help that Omarosa didn't offer any evidence to support her claim.
We'll just have to wait and see.
[Image via Nicholas Kamm and AFP and Getty Images]
Have a tip we should know? [email protected]