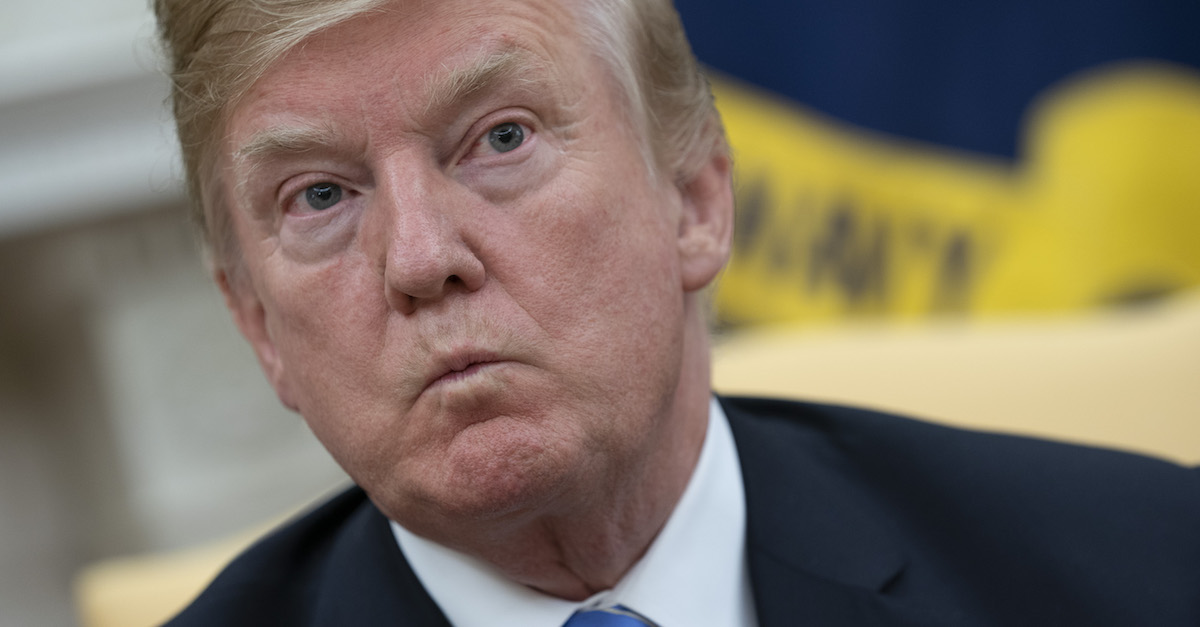 Special counsel Robert Mueller is reportedly combing through President Donald Trump's Twitter feed in an effort to determine whether the 45th president tampered with potential witnesses in the wide-ranging Russia probe.
The report, published by the New York Times on Thursday, claims that Mueller's interest is focused on tweets and other public statements targeting former FBI directors James Comey and Andrew McCabe, as well as sitting Attorney General Jeff Sessions.
Per the Times:
Investigators want to ask Mr. Trump about the tweets he wrote about Mr. Sessions and Mr. Comey and why he has continued to publicly criticize Mr. Comey and the former deputy F.B.I. director Andrew G. McCabe, another witness against the president. They also want to know about a January episode in the Oval Office in which Mr. Trump asked the White House counsel, Donald F. McGahn II, about reports that Mr. McGahn told investigators about the president's efforts to fire Mr. Mueller himself last year.
If correct, this news appears to vindicate a previous report by Foreign Policy from January.
That earlier report alleged Mueller was looking into Trump's–and his team's–public statements directed against McCabe, former FBI chief of staff Jim Rybicki and former FBI general counsel James A. Baker. According to Foreign Policy's report, Trump  told his team to "fight back harder," after receiving a warning from former Trump attorney John Dowd about the threat posed by the testimony of McCabe, Rybicki and Baker. (Dowd for his part, dismissed the original report as "flat-out wrong.")
As noted in the Times, and confirmed by President Trump's own legal team, Mueller and his army of attorneys are exploring Trump's tweets for potential criminality under the statute titled, "Tampering With a Witness, Victim, or an Informant." As Law&Crime noted in a previous analysis after the original Foreign Policy story broke, this section of the federal code offers Mueller quite a bit of leeway should he decide to start issuing witness tampering charges.
The law on point here is mostly contained at 18 USC § 1512(b). Section 1512(b) is one of the most frequently used sections of the federal witness tampering statute–but it's also one of the most difficult to satisfy. This section reads, in relevant part:
Whoever knowingly uses intimidation, threatens, or corruptly persuades another person, or attempts to do so, or engages in misleading conduct toward another person, with intent to—

(1) influence, delay, or prevent the testimony of any person in an official proceeding;

(2) cause or induce any person to—

(A) withhold testimony, or withhold a record, document, or other object, from an official proceeding;

(B) alter, destroy, mutilate, or conceal an object with intent to impair the object's integrity or availability for use in an official proceeding;

(C) evade legal process summoning that person to appear as a witness, or to produce a record, document, or other object, in an official proceeding; or

(D) be absent from an official proceeding to which such person has been summoned by legal process; or

(3) hinder, delay, or prevent the communication to a law enforcement officer or judge of the United States of information relating to the commission or possible commission of a Federal offense…

shall be fined under this title or imprisoned not more than 20 years, or both.
A cursory look at Section 1512(b) provides a clue as to the statue's expansiveness.
The above section is a lengthy, though non-exhaustive, list and description of activities which could plausibly constitute witness tampering under federal law. Some of the activity described above would almost certainly not apply to Mueller's perusal of Trump's Twitter timeline, however, as the alteration, destruction or mutilation of documents probably can't occur by tweet alone.
Mueller's likely focus in his Twitter inquiry would be on whether Trump's tweets rose to the level of a knowing attempt to intimidate, threaten or corruptly persuade Comey, et, al., not to testify in front of Mueller. It could also focus on whether a media campaign against Comey and the other potential witnesses was intended to somehow delay or alter their testimony in a way that would not have occurred but for the tweets and other public statements emanating from the president and White House.
That is a lot to take in. Let's clear things up a bit.
Bringing witness tampering charges based on tweets and public statements alone would be like selling oceanfront property in Arizona. But Thursday's news also notes that Mueller is looking at those tweets and statements in the context of Trump simultaneously "privately pressuring the men…about the investigation." This news, taken in tandem with Foreign Policy's original reporting about a "campaign" against potential witnesses, begins to flesh out what would need to occur for charges to be brought here.
Ultimately, Mueller's determination might simply come down to whether he can satisfy Section 1512(b)'s knowledge requirements.
That is, Mueller's potential witness tampering case could hinge upon whether the special counsel can prove President Trump acted with criminal intent.
This inquiry, Mueller claims, requires him to question the president in person. If that interview with Trump never occurs, however, Mueller could try to sell witness tampering charges using the totality of the circumstances to prove that Trump's actions together rose to a knowing attempt to commit a crime. That would be a much weaker (and unlikely) case.
Additionally, Mueller could look to the following catch-all statute located at 18 U.S.C. § 1512(c):
(c) Whoever corruptly—

(1) alters, destroys, mutilates, or conceals a record, document, or other object, or attempts to do so, with the intent to impair the object's integrity or availability for use in an official proceeding; or

(2) otherwise obstructs, influences, or impedes any official proceeding, or attempts to do so, shall be fined under this title or imprisoned not more than 20 years, or both.
The Times report claims that Mueller's team is looking at the entirety of Section 1512 in order to possibly issue obstruction charges based in part on Trump's tweets. If this report is correct, and if Mueller is looking beyond the traditional witness tampering statute, Section 1512(c) offers considerably more room to work with–even more than the already expansive Section 1512(b) mentioned above.
That's because Section 1512(c)'s knowledge requirement is "corruptly." This term is defined in a way that essentially deletes the need for any knowledge requirement whatsoever. Here, the definition of "corruptly" simply refers to the commission of the law-breaking behavior listed in the statute itself.
Now, is this definition circular in the extreme? Absolutely, it is; federal law is written to empower and embolden federal prosecutors. In other words, Robert Mueller's got a lot of rope. Trump has done nothing but stick his neck out.
[image via Chris Kleponis-Pool/Getty Images]
Follow Colin Kalmbacher on Twitter: @colinkalmbacher
Have a tip we should know? [email protected]