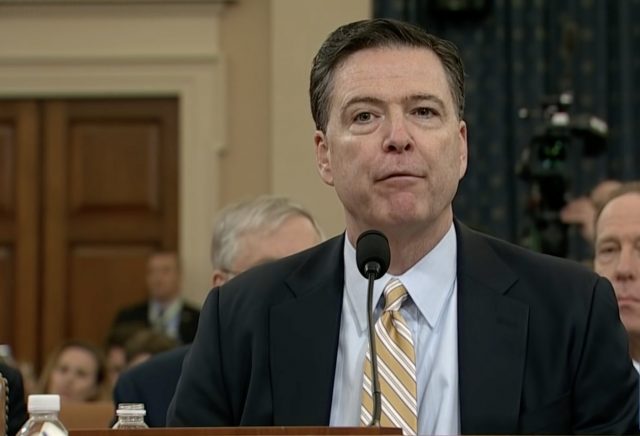 Wednesday brought a new CNN report that claims fired FBI Director James Comey will testify publicly before the Senate Intelligence Committee. Not only that, but he is expected to say President Donald Trump pressured him to end the feds' investigation into former National Security Adviser Michael Flynn. If this report pans out, then a question gets raised: Could Trump do this? If the allegation gets proven, would this be legal?
A New York Times report from May 16 claimed that Trump asked Comey to end the investigation into Flynn.
"I hope you can see your way clear to letting this go, to letting Flynn go," the president allegedly said. (The White House denied that report.)
For months, the President's critics have thrown around the term "obstruction of justice," especially when discussing the possibility of impeachment. Professor Jonathan Turley, of George Washington University Law School, says that it's still too early to make the case, however.
"Each week has brought a familiar mantra with regard to President Trump," he told LawNewz.com. "It is something like driving across country and having the kids chant 'are we there yet?' before we are even a block from the house. While many may long for a criminal indictment or impeachment to bring this Administration to an early end, a criminal obstruction case demands a lot more of a showing. Trump may have wanted the investigation to be brought to an end, but that does not mean that he was actively obstructing an investigation."
First, Turley pointed toward 18 U.S.C. 1503, which outlines what constitutes obstruction of justice. There are dozens of different ways a person could commit the crime. It could be threatening witnesses. It could be influencing jurors.
"None would fit this case," Turley said. "That leaves the omnibus provision on attempts to interfere with the 'due administration of justice.'"
The thing is, however, the law tends to get linked to grand jury investigations, he said. Also, the Supreme Court interpreted the omnibus provision narrowly in the 1995 case United States v. Aguilar.
Turley goes on: "Section 1512 (c) makes it a crime for people to corruptly 'otherwise obstructs, influences or impedes any official proceeding, or attempts to do so.'" But again, the Court has treated the issue quite narrowly. He pointed to 2005's Arthur Andersen LLP v. United States. That case leaned on heavily on mindset.
Said Turley: "The court defined the element of corruptly as 'normally associated with wrongful, immoral, depraved or evil' actions, which requires a consciousness of wrongdoing rather than just a questionable result."
Then there's the matter of disagreement between different judicial circuits. For example, the Fifth Circuit Court of Appeals disagrees with the Ninth Circuit over how broadly to treat the term "official proceeding," and whether that extends to investigations.
"Encouraging leniency or advocating for an associate is improper, but not necessarily seeking an unlawful benefit for him," Turley said.
Alexandra Maloney contributed to this report. 
Have a tip we should know? [email protected]