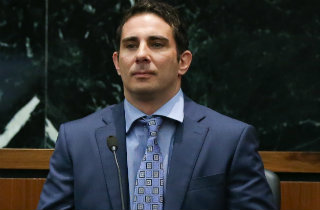 Hulk Hogan's efforts to force former Gawker editor A.J. Daulerio to pay into a nine figure judgment against him continued in a pair of court filings last week. Hogan's lawyers are insisting that Daulerio, who posted the article featuring clips from the Hogan sex tape, is hiding money and acting in bad faith in court. Daulerio's lawyers, of course, insist otherwise.
While the entire Hogan-Gawker sex tape saga has been full of colorful writing from both sides, the new Hogan filing from last week might be their most dramatically worded effort yet. Hogan's counsel claims that in public, Daulerio is "trying to falsely portray himself as a destitute journalist who is being victimized by routine efforts to collect the money he owes" while alleging that he "has been squandering substantial amounts of money traveling and pampering himself on a lavish full-time vacation in Florida, having dissipated tens of thousands of dollars." Daulerio's lawyers, of course, dispute this contention in their response, breaking down his spending as follows:
At the beginning of May, before the judgment was officially entered, Daulerio had $18,000 in his account.
He prepaid four months' rent in Florida as well as his security deposit, which "total[ed] more than $5,000."
Daulerio also travelled to New York and California while job hunting en route to scoring a new position in the latter state.
"Daulerio paid for 3 massages and 3 rounds of golf, for a few brief opportunities to experience some physical and mental relief during what is obviously a highly stressful time." The cost of all six outings, taken all together? $587.90, or "less than 0.0005% of the outstanding judgment against him."
Legally speaking, Hogan's filing rejects Daulerio's claim that his checking account (down to about $1,500) and most of his personal property is exempt from the judgment under interpretations of Florida (where he's lived the last few months) and New York (where he lived for the past several years) law. Hogan's lawyers, however, responded that Daulerio's property is not exempt because he's not "legally domiciled" in either state, instead "vacationing" in Florida while not maintaining a New York residence. In their response, Daulerio's lawyers announced that he's withdrawing his attempt to get property exempted "in a further effort to bring closure to this chapter of this case, until its ultimate merits are resolved on appeal."
The somewhat sarcastic letter sent on Daulerio's behalf offering his rice cooker to Hogan was also singled out by Hogan's lawyers. They claimed that the opposing counsel was "mock[ing] Mr. Bollea (Hulk Hoga) for trying to collect the money that the jury decided Mr. Daulerio owes."
The next hearing in the case, which will further address all of the Daulerio issues, will take place on Halloween.
[Photo: Pool Photo]
Have a tip we should know? [email protected]