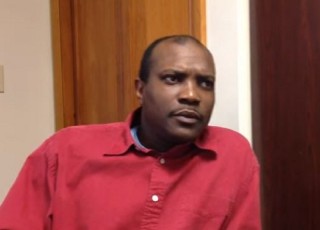 When 12-year-old Garrett Phillips was killed in Potsdam, NY in October 2011, no arrest was made. At one point, deputy sheriff John Jones was a suspect, but authorities moved on from that theory. Two and a half years later, Oral "Nick" Hillary, who once dated Phillips' mother, was arrested. This week, two years after the arrest, Hillary's trial is set to begin amid much controversy.
After Phillips' death,  Nicole Duvé, who had been District Attorney in St. Lawrence County, said there wasn't enough evidence to make an arrest. During the campaign for the 2013 election, Duvé's opponent, Mary Rain, challenged the decision not to arrest Hillary. With the support of Phillips' family, Rain won the election, and soon after, Hillary was indicted for second degree murder. The indictment was thrown out for prosecutorial misconduct, but DA Rain secured a second indictment. Hillary continues to maintain his innocence.
Authorities have acknowledged that they have no eyewitnesses, fingerprints, blood, or DNA evidence. Security footage showed Hillary's car near Phillips when the boy was walking home that day, although Hillary has two alibi witnesses. Phillips' mother, Tandy Cyrus, told the police after her son died, "I can't think of any other person who would want to hurt Garrett," referring to Hillary. Hillary and Cyrus had broken up about a month before the boy died. The two had lived together, and Cyrus told police that Hillary was strict with her son, and would criticize her parenting. The former suspect, Jones, had also been romantically linked to Cyrus. Hillary has accused Jones of threatening him back in 2010
Besides the lack of hard evidence, and the sensitive nature of the case involving the strangling death of a child in a small town, the issue of race has loomed over the case as well. St. Lawrence county is predominantly white, including Cyrus and Phillips. Hillary, a Gulf War veteran who went on to be the soccer coach at Clarkson University, is black.
Both sides have ardent supporters. A website for "Truth for Nick Hillary" rallies one side of a divided community, while others put signs in store windows demanding "Justice for Garrett."
Jurors began assembling in St. Lawrence County on Tuesday, with jury selection to begin on Wednesday.
[Screengrab via Watertown Daily Times]
Have a tip we should know? [email protected]