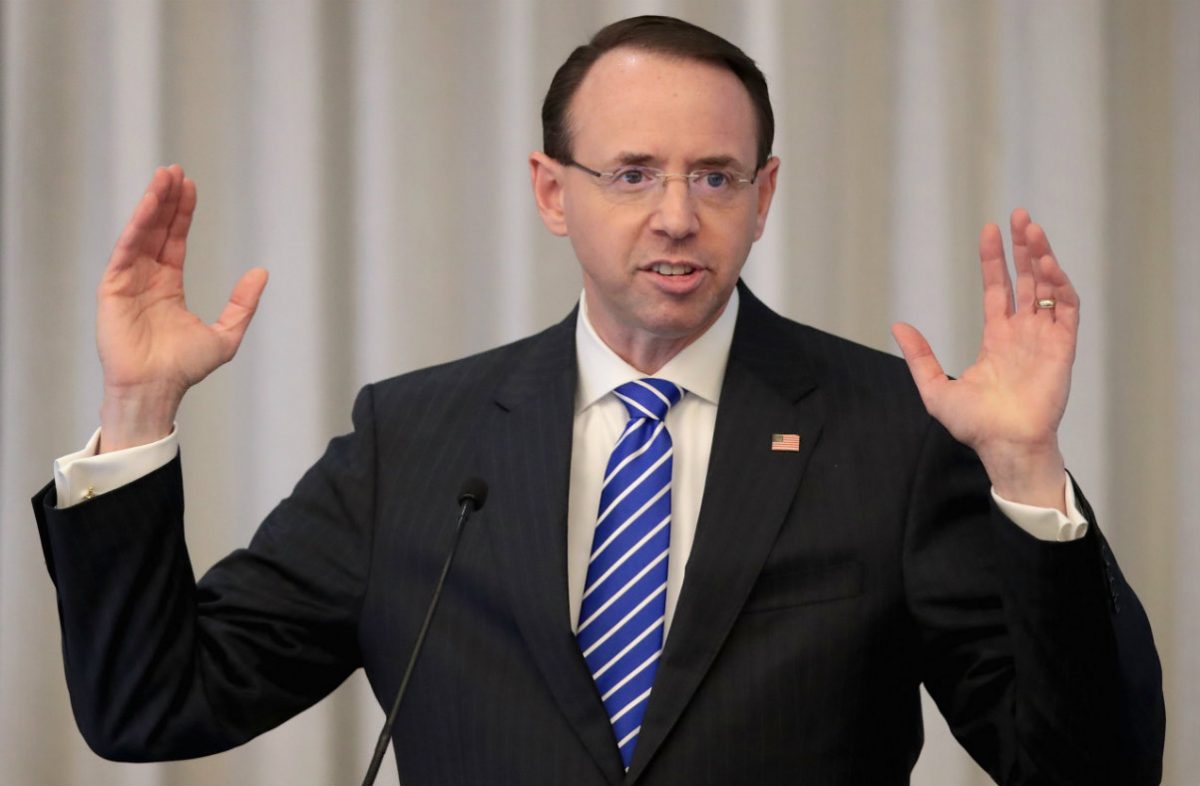 House Republicans have finally done it: 11 of them have reportedly introduced articles of impeachment against Deputy Attorney General Rod Rosenstein. Rosenstein was responsible for writing the memo outlining the scope of special counsel Robert Mueller's Russia investigation because Attorney General Jeff Sessions recused himself.
Law&Crime reported 12 days ago that House Republicans led by Rep. Mark Meadows (R-N.C.) of the House Freedom Caucus and Freedom Caucus co-founder Rep. Jim Jordan (R-Ohio) were ramping up their impeachment efforts. Today, Thursday, the two introduced articles of impeachment.
Jordan said "Enough is enough" and that "It's time to hold Mr. Rosenstein accountable for blocking Congress's constitutional oversight role."
Meadows accused Rosenstein of "stonewalling" Congressional oversight.
"Multiple times we've caught DOJ officials hiding information from Congress, withholding relevant documents, or even outright ignoring Congressional subpoenas—and now we have evidence that Mr. Rosenstein signed off on a document using unverified political opposition research as a cornerstone of a FISA application to spy on an American citizen working for the Trump campaign," he said. "This level of conduct, paired with the failure to even feign an interest in transparency, is reprehensible. And whether you're a Republican or a Democrat, this kind of obstruction is wrong—period."
He would go on to say that Rosenstein had been thoroughly warned over the last 9 months this day would come.
According to the Associated Press, Speaker of the House Paul Ryan hasn't endorsed this.
Reps. Andy Biggs (R-Ariz.), Scott Perry (R-Pa.), Rep. Paul Gosar (R-Ariz.), Jody Hice (R-Ga.), Matt Gaetz (R-Fla. and Scott DesJarlais (R-Tenn.) are some of the other names that are openly supporting the effort.
The loudest rumblings about this development came not long after the announcement that 12 Russian military intelligence officers were being indicted as part of the ongoing Russia Probe.
Rosenstein has been in hot water with at least some Republicans in Congress for some time. In mid-April, he folded under pressure and provided Congress with documents which were part of the Russia investigation. His alternative was a contempt charge.
In early May, upon hearing that at least some members of the House Freedom Caucus had drafted articles of impeachment against him, Rosenstein fired back. Back, then, he called the impeachment articles an attempt to "extort" the Department of Justice. He also more or less accused those who drafted the articles of being spineless for refusing to include their names on the articles. In mid-May, Republicans attacked Rosenstein again, claiming his decision to appoint special counsel Robert Mueller amounted to a massive "fishing expedition" for dirt on President Donald Trump.
Some argue, however, that attempts to impeach Rosenstein are merely an attempt to "sabotage" the Mueller investigation.
Aaron Keller contributed to this report.
[Image via Scott Olson/Getty Images]
Have a tip we should know? [email protected]