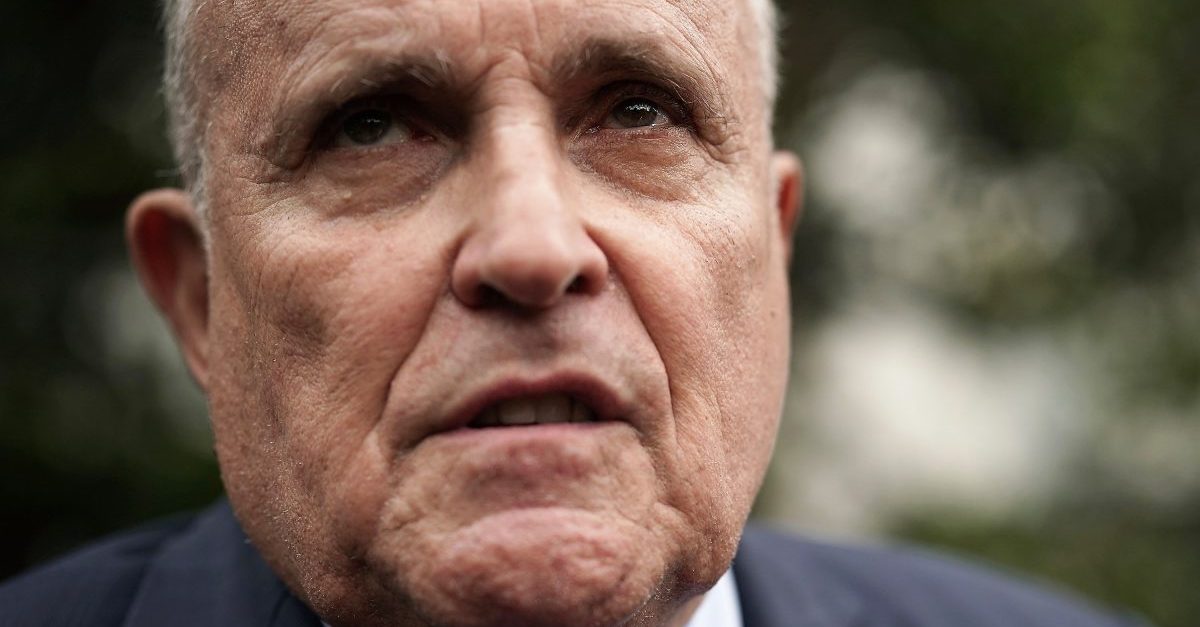 If you blinked you might have missed this nugget from President Donald Trump's personal attorney Rudy Giuliani on Monday morning. Giuliani all but said "yeah, so what" when discussing whether his client told former (and fired) FBI Director James Comey to go easy on former Trump national security advisor Michael Flynn. In fact, he said Trump had a "right" to ask for a break.
Flynn, one of that casualties of Special Counsel Robert Mueller's Russia probe, has pleaded guilty to lying to the FBI and awaits his sentencing.
"He asked him to exercise his prosecutorial discretion because he was a good man with a great war record," Giuliani said on Fox & Friends. "He had a right to say to Comey, 'Give Flynn a break.'"
Trump has denied asking Comey to stop investigating Flynn in the past.
Technically, Giuliani's latest statement also denies that. Giuliani essentially argued that petitioning for prosecutorial discretion and intimidating an official into killing a criminal investigation aren't the same thing.
"The obstruction thing is crazy. He had a right to fire Comey. That's what it is all about. He had a right to say to Comey, 'Give Flynn a break,'" he said. "There was no investigation at the time. Not only that, he didn't tell him, 'Don't investigate him, don't prosecute him.' He asked him to exercise his prosecutorial discretion because he was a good man with a great war record."
Trump would, of course, go on to fire Comey. Eventually, Comey's memos of the discussions he claims he had in private with President Trump were released. In those, Comey recalled Trump saying, "I hope you can see your way clear to letting this go, to letting Flynn go. He is a good guy. I hope you can let this go."
It's not the first time Giuliani has specifically challenged the idea that Trump attempted to intimidate Comey or obstruct the investigation.
Remember this exchange between Giuliani and George Stephanopoulos?
Giuliani: "[Comey's] testimony is worth nothing. James Comey never found any evidence of collusion and rules out obstruction by saying the president had a right to fire me. So all the rest of it is just politics. I mean, the reality is Comey in some ways ends up being a good witness for us."

Stephanopoulos: "How is he a good witness if he's saying the president was asking him, in his words, to let the investigation go?"

Giuliani: "He didn't direct him to do that."

Stephanopoulos:  "Comey says he took it as direction."
Earlier Monday, Giuliani said Mueller may wrap up his investigation by September. 
"We're mindful of the fact that we'd like to get this over with by September. I do believe that Mueller does too. He said something in our meeting with him that he thought September was the date to get their report in," Giuliani said. "It makes sense … it's enough before the November elections so you can't say he interfered with it one way or the other."
Giuliani said that timing was something that was part of negotiations for a possible interview of President Trump, and that should Trump speak to Mueller, he wants a report to come out soon after.
Ronn Blitzer contributed to this report.
[Image via Alex Wong/Getty Images]
Have a tip we should know? [email protected]