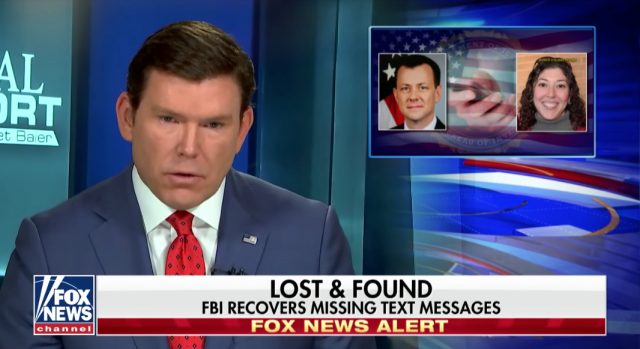 The United States Department of Justice ("DOJ") has likely provided congressional investigators with fewer than ten percent of the total text messages sent to-and-from Federal Bureau of Investigation ("FBI") employees Peter Strzok and Lisa Page.
Strzok is an FBI agent and Page is an FBI lawyer. The two initially came under fire in early December 2017 after the New York Times reported that Strzok was removed from special counsel Robert Mueller's Russia probe in August 2017 due to a series of text messages suggesting he and Page carried on an extramarital affair lubricated in part by their mutual disdain for Donald Trump and some amount of affection for Hillary Clinton.
Since then, Strzok and Page have played a centrally-adjacent role in the vast and still unfolding Russian drama. Trump, his team, conservative media and the rest of the MAGA set have wondered out loud and then some about the apparently nefarious designs of Strzok and Page. Liberals and other critics of the president largely view the two FBI employees as right-wing bugbears.
Reeling from the recent lost-then-found controversy surrounding an estimated upwards of 50,000 Strzok-Page text messages, a Saturday report in the Washington Examiner is likely to provide substantial combustible material to the storyline in which Strzok and Page have something to hide.
According to conservative commentator Byron York's reporting, there is already an extant 50,000 Strzok-Page text messages–and these have long been available in their entirety by the DOJ. In addition, there is the recent batch of text messages the FBI "failed to preserve" but were uncovered by the DOJ on Thursday. This second group of text messages is, again, estimated to be in excess of 50,000–roughly the same number of texts as the DOJ already has in its possession.
York notes the discrepancy between this potential total of 100,000 text messages and what congressional investigators currently have available to them. Apparently, one DOJ source pegs the number at 4,000; while a congressional source estimates that investigators have access to around 7,000 of the couple's SMS conversations. That's a wide gulf, for sure.
Assuming the higher number is the correct number, congressional investigators are currently in possession of roughly 7 percent out of an estimated 100,000 total text messages sent between Strzok and Page. But the reason why might not be so nefarious after all.
A January 19 letter from Assistant Attorney General Stephen Boyd to Representatives Devin Nunes (R-CA), the chairman of the House's Permanent Select Committee on Intelligence, and Adam Schiff (D-CA), the Ranking Member of that same committee, notes:
The department is not providing text messages that were purely personal in nature. Furthermore, the department has redacted from some work-related text messages portions that were purely personal. The department's aim in withholding purely personal text messages and redacting personal portions of work-related text messages was primarily to facilitate the committee's access to potentially relevant text messages without having to cull through large quantities of material unrelated to either the investigation of former Secretary of State Hillary Clinton's use of a personal email server or the investigation into Russian efforts to interfere with the 2016 presidential election.
[image via screengrab/Fox News]
Follow Colin Kalmbacher on Twitter: @colinkalmbacher
Have a tip we should know? [email protected]