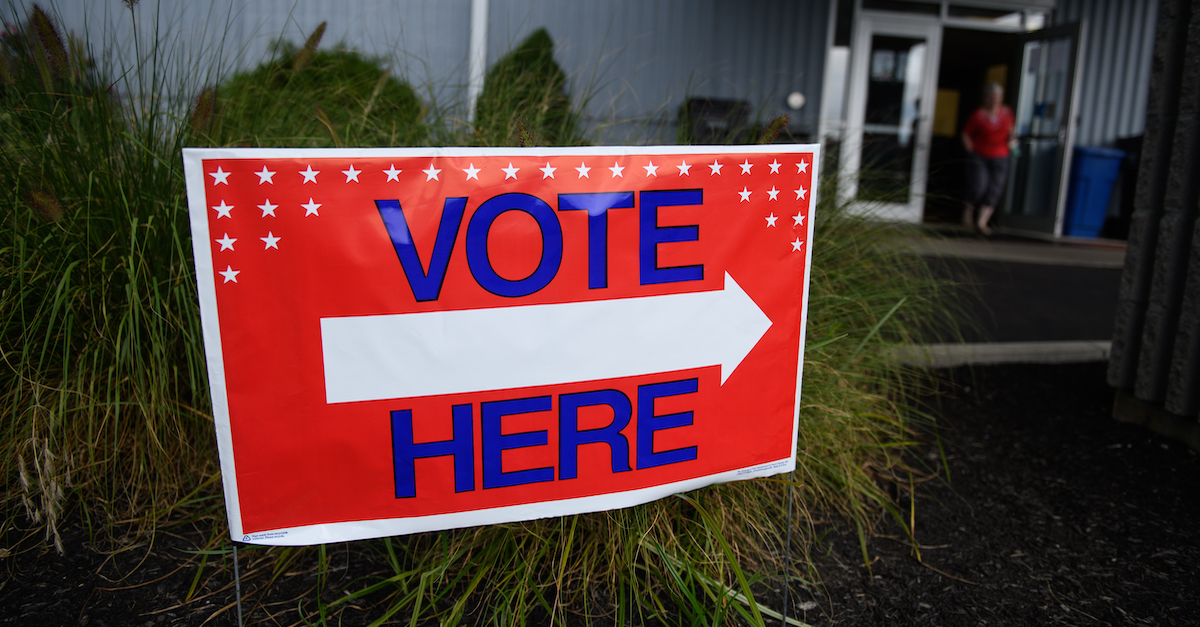 A federal court signed off on a long-running effort to redraw the Virginia House of Delegates on Thursday. The new plan will be based on a map created by the court's own appointed expert that was drawn up in order to amend racially gerrymandered districts put in place by Old Dominion Republicans.
In a 2-1 memorandum opinion and order issued by the U.S. District Court for the Eastern District of Virginia, Circuit Judges Barbara Milano Keenan and Arenda Wright Allen issued a sharp blow to Virginia Republicans who had complained the new map–drawn by redistricting expert and University of California-Irvine political science professor Bernard Grofman–amounted to"attempts to give Democrats an advantage at every turn."
The judges rejected the GOP's argument that the map unfairly benefits their opponents.
"Nothing in the record suggests that Dr. Grofman acted with animus toward any incumbents, or toward any party," Keenan wrote. "We credit Dr. Grofman's contention that he constructed his proposals without regard to partisan outcome in the non-challenged districts, and that he treated all incumbents equally."
Virginia Republicans redrew the commonwealth's House of Delegates map in 2011 and decided to cram black voters into 12 majority-black districts with fixed targets of a minimum 55 percent black voting age population (BVAP) per district.
Democrats cried foul, insisting that the GOP had intended to dilute Democratic Party voting strength by misusing race. The GOP, however, simply insisted they were fulfilling the prongs of the Voting Rights Act (VRA) by ensuring the existence of several majority-minority districts in Virginia.
Litigation ensued and the court eventually sided with the plaintiffs represented by Democratic Party attorney Marc E. Elias.
"Overwhelming evidence in this case shows that, contrary to this constitutional mandate, the state has sorted voters into districts based on the color of their skin," Judge Keenan noted in a lengthy opinion issued by the court in June of 2018.
That decision continued:
The [GOP-controlled] legislature made no effort to determine whether the mechanical 55% racial threshold was required to comply with the VRA, and instead arbitrarily applied the same racial mandate to 12 vastly dissimilar districts. This predominant use of race and disregard of narrow tailoring principles plainly are at odds with the guarantees of the Equal Protection Clause.
In sum, 11 of the 12 contested districts were deemed unconstitutional and Virginia was given until October 30, 2018 to come up with a plan of their own. That didn't quite work out. Democratic Governor Ralph Northam and the GOP-controlled House of Delegates understandably could not come to an agreement. So, several competing plans were submitted to the court by Democrats, Republicans and outside advocacy groups. Additionally, the court turned to Grofman and asked him to redraw the map while also evaluating the seven alternative proposals.
Appointed as "special master," Grofman devised a map that attempts to thread the redistricting needle by taking into account nine separate criteria:
(1) population equality; (2) avoiding dilution in the voting strength of minorities and avoiding retrogression in minority groups' opportunity to elect preferred candidates, in compliance with Section 2 of the VRA and the Equal Protection Clause; (3) avoiding using race as a predominant consideration; (4) contiguity; (5) avoiding splits of political subdivisions such as cities and counties; (6) compactness; (7) avoiding changes to the 2011 plan not required to remedy the identified constitutional violations, by limiting changes to the invalidated districts and immediately adjacent districts and by minimizing the number of non-challenged districts so affected; (8) partisan neutrality; (9) avoiding incumbency pairings, to the extent feasible.
The court ultimately found Grofman's methodology and end results legally sufficient–at least so far as the U.S. Constitution, federal statutes and Virginia law are concerned.
"[T]he number of invalidated districts, and their proximity to and interconnectedness with one another, renders our task especially complex," the decision notes. "A single change in one invalidated district will, at a minimum, impact an immediately adjacent district and could impact numerous other districts, both invalidated and non-challenged. We thus agree with Dr. Grofman's commonsense observation that, in practice, crafting a plan consistent with traditional districting criteria requires accepting certain tradeoffs among priorities."
The court also notes that black voting strength will necessarily shift in each of the districts impacted by the new House plan but insists that while some dilution will necessarily occur, "black voters will retain their ability to elect candidates of their choice."
The decision explains:
[A]n inevitable shift of black voters will result from remedying the specific Equal Protection violations we identified in the 2011 plan. In Bethune II, we found that the legislature had sorted black voters into the invalidated districts predominantly on the basis of their race, thereby creating in the invalidated districts BVAP levels much higher than necessary to comply with Section 5 of the VRA. By reversing this violation and redrawing the districts according to neutral districting criteria, many black voters formerly subjected to race-based inclusion in the invalidated districts will be assigned to surrounding non-challenged districts.
The court has ordered Virginia to institute the new plan in time for the 2019 legislative elections.
Virginia Redistricting Ruling by on Scribd
[image via Justin Merriman/Getty Images]
Have a tip we should know? [email protected]