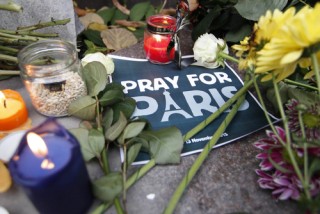 Two families of suspected terrorists—who were gunned down during the aftermath of the Paris attacks—are now trying to make the claim that their loved ones were wrongfully executed by police.
The lawsuit alleges that Hasna Aitboulachen and Tarek Belgacem  did not have weapons  when they were "murdered" by police.  The family alleges that Aitboulachen should have been given the chance to give herself up when police raided a hideout in the Northern Suburb. The 26-year-old died alongside her cousin, Abdelhamid Abaaoud who is a Belgian-Morrocan terrorist, and is suspected of being the mastermind behind the multiple terror attacks in Belgium and France, as well as participating in the Nov. 2015 Paris attacks.
"I consider that Hasna Ait Boulahcen is a victim," Fabien Ndoumou, a lawyer for her family, told The Sun.
Belgacem family's claims are even more bold. They assert that police fabricated details about how their son was killed. Police say Belgacem approached them with a meat cleaver and what turned out to be a "fake" suicide vest, and yelled "Allah Akbar." But the family is now claiming that those details are inaccurate. The family has lodged a complaint of "manslaughter" against the police, claiming police could have fired without actually killing Belgacem.
For once, you can't say "only in America" for this lawsuit. This one was filed in France.
[h/t Daily Mail]
Have a tip we should know? [email protected]
Rachel Stockman - President / On Air Host