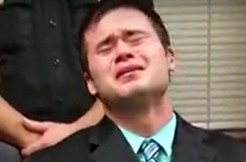 Update — 3:20 p.m. EST: That's it. Holtzclaw received the maximum sentence.
Judge agrees with jury in Daniel Holtzclaw case 263 years in prison for 18 counts ranging from rape, sexual battery and others.

— Paul Folger (@PaulFolger) January 21, 2016
"It wasn't a surprise," his attorney Scotts Adams told KCCO.
The disgraced Oklahoma police officer, Daniel Holzclaw was convicted in December for raping 8 women. Prosecutors hit him with a total of 36 charges for sexually assaulting 13 women. 18 charges stuck. The state said he used his authority to force poor black women, often drug users, into performing sexual acts. During the lengthy trial, 13 women testified against him  — saying that he would check them for outstanding warrants or drugs — and then force himself on them.
His attorney described the former police officer as a model citizen whose attempts to help drug addicts and prostitutes were distorted. Holzclaw's victims ranged in age from a teenager to a woman in her 50's.
>> Follow Alberto Luperon on Twitter (@Alberto Luperon)
Have a tip we should know? [email protected]