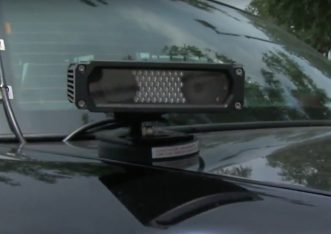 Homeland Security Investigations (HSI) agents reportedly persuaded local police departments to use license plate scanners to track individuals who attended gun shows, according to newly obtained government emails.
Emails obtained by the Wall Street Journal show HSI agents with the Immigration and Customs Enforcement (ICE) agency began using license plate scanners at gun shows in Southern California back in 2010.
"We would like to see if you can support an outbound guns/ammo operation on (redacted) at the Crossroads (Del Mar) Gun Show. We would like to deploy license plate readers," an email sent by an ICE agent reportedly stated.
Law enforcement officials with knowledge of the gun show surveillance operations then explained to the newspaper how "ICE got local police officers to drive around the parking lot at the gun show and use their license-plate readers to collect all of the cars' information."
According to the report, agents justified the operation by saying they compared data collected at the gun shows with information obtained from license plate scanners at border crossings in the hopes of finding gun smugglers. However, the report found no evidence that "the gun-show surveillance led to any arrests or investigative leads." Yet, the newspaper says there are indications that the gun show surveillance may have been used at other gun shows throughout the state, and possibly the country — despite the apparent lack of arrests.
For example, additional emails reportedly show ICE planned to continue the surveillance operations in California throughout the summer of 2010. The report states:
A June 30, 2010, email from an ICE agent lists a series of gun shows that summer, including ones in nearby Ontario and Costa Mesa, noting that "the last (only) one worked out pretty well, so I'd like to send two or three to that one as well."

In reply, an unidentified agent wrote, "I am good to go on all of them."
Although, the report notes that sources could not confirm whether the additional operations went forward.
License plate scanners have been increasingly used in recent years and have been helpful a helpful tool for law enforcement. Just last month, license plate scanners helped identify the man police say is responsible for placing a series of bombs around New York and New Jersey.
However, the use of a license plate scanner in this context is a step too far for some.
In fact, the CEO of a company that makes license plate scanners called this operation an "an abuse of the technology."
"I think this was a situation that shows we need to establish policies for license-plate readers, like any new technology," John Chigos, CEO of PlateSmart Technologies, Inc., told the WSJ.
Furthermore, the idea that government agents may be conducting surveillance operations on constitutionally protected activity is a concern for civil liberties and privacy advocates.
The newspaper interviewed Jay Stanley, a lawyer at the American Civil Liberties Union, who said it was troubling to see the government use two legal activities — buying guns and crossing the border — "and because those two activities in concert fit somebody's idea of a crime, a person becomes inherently suspicious."
In addition to raising privacy concerns, the collection of data on gun show attendees may also be illegal.
"Information on law-abiding gun owners ends up getting recorded, stored, and registered, which is a violation of the 1986 Firearm Owners Protection Act and of the Second Amendment," Erich Pratt, executive director of Gun Owners of America, told the newspaper.
Pratt is likely referring to 18 U.S.C. 926(a), which generally prohibits the federal government from maintaining a database or registry of gun owners.
An ICE spokesperson acknowledged that the agency conducted an operation in Southern California but declined to comment on specific tactics used by agents.
Have a tip we should know? [email protected]