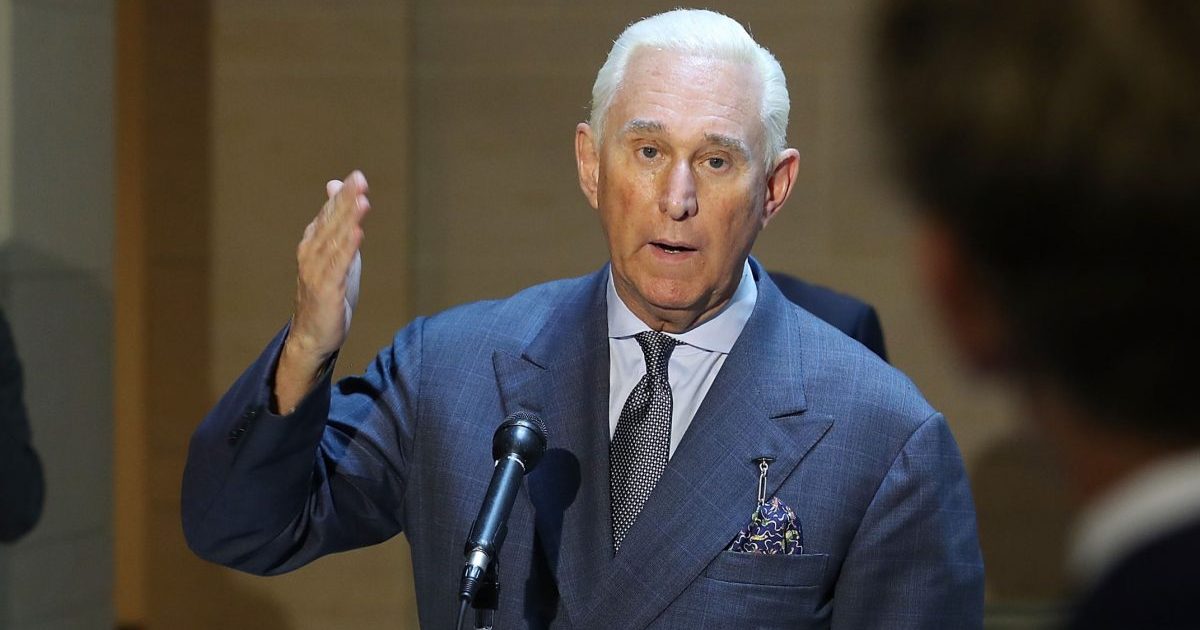 While Special Counsel Robert Mueller has continued to work quietly on the Russia investigation, former Trump campaign adviser Roger Stone has been quite vocal that Mueller will try and "frame" him for some crime. While it's still not clear if Stone will be charged, more of Stone's utterances are reportedly under intense scrutiny.
Mother Jones is reporting on Thursday that Stone, whose connection to WikiLeaks dump of hacked DNC emails back 2016 has been a focus of the special counsel, "was actively seeking" a pardon for WikiLeaks founder Julian Assange. Mother Jones said that Stone sent a text in early January "to an associate" that there was a "very real" possibility that he could secure a "blanket pardon" for Assange.
"I am working with others to get JA a blanket pardon," the text says.  "It's very real and very possible. Don't fuck it up."
"Something very big about to go down," Stone said
That "associate" has been identified as Randy Credico.
We already knew that former Stone aides Andrew Miller and Kristin Davis have been in the sights of the Mueller Probe; the same is true of conspiracy theorist Jerome Corsi and, yes, Stone acquaintance Credico. Despite Credico's incredulity about his plight, he has seemingly been a central figure when it comes to unraveling Stone's contact with WikiLeaks ahead of the 2016 hack of the DNC and the pursuit of dirt on then-candidate Hillary Clinton.
Credico is the guy Stone reportedly asked to contact WikiLeaks founder Julian Assange and allegedly served as a communication backchannel to WikiLeaks for Stone, though Credico denied that.
Interestingly, it's becoming clearer as to what kind of crime Mueller could reasonably charge Stone for, namely obstruction of justice.
"An effort by Stone to try to help Assange secure a pardon could be considered evidence of a conspiracy to obstruct justice," former prosecutor Paul Rosenzweig told Mother Jones. Rosenzweig was identified in the story as senior counsel to special prosecutor Kenneth Starr in the Whitewater investigation.
"If Stone worked with WikiLeaks on the release DNC emails, an effort by Stone to try to help Assange secure a pardon could be considered evidence of a conspiracy to obstruct justice," he added.
All of this comes of the heels of a CNN report that Mueller's investigation into Stone seeks to uncover "whether Stone had backchannels to WikiLeaks during the 2016 election" that go beyond the Credico connection. There was a Jerome Corsi update on this front Thursday. The special counsel has reportedly obtained recordings in which Stone said he "talked to Trump regularly" early on in the campaign. In another piece of evidence, Stone allegedly expressed that he should "receive credit for coordinating" with WikiLeaks. Per CNN:
Additionally, investigators are looking into whether Stone shared information that he believed was from WikiLeaks with members of Trump's presidential campaign, according to a source familiar with the probe. Investigators have been provided recordings of Stone claiming he talked to Trump regularly early in the 2016 presidential campaign, CNN has learned. Later, after various document dumps from WikiLeaks, Stone claimed in separate communications he should receive credit for coordinating with the group, the source said.
Stone attorney Grant Smith responded to that report, saying, "We have said over and over again that he shared nothing with the campaign because he had nothing to share."
"He received nothing from anybody. At what point does this old record get worn out from being played over and over again?" he asked.
Stone said that he "never discussed WikiLeaks stuff with Trump" and "would never have said I should get credit for coordinating with WikiLeaks since I did no such thing."
In the past, as we noted, Stone said he believes the special counsel is out to "frame him."
"I have testified truthfully before the House Intelligence Committee that Randy Credico was the source who confirmed Assange's June 2016 CNN interview in which the Wikileaks publisher said he had substantial information on Hillary Clinton," Stone said. "As I testified Credico told me this material would be released in October. I now realize that Credico's source was a Wikileaks lawyer and not Assange himself. At no time did Credico tell me what the source, content or scope of the WikiLeaks disclosures would be."
[Image via Mark Wilson/Getty Images]
Have a tip we should know? [email protected]