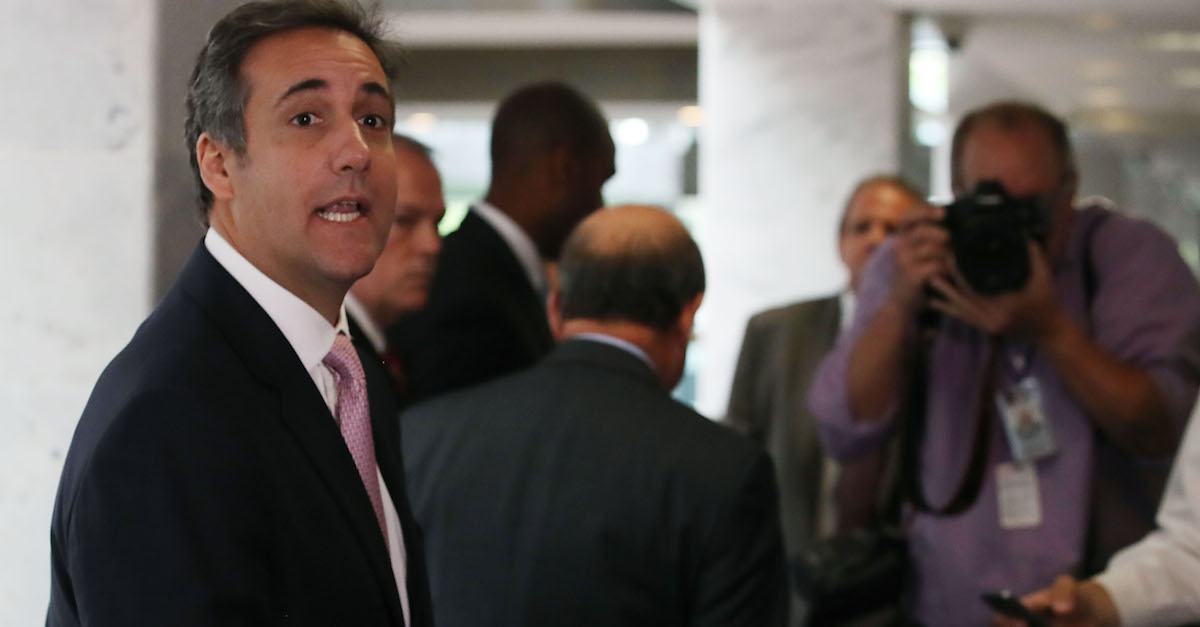 Donald Trump's lawyer's lawyer reacted to the much-anticipated Stormy Daniels "60 Minutes" interview by sending a cease and desist letter to Daniels and her attorney Michael Avenatti, warning against "false and defamatory statements."
Michael Cohen's attorney Brent Blakely sent the letter to after the "60 Minutes" interview aired, Fox News reported.
There were moments during the interview, and you can read a full transcript of it here, where Cohen and threats were mentioned in the same breath.
CNN's Anderson Cooper asked Daniels why she signed the nondisclosure agreement (NDA) in the first place. Here's how the back-and-forth went:
Stormy Daniels: Because they made it sound like I had no choice.

Anderson Cooper: I mean, no one was putting a gun to your head?

Daniels: Not physical violence, no.

Cooper: You thought that there would be some sort of legal repercussion if you didn't sign it?

Daniels: Correct. As a matter of fact, the exact sentence used was, "They can make your life hell in many different ways."

Cooper: They being…

Daniels: I'm not exactly sure who they were. I believe it to be Michael Cohen.
There was also another moment, Brent Blakely said, Daniels insinuated Cohen may have been behind a parking lot threat in Las Vegas in 2011, where she was told to "Leave Trump alone" and "Forget the story."
"That's a beautiful little girl. It'd be a shame if something happened to her mom," she said the unidentified man who approached her said.
Leading into that, "60 Minutes" said that in May 2011, Daniels agreed to sell the Donald Trump affair story to InTouch magazine for $15,000 dollars, that the story was squashed because Cohen threatened to sue and that two weeks later she was threatened in Vegas.
While Cohen has denied that he has ever threatened Daniels, Trump nemesis dating back to the primaries, Megyn Kelly, posted an exchange Cohen had with NPR reporter Tim Mak when he was at The Daily Beast.
Avenatti replied, that's his MO.
She tweeted about another incident, which she mentioned in her book "Settle For More," about Cohen retweeting a message saying "gut her," this after the infamous "blood coming out of her wherever" Republican debate.
Avenatti said on CNN's "New Day" Monday morning that he plans on showing that Cohen knew about threats.
"We're just getting started," he said. So much for the cease and desist letter?
[Photo via Mark Wilson/Getty Images]
Have a tip we should know? [email protected]