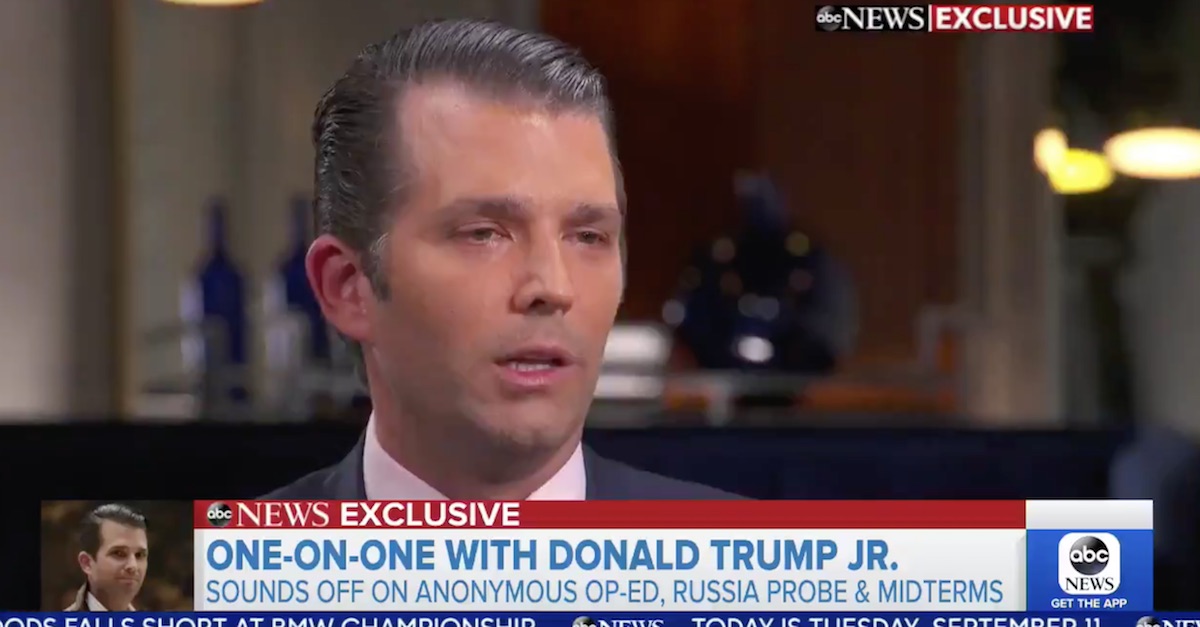 Donald Trump Jr. joined ABC News for an exclusive interview on Tuesday, and he was asked for his reaction to anonymous op-ed penned in the New York Times, including whether he thought it was a crime.
Trump Jr. began by questioning whether the op-ed was really written by a "senior official" in the Trump Administration.
"I imagine this is a very low-level person," he said. "That's pretty disgusting, that's pretty sad."
"Perhaps it's a disgruntled person who's been thrown out because they didn't deliver on what they were supposed to do," he speculated.
"What's the crime, though?" ABC's Tara Palmeri asked.
Instead of prefacing his response by saying that there was no crime, he dove right into an answer.
"I think you're subverting the will of the people. To try to control the presidency, while not the president … you have millions and millions of Americans who voted for this," he said.
In case it needed to be said, subverting the will of the people is not a crime.
EXCLUSIVE: Donald Trump Jr. says he believes the New York Times op-ed penned by an anonymous senior administration official was written by a "very low-level person" and that the Justice Department should investigate the author https://t.co/4PhvkL0UvD pic.twitter.com/9jqncd8FaO

— ABC News Politics (@ABCPolitics) September 11, 2018
It's a relevant line of questioning because President Donald Trump has asked U.S. Attorney General Jeff Sessions to investigate who the "senior official" for "national security reasons."
The only way this could have been a crime is if the official disclosed classified information, and that was not the case.
As CNN legal analyst and former federal prosecutor Renato Mariotti pointed out, the Department of Justice does not investigate "non-crimes."
When @DonaldJTrumpJr said DOJ should investigate the op-ed writer, @tarapalmeri correctly asked, "What's the crime, though?"

Trump Jr's reply: "Subverting the will of the people."

That's a bad thing, but it's not a federal crime. And the DOJ does not investigate non-crimes. https://t.co/XGqrEwa9tx

— Renato Mariotti (@renato_mariotti) September 11, 2018
"It would be easier to get things done if you're able to fully trust everyone around you," Trump Jr. said. "I think that's a shame."
[Image via ABC News screengrab]
Have a tip we should know? [email protected]