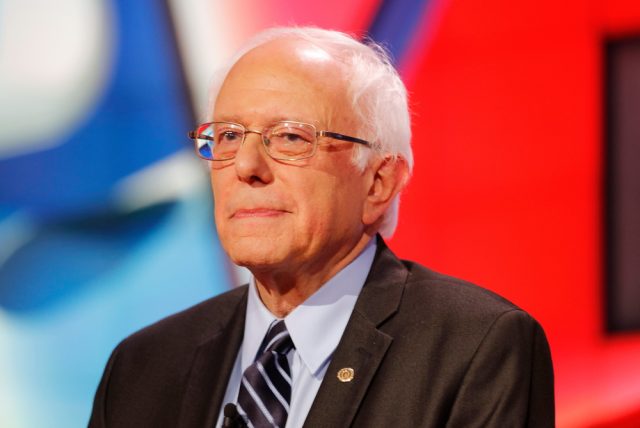 Recently reassigned Mueller team member and Federal Bureau of Investigation ("FBI") Agent Peter Strzok slammed former Democratic presidential primary candidate Bernie Sanders (I-VT) in recently released text messages.
And so did his alleged mistress, Lisa Page, an FBI attorney.
Page wrote, "I just saw my first Bernie Sander [sic] bumper sticker. Made me want to key the car," to which Strzok replied:
He's an idiot like Trump. Figure they cancel each other out.
Strzok, formerly the second highest-ranking counterintelligence official at the FBI, reportedly led the investigation into Hillary Clinton's use of a private email server while she served as U.S. secretary of state.
Page, a senior attorney with the bureau, had also previously been working in the special counsel's office, but was apparently reassigned for other reasons–before the text messages came to light.
So far, most of the outrage leveled at Strzok has been in reference to his and Page's multiple negative comments about Donald Trump during their lengthy text message conversation–which dates from August 2015 through December 2016.
But now, the optics of Strzok and Page–two highly-placed FBI officials–privately disparaging Sanders, a left-leaning democratic socialist, stand to sully the law enforcement agency's reputation even further in the eyes of the public.
Considering the FBI's now-acknowledged and infamous history with left-leaning movements and leaders in the United States, this anti-Sanders bias could be read as somewhat concerning to people familiar with that violent and repressive history.
An article published two days ago in The Hill took stock of that legacy. Author James Bovard wrote:
From 1956 through 1971, the FBI's COINTELPRO program conducted thousands of covert operations to incite street warfare between violent groups, to get people fired, to smear innocent people by portraying them as government informants, to sic the IRS on people, and to cripple or destroy left-wing, communist, white racist, antiwar, and black organizations (including Martin Luther King Jr.).
News of the anti-Sanders correspondence between active FBI personnel also stands to exact an added dimension of scrutiny on the FBI's ongoing investigation into Jane Sanders, the Senator's wife.
That investigation was started under Barack Obama and commentators have suggested that the inquiry is politically motivated.
Law&Crime reached out to Sanders' office for comment on this story, but no response was forthcoming at the time of publication.
[image via shutterstock.com/Joseph Sohm]
Follow Colin Kalmbacher on Twitter: @colinkalmbacher
Have a tip we should know? [email protected]