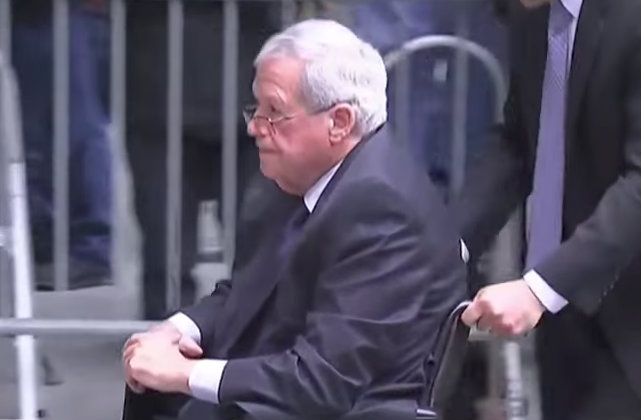 The plaintiff in a new lawsuit claims ex-House speaker Dennis Hastert sexually abused him decades ago. The complaint was filed Friday in Kendall County, Illinois, according to The Chicago Tribune.
This Illinois man known in court documents as "Richard Doe" is now an adult. According to the lawsuit obtained by the Tribune, Hastert sexually assaulted him in the spring or summer of 1973 or 1974. Nine or 10 at the time, Doe was in fourth grade.
Doe claimed he was using a bathroom stall in the Game Farm Building, now known as the Yorkville High School parking lot, when the attacker opened the stall door and sodomized him. Doe claimed that weeks later, the man approached him during gym class at Yorkville Grade School, and intimidated him to keep his mouth shut, or else the man's father, a sheriff, would put Doe's parents in jail.
This man was supposedly Hastert, who joined Congress in 1987, and rose to the position of Speaker in 1999.
Doe claimed he attempted to report the assault in 1984 or 1985 to the Kendall County State's Attorney's office. But a longtime friend of Hastert's accused Doe of slander, and threatened to charge him with a crime.
Now the plaintiff seeks $50,000 for claims such as battery, negligent infliction of emotional distress, and intentional infliction of emotional distress.
Hastert is serving a prison sentence after pleading guilty to restructuring bank withdrawals for hush money. The cash was meant to keep a decades-old sexual assault under wraps. Several men testified that he sexually abused them in the 1970s as a wrestling coach at Yorkville High School.
Prosecutors didn't bring forth sexual assault charges, citing the statute of limitations.
The Yorkville Community Unit School District 115 is a co-defendant in Richard Doe's lawsuit. LawNewz.com reached out to them and a Hastert representative for comment.
The school district responded. Their statement:
District 115 will continue to cooperate with those in law enforcement and the justice system in the investigation, however, the district cannot comment on this pending litigation, as it was named as a respondent in the lawsuit which you referenced.
Update – May 30, 12:44 p.m.: We added a statement from the Yorkville Community Unit School District 115.
[Screengrab via NBC]
Have a tip we should know? [email protected]