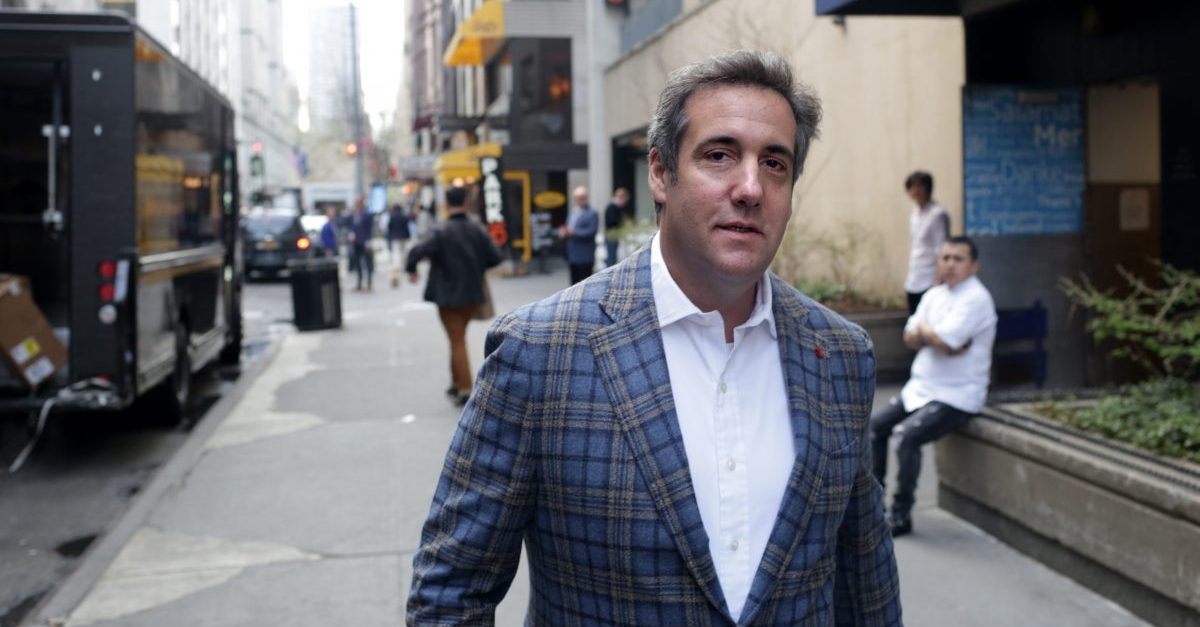 It's a lot easier to understand why Michael Cohen might have wanted to shred some things, now that the bizarre backstory behind some of the pieced back together documents has come to light.
BuzzFeed News obtained images of the documents that were in the shredder the day the FBI executed warrants on Cohen's office, home and hotel room. As Law&Crime previously reported, taxpayers are on the hook for the person/people who had to reconstruct these sixteen pages of shredded documents.
The contents of the documents aren't as big of a problem as some suggested they might be. However, there is the curious case of 60-year-old Karen Wickman, a California woman who claimed she was blackmailed by Donald Trump in the '80s and never got a response to letters she sent to Cohen.
It turns out that Wickman has been declared a vexatious litigant by the courts and has brought forth a whopping 42 "unmeritorious motions, pleadings, and other papers," as BuzzFeed reported. Included among the documents was an example of one of Wickman's letters.
It was sent to the California Attorney General Xavier Becerra and, evidently, all manner of other celebrities have been sent such messages. The one below is difficult to read, but Wickman appears to be upset about illegal surveillance. She also said she doesn't know and has never met "Donald Trump, George Lucas, Harrison Ford, Steven Spielberg, Michael Jackson, the Jackson Family, Sony, anyone named "Joe," and so on.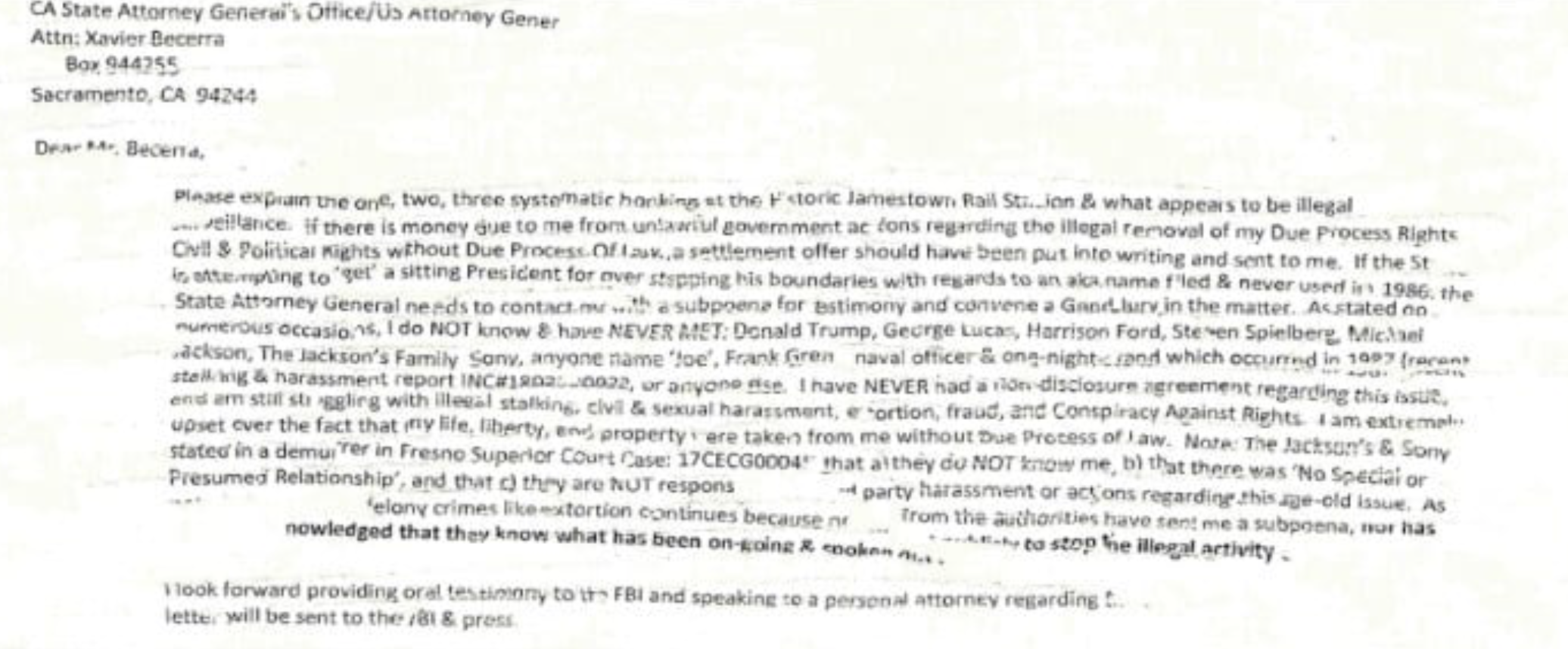 Wickman has a website where she has published examples of these letters, also including her Twitter handle. The message pictured above appears to contain information that is already on her website, under the section where Wickman says she "will swear in court to the following."
After BuzzFeed reported, Wickman said they "missed the legal point."
Wickman appears to semi-frequently post livestreams of herself on Twitter and also rails against "CRUEL & UN-USUAL PUNISHMENT WITH NO DUE PROCESS." As you can see, she tends to @ a lot influencers.
In case you are unfamiliar with the term "vexatious litigant," this is a person who repeatedly files, frivolous, baseless claims. Here's how the state of California defines the actions of a vexatious litigant:
In the immediately preceding seven-year period has commenced, prosecuted, or maintained in propria persona at least five litigations other than in a small claims court that have been (i) finally determined adversely to the person or (ii) unjustifiably permitted to remain pending at least two years without having been brought to trial or hearing.

After a litigation has been finally determined against the person, repeatedly relitigates or attempts to relitigate, in propria persona, either (i) the validity of the determination against the same defendant or defendants as to whom the litigation was finally determined or (ii) the cause of action, claim, controversy, or any of the issues of fact or law, determined or concluded by the final determination against the same defendant or defendants as to whom the litigation was finally determined.

In any litigation while acting in propria persona, repeatedly files unmeritorious motions, pleadings, or other papers, conducts unnecessary discovery, or engages in other tactics that are frivolous or solely intended to cause unnecessary delay.

Has previously been declared to be a vexatious litigant by any state or federal court of record in any action or proceeding based upon the same or substantially similar facts, transaction, or occurrence.
[Image via Yana Paskova/Getty Images]
Have a tip we should know? [email protected]