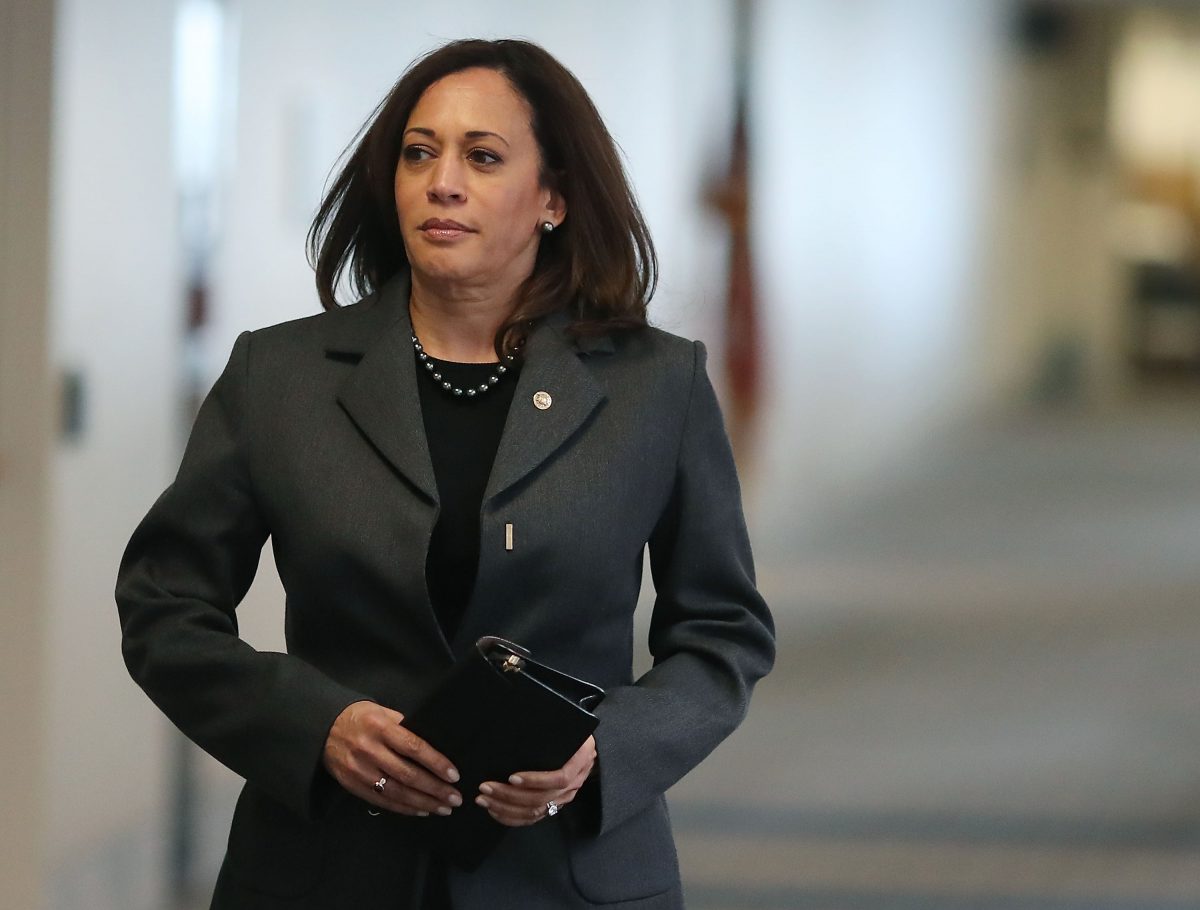 The official White House Twitter account on Monday afternoon accused a sitting United States Senator of "supporting" a transnational criminal organization. No evidence was provided to support the claim.
At 1:33 p.m., the @WhiteHouse account sent the following tweet to California's junior Senator Kamala Harris:
[Senator Harris], why are you supporting the animals of MS-13? You must not know what ICE really does. Here is a link to help you out…
.@SenKamalaHarris, why are you supporting the animals of MS-13? You must not know what ICE really does. Here is a link to help you out: https://t.co/kcrNj4aVMU

— The White House (@WhiteHouse) July 2, 2018
The post contained a link to a news release issued by U.S. Immigration and Customs Enforcement (ICE). The linked story concerns ICE's removal of one El Salvadoran man with alleged MS-13 affiliations–and one Irish man with a manslaughter conviction.
Mara Salvatrucha, commonly known as MS-13, is an international criminal organization which was founded in Los Angeles in 1980. Since then, the group has expanded to El Salvador, Honduras, Guatemala and Mexico. Its worldwide membership is estimated to be around 50,000.
A few thousand MS-13 members are alleged to operate in the United States–mostly in California–and the organization. While attacking his political opponents, President Donald Trump has frequently invoked MS-13's specter as well.
The attack on Harris may be a reference to the senator's recent remarks that Congress should consider "starting from scratch" by performing a vague overhaul of the controversial deportation-focused agency.
Harris' more moderate wording contrasts with the #AbolishICE movement, which appears to be gaining traction with the Democratic base. Spurred on by the recent primary victory of Democratic Socialist Alexandria Ocasio-Cortez over a 10-term incumbent, Democrats are testing new and big ideas that would have previously been dismissed by the party's establishment as unattainable.
Still, the White House's attack on Harris is striking critics as odd. Especially because Harris spent her time prior to joining the Senate as the District Attorney of San Francisco. While there, Harris prosecuted gangs and transnational criminal organizations like MS-13.
Twitter user Tyrone Gale noted the apparent incongruity in a tweet sent just after the White House attacked Harris:
Had to do a double take, one would this misleading attack from the RNC, not the WH.

Kamala Harris took on transnational criminal organizations as AG. You must not know her record.

Here is a link to help you out: https://t.co/A2T0932901 https://t.co/PunTfeEfa4

— Tyrone Gayle (@TyroneGayle) July 2, 2018
A while after that, Harris responded to the White House herself:
As a career prosecutor, I actually went after gangs and transnational criminal organizations. That's being a leader on public safety. What is not, is ripping babies from their mothers. pic.twitter.com/WyyHU3U7jE

— Kamala Harris (@KamalaHarris) July 2, 2018
[image via Mark Wilson/Getty Images]
Follow Colin Kalmbacher on Twitter: @colinkalmbacher
Have a tip we should know? [email protected]