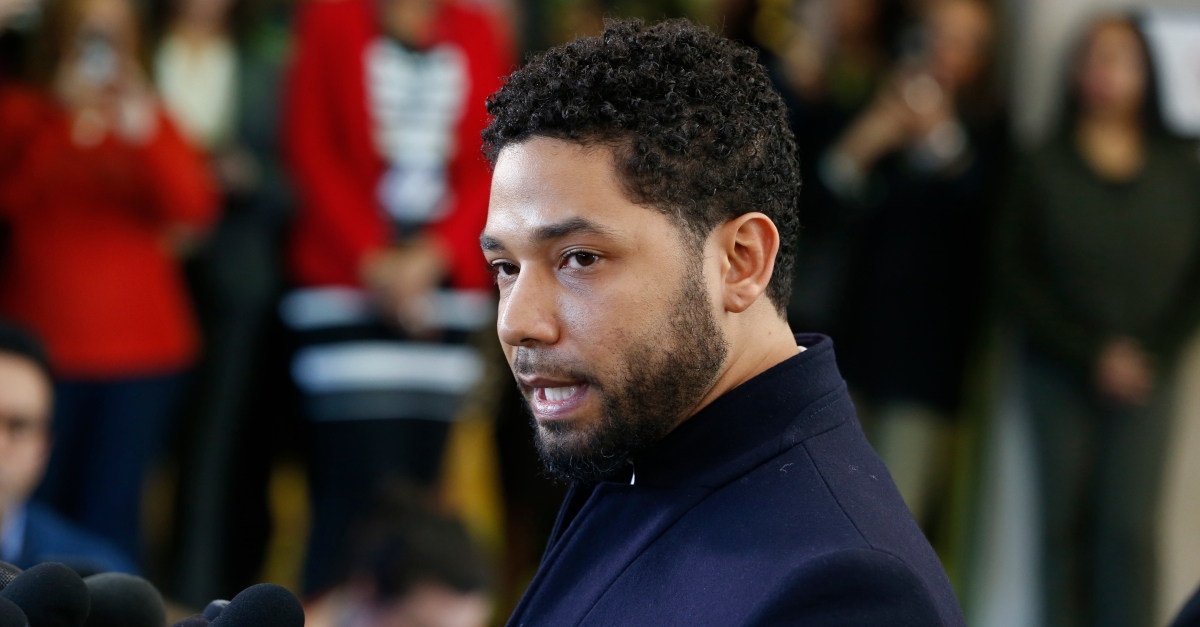 The City of Chicago has been seething ever since Cook County prosecutors decided to drop 16 felony disorderly conduct charges against Empire actor Jussie Smollett, despite their expressed belief that Smollett lied about being the victim of a racist and homophobic assault. On Thursday, the City made good on a promise to sue Smollett in the event that he didn't pay up for allegedly orchestrating a hate crime hoax.
As a result of Cook County State's Attorney Kim Foxx's "alternative prosecution" of Smollett (community service, forfeiture of $10,000 bond, no jail time, charges dismissed), Chicago Mayor Rahm Emanuel promised that Smollett would be footing the bill for the extensive investigative efforts of Chicago police and resources spent. Smollett was given a week by the city to cut a check for $130,106.15. He didn't, so the City filed a civil suit detailing various things Smollett allegedly lied about.
Most everyone knows by now that Smollett claimed he was attacked by masked attackers who yelled racial and homophobic slurs, had a noose with them, and declared that Chicago was "MAGA Country." Over the course of the investigation, police tracked down persons of interest in the attack later identified as Abel and Ola Osundairo. It was their statements that led police to conclude that Smollett a) lied about the attack, b) knew his attackers and c) paid the Osundairo brothers by check to stage the attack. Smollett and his attorneys, however, said that the $3,500 check was actually for a training and nutrition program.
In any event, the City of Chicago is saying that Smollett knew who his attackers were and knew that they were not white, but nonetheless divined that the primary assailant, who "was wearing a ski mask that covered his entire face, with the exception of the area around his eyes," was "white-skinned."
"[Smollett] made this statement despite knowing that the Osundairo Brothers are not white-skinned," the City alleged. "By providing this false description, he purposely misled the CPD officers to believe that his attackers were white, when, in fact, he  knew that his attackers were the Osundairo brothers."
"At no point did Defendant inform police that he knew his attackers or recognized their appearances or voices," the complaint continued.
The City reiterated that they were suing Smollett because the police investigation racked up 1,836 hours of overtime pay.
"[He] knew his attackers and orchestrated the purported attack on himself," the City alleged. "Later, when police confronted him with evidence about his attackers, he still refused to disclose his involvement in planning the attack."
City of Chicago Sues Jussie Smollett by Law&Crime on Scribd
[Image via Nuccio DiNuzzo/Getty Images]
Have a tip we should know? [email protected]