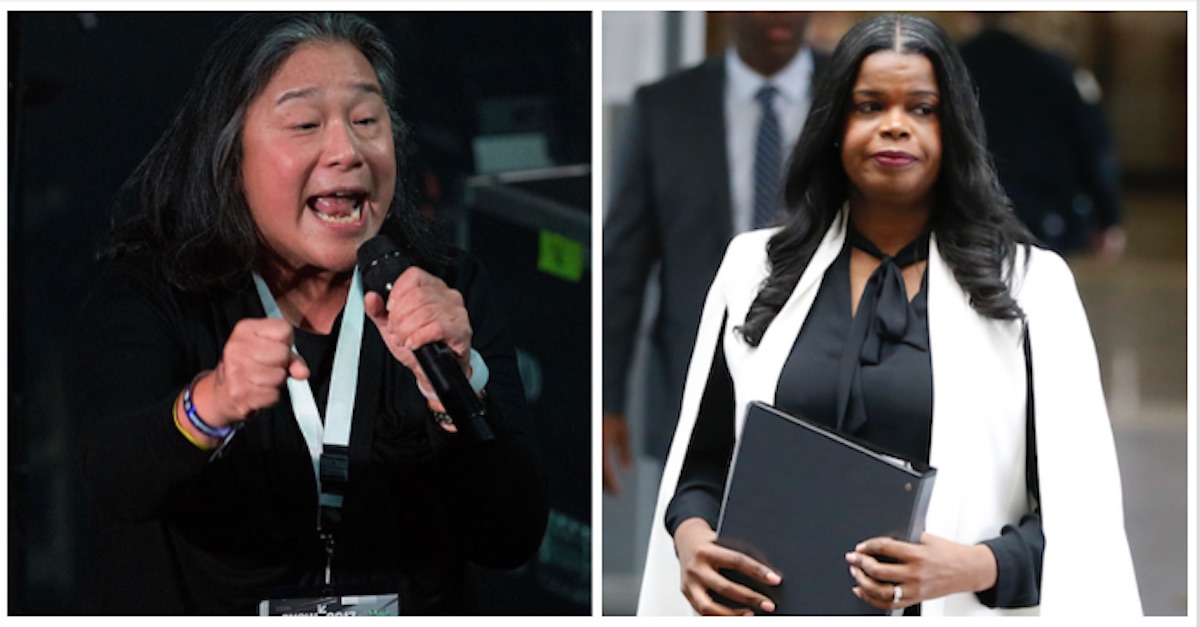 Cook County State's Attorney Kim Foxx and former Michelle Obama aide Tina Tchen are speaking out on Wednesday after a day's worth of backlash in response to the decision to drop multiple felony charges against Empire actor Jussie Smollett.
Foxx's office has and will continue to have a lot of explaining to do. On Tuesday, prosecutors announced that 16 felony disorderly conduct charges Smollett was facing were dropped, opening the door for Smollett's legal team to celebrate an expunged record and say Smollett was a "victim who was vilified."
Foxx controversially announced that "After reviewing all of the facts and circumstances of the case, including Mr. Smollett's volunteer service in the community and agreement to forfeit his bond to the City of Chicago, we believe this outcome is a just disposition and appropriate resolution to this case."
The just resolution? Smollett will not spend time behind bars, but will perform "voluntary" community service and forfeit $10,000 bond — this, after Chicago Police accused him of paying Abel and Ola Osundairo to stage a hate crime that featured a noose, a bleach-like substance, racist and homophobic slurs, and the phrase "This is MAGA country." The Smollett decision occurred even though Foxx's office believed, as police did, that Smollett lied.
Foxx attempted to explain the decision-making on Wednesday. She told CBS Chicago that the Smollett case was treated like "thousands of others with the same level of offense, and the same criminal background."
"This case was treated like the other cases that have gone through our alternative prosecution model," Foxx said. Chicago Police Superintendent Eddie Johnson and Chicago Mayor Rahm Emanuel have both slammed the way the Smollett case was handled, with Emanuel going so far as to call it a "whitewash of justice."
Foxx sought to address concerns that Chicago Police wasted a lot of time, just to see that Smollett wasn't deemed exonerated but wasn't guilty either.
"We are grateful for the work that they have done on this case, but this outcome is not an outlier to similarly situated cases. And I think it's really important that we have that understanding, because this was an outcome that was not unexpected," Foxx said. Foxx said a second time the "outcome was not unexpected."
Then the conversation shifted to another controversy. Former first lady Michelle Obama's former chief of staff, Tina Tchen, was revealed to have emailed Foxx in early February to say Smollett's family was concerned about the police investigation. This was before Smollett was considered a suspect and before he did the Good Morning America interview.
Foxx also later reportedly texted with a relative of Smollett's and told them she convinced Police Superintendent Johnson to reach out to the FBI and get them to investigate the Smollett case.
"Spoke to Superintendent Johnson. I convinced him to Reach out to FBI to ask that they take over the investigation. He is reaching out now and will get back to me shortly"' she said. Examples of messages from Feb. 1, 4, and 12 were released.
Foxx said on Feb. 1 that she was making "no guarantees" but was "trying." A Smollett relative had said "Omg this would be a huge victory," referring to the FBI handling the case.
"I wanted to give you a call on behalf of Jussie Smollett and family who I know. They have concerns about the investigation," Tchen said when she reached out to Foxx.
In any event, Foxx and Tchen each ended up addressing their communications on Wednesday. Foxx said that when the conversations occurred Smollett was considered a victim in the case and nothing untoward occurred.
"At the time that I spoke to the family member, the superintendent knew that I had spoken to the family member. I had shared with him the conversations that we had, and the concerns that they had, and it was the same day that the superintendent went on television and affirmed that Jussie Smollett, at the time, was a victim, and had no reason at that time to suggest otherwise," she said.
She also denied that Tchen, a Chicago attorney, or the Obamas tried to influence her to drop the charges.
"There was no attempt, whatsoever, to influence the outcome of this case. None whatsoever," Foxx said, according to CBS Chicago, emphasizing that she believes that "the outcome […] based on the allegations, and again the class 4 felony and no background, are an outcome that we could expect with this type of case."
Tchen would also release a statement on Wednesday.
"I know members of the Smollett family based on prior work together," Tchen said, according to the Chicago-Tribune "Shortly after Mr. Smollett reported he was attacked, as a family friend, I contacted Cook County State's Attorney Kim Foxx, who I also know from prior work together."
"My sole activity was to put the chief prosecutor in the case in touch with an alleged victim's family who had concerns about how the investigation was being characterized in public," she added.
As Law&Crime's Ronn Blitzer noted earlier Wednesday, these conversations between Foxx and the Smollett relative highlighted another issue: a question about whether Foxx had actually recused herself from the case.
Back in February, Foxx's office said that she was recusing herself from the case to avoid a possible conflict of interest.
"Out of an abundance of caution, the decision to recuse herself was made to address potential questions of impartiality based upon familiarity with potential witnesses in the case," a spokesperson said.
Despite this, however, Foxx's office continued to handle the case, even though a state law says that in the case of a recusal, a special prosecutor must be appointed by the court. The relevant statute states:
[T]he State's Attorney may file a petition to recuse himself or herself from a cause or proceeding for any other reason he or she deems appropriate and the court shall appoint a special prosecutor as provided in this Section.
Instead, Foxx simply handed it off to her own first assistant, Joseph Magats. Foxx's office eventually acknowledged that Foxx never truly recused herself from the case. A spokesperson for the office said in a statement published by Patch that Foxx "did not formally recuse herself or the [State's Attorney] Office based on any actual conflict of interest. As a result, she did not have to seek the appointment of a special prosecutor." The spokesperson explained the February announcement of a recusal by saying, "it was a colloquial use of the term rather than in its legal sense."
Because of this, Foxx did not violate state law by giving the case to Magats. The office spokesperson said that Magats did not tell Foxx in advance about the decision to drop Smollett's case.
And one more thing: Foxx also claimed that her office never asked for the case to be sealed.
Foxx said "I understand your skepticism" and "[don't] want people to believe that there are two measures of justice for the privileged and those without."
Ronn Blitzer contributed to this report.
[Images via Rick Kern/Getty Images for Tumblr, Nuccio DiNuzzo/Getty Images]
Have a tip we should know? [email protected]