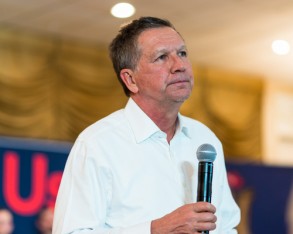 The lawsuit to keep Ohio Gov. John Kasich off the ballot in the Pennsylvania GOP primary was voluntarily withdrawn late on Wednesday afternoon.  As a result, Gov. Kasich will no longer have to worry about whether his name will appear on the ballot for he April 26 contest.
As LawNewz reported yesterday, Nathaniel Rome, a Marco Rubio supporter, filed a lawsuit alleging that Kasich failed to obtain the 2,000 petition signatures necessary for a candidate's name to appear on the primary ballot.  The deadline to submit briefs to the court was set for today, however, this afternoon Rome's attorney, John Bravacos, announced in an email that he had withdrawn the lawsuit.
"Our client has requested that the Objection to the Nomination Petition of Governor Kasich be withdrawn," Bravacos wrote.
The Daily Pennsylvanian reached out to Lawrence Otter, the attorney representing Kasich, and he confirmed that the lawsuit had been withdrawn. Although, Otter told the newspaper that he still planned discuss the matter with the court later this week.
"The only thing I would like the court to do is resolve this issue so we don't have to go through this again," Otter said.
Courts are generally reluctant to offer advisory opinions, so it is unclear if the parties will get any guidance on the issue.
This is a big "victory" for Kasich as there was a strong likelihood that he would not have prevailed had this issue been decided by the courts.  The Kasich campaign reached out to Rubio last week and requested that he ask his supporters to drop the lawsuit, but there is no word on what role, if any, Rubio had in this decision.
[h/t The Daily Pennsylvanian; image via screengrab]
Have a tip we should know? [email protected]