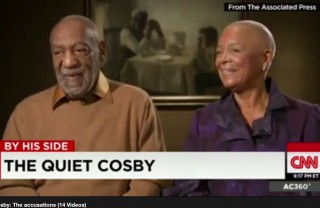 Bill Cosby's wife, Camille, is scheduled to testify this morning at a deposition in Springfield, Massachusetts in connection with a defamation lawsuit filed by seven women against her husband. The plaintiffs are seeking unspecified monetary damages as a result of Cosby allegedly accusing them of lying when they accused him of sexual assault.
Last December, Camille Cosby tried to avoid the deposition on the grounds that she cannot be forced to testify against her husband. Since the spousal privilege in Massachusetts only applies to criminal matters, she relied on the state's marital disqualification rule to argue that any relevant testimony is prohibited by the rule. The rule, however, provides: "In any proceeding, civil or criminal, a witness shall not testify as to private conversations with a spouse occurring during their marriage."
Earlier this month, U.S. District Court Judge Mark Mastroianni ruled that she must, indeed, testify though there are restrictions to what she can be asked—as stated in the rule. He left it to a magistrate to determine whether a formal protective order specifying the scope of the questioning and sequence of witnesses is necessary. Last Friday, the magistrate refused to issue the protective order. Cosby's attorneys then filed an emergency motion yesterday to stay the deposition so they can appeal the magistrate's order. U.S. District Court Judge Mastroianni denied the stay last night.
While questions about private conversations will be off-limits at Mrs. Cosby's deposition, there are potentially plenty of questions that she can be expected to answer. Since Mrs. Cosby has been her husband's manager for years, she may be probed about what she knew and when she knew it. Presumably, Mrs. Cosby knew where and when her husband was performing. That means, for example, she should be able to corroborate dates and cities where a number of women say they were sexually assaulted.
Depositions are sworn testimony and are routinely conducted in civil cases as part of the pretrial discovery process.  The seven plaintiffs suing Cosby are Tamara Green, Therese Serignese, Linda Traitz, Louisa Moritz, Barbara Bowman, Joan Tarshis, and Angela Leslie. Two other women have sued Cosby for defamation in Massachusetts. Kristina Ruehli filed a separate complaint in November 2015 and Katherine McKee filed a complaint in December 2015.
Bill Cosby filed a cross-complaint last December alleging defamation and interference with contracts against these seven women. Cosby claims that the women injured his reputation by making false statements. He also alleges that their false statements caused NBC and Netflix to cancel existing and pending contracts. There do not appear to be cross-complaints against Kristina Reuhli and Katherine McKee—at least not yet.
The cases are pending in Massachusetts because the Cosbys reside in Shelburne Falls in Franklin County, Massachusetts.
[screen grab via CNN via Associated Press video]
Have a tip we should know? [email protected]