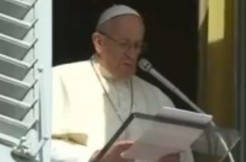 Pope Francis said Sunday that world leaders, especially Catholics, must stop the death penalty. At least for almost a year.
"I appeal to the conscience of those who govern so that international consensus is reached for the abolishment of the death penalty," the pope told a crowd at Vatican City. "And I propose to all those among them who are Catholic to make a courageous and exemplary gesture: May no execution sentence be carried out in this Holy Year of Mercy."
He was talking about the church's Extraordinary Jubilee of Mercy, which started December 8 and runs to November 20. Basically, the pope is calling for people to live up to the divine ideals of forgiveness and compassion.
"The commandment 'Thou shalt not kill," has absolute value and applies to both the innocent and the guilty," he said.
In the United States, most executions are handled by the states, with 31 allowing capital punishment. Maybe the Pope's plea could reach Greg Abbott, who is not only Catholic but the Governor of Texas, which is pretty infamous for its history of executions. But even in jurisdictions where governors can grant clemency to the convicted, only the legislatures can change things permanently. Governors can only sign or veto whatever's put in front of them. Plus, any attempt at reform might be met by stubborn political opposition. This is the kind of battle few, if any, politicians want to engage in during an election year.
So much for mercy.
[h/t USA Today]
[image of Pope Francis via Reuters screengrab]
–
Follow Alberto Luperon on Twitter (@Alberto Luperon)
Have a tip we should know? [email protected]