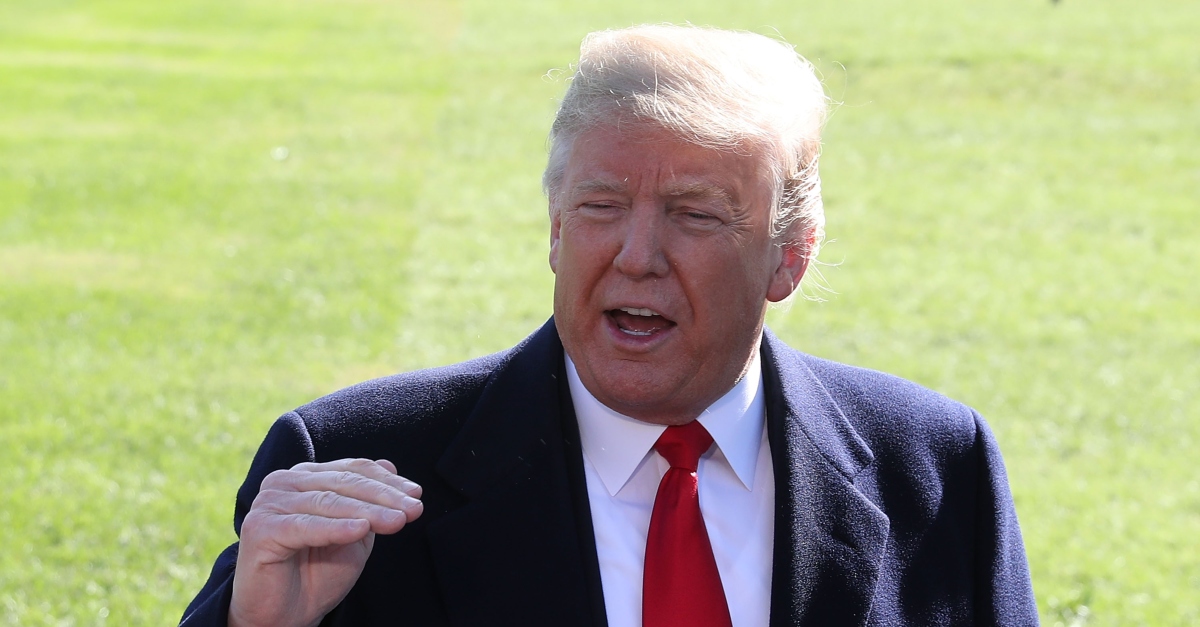 President Donald Trump unloaded on his former fixer Michael Cohen Friday morning, calling Cohen a "bad lawyer," a "fraudster," and a perjurer. Specifically, Trump claimed that Cohen "directly asked me for a pardon." In doing so, he may have made a serious mistake.
"Bad lawyer and fraudster Michael Cohen said under sworn testimony that he never asked for a Pardon. His lawyers totally contradicted him. He lied! Additionally, he directly asked me for a pardon," Trump tweeted. "I said NO. He lied again! He also badly wanted to work at the White House. He lied!"
Questions on whether Cohen lied during a congressional hearing about never asking for a pardon just so happen to be a part of the perjury probe House Republicans have already referred to the Department of Justice. Meanwhile, Trump's attorney Rudy Giuliani is citing this as "more proof that Cohen is a liar."
"The guy says he never asked Trump for a pardon. He's hiding behind having his lawyers do it," Giuliani said. Indeed, on Thursday, Cohen attorney Lanny Davis released the following statement on the subject of pardons, saying that his client has told the truth:
Prior to Michael Cohen's decision to leave the "Joint Defense Group" and tell the truth on July 2, 2018, Michael was open to the ongoing "dangling" of a possible pardon by Trump representatives privately and in the media. During that time period, he directed his attorney to explore possibilities of a pardon at one point with Trump lawyer Rudy Giuliani as well as other lawyers advising President Trump. But after July 2, 2018, Mr. Cohen authorized me as a new lawyer to say publicly Mr. Cohen would never accept a pardon from President Trump even if offered. That continues to be the case. And his statement at the Oversight Hearing was true — and consistent with his post joint defense agreement commitment to tell the truth.
They say Cohen was truthful, while Trump says it's a lie; they say Cohen never personally asked for a pardon, while Trump says that is a lie. But Trump didn't simply say it was a lie, he identified himself as a "key witness" in a "beyond ill-advised" manner according to CNN legal analyst, attorney and impeachment expert Ross Garber.
"It is beyond ill-advised for the President to be tweeting about this. Republicans have demanded that DOJ conduct a perjury investigation. And Trump just identified himself as a key witness," Garber told Law&Crime.
Additionally, House Democrats have been wielding subpoena power of late, so it is possible–maybe even likely– that they will try to subpoena Trump to testify about this. That's no easy task, but it's not out of the realm of possibility that Trump might himself want to testify despite the risks. It should be noted that sitting presidents and vice presidents testifying before congressional committees is not without precedent.
"While there are big issues enforcing a subpoena to the President from either a grand jury or Congress, the President might now face calls to provide testimony voluntarily," Garber said. "And I could see him wanting to testify about this despite facing his own perjury peril."
Editor's note: this story has been updated to include information about the history of sitting U.S. presidents testifying before congressional committees.
[Image via Mark Wilson/Getty Images]
Have a tip we should know? [email protected]