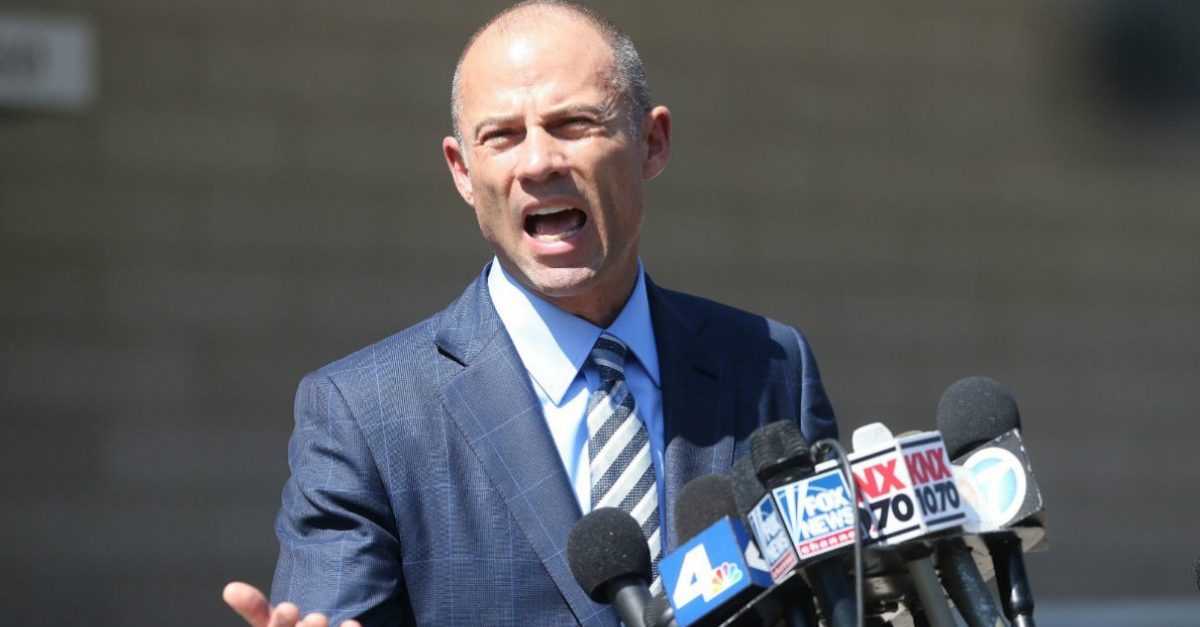 California attorney Michael Avenatti on Tuesday—the day after he was charged in New York and California for crimes like wire fraud, bank fraud, and extortion—came out swinging with more accusations against Nike (the company he's accused of extorting). Avenatti also countered by bringing the Phoenix Suns' young star DeAndre Ayton in the imbroglio.
Avenatti is facing federal charges in New York for allegedly trying to extort millions from Nike by threatening to reveal damaging information to the public if they don't pay him and his client. In a California federal case, he's accused of fraudulently using client money to pay business debts. He responded in a press conference, as he did months ago after his arrest on suspicion of domestic abuse. Charges in that case were dropped.
Avenatti: "I will be fully exonerated."

Video from his brief presser here. pic.twitter.com/BBqNyPi2HI

— Adam Klasfeld (@KlasfeldReports) March 26, 2019
He tweeted this not long before his arrest and charges were announced on Monday.
After a court hearing, Avenatti was reportedly released, having signed a $300,000 personal recognizance bond. Attorney Mark Geragos has been identified as an alleged co-conspirator. He has not responded to Law&Crime's request for comment.
"I want to thank all of my supporters for your kind words and support today. It means a lot to me. I am anxious for people to see what really happened. We never attempted to extort Nike & when the evidence is disclosed, the public will learn the truth about Nike's crime & coverup," Avenatti said later, vowing that he will be "fully exonerated."
Avenatti was ultimately undeterred by his arrest and made the accusations he was teasing.
"Contrary to Nike's claims yesterday, they have NOT been cooperating with investigators for over a year. Unless you count lying in response to subpoenas and withholding documents as 'cooperating.' They are trying to divert attention from their own crimes," Avenatti claimed. "Ask DeAndre Ayton and Nike about the cash payments to his mother and others. Nike's attempt at diversion and cover-up will fail miserably once prosecutors realize they have been played by Nike and their lawyers at Boies. This reaches the highest levels of Nike."
Avenatti linked to a CBS Sports story from 2017, headlined "Report: Nike grassroots basketball division served with subpoena by federal agents."
At the time, the FBI named assistant basketball coaches from Oklahoma State, University of Southern California, and Auburn University. Emmanuel "Book" Richardson of Arizona University was also named. This is relevant here because Ayton played the 2017-2018 season at Arizona.
The coaches were placed on leave.
Avenatti then added another name to the narrative, college basketball player Bol Bol. The Oregon Ducks center is the son of former NBA star Manute Bol. Avenatti alleged that he too received money from Nike.
Bol Bol and his handlers also received large sums from Nike. The receipts are clear as day. A lot of people at Nike will have to account for their criminal conduct, starting with Carlton DeBose & moving higher up. The diversion charade they orchestrated against me will be exposed

— Michael Avenatti (@MichaelAvenatti) March 26, 2019
Neither Ayton, Bol, nor Nike have issued a response.
[Image via Mario Tama/Getty Images]
Have a tip we should know? [email protected]