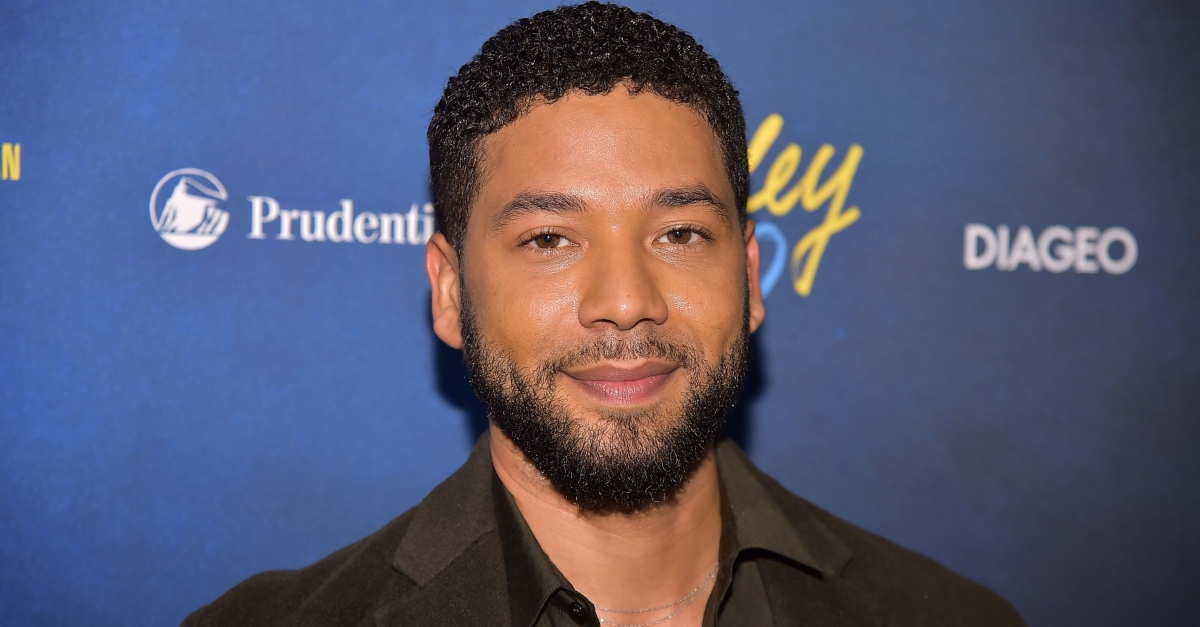 All criminal charges against embattled actor Jussie Smollett were dropped at the Leighton Criminal Courthouse late Tuesday morning.
A statement from Smollett's attorneys welcomed the decision of Judge Steven Watkins–who agreed to put the case records under seal after the bevy of indictments were tossed. Despite the charges being dropped, Smollett will have to perform community service and forfeit his bond as part of an agreement with prosecutors that was approved by the court.
Smollett continues to stand by his original story.
The statement from his legal team also chastised the media and authorities for blaming the victim:
Today all criminal charges against Jussie Smollett were dropped and his record has been wiped clean of the filing of this tragic complaint against him. Jussie was attacked by two people he was unable to identify on January 29th. He was a victim who was vilified and made to appear as a perpetrator as a result of false and inappropriate remarks made to the public causing an inappropriate rush to judgement [sic].
"Jussie and many others were hurt by these unfair and unwarranted actions," the statement continued. "This entire situation is a reminder that there should never be an attempt to prove a case in the court of public opinion. That is wrong. It is a reminder that a victim, in this case Jussie, deserves dignity and respect. Dismissal of charges against the victim in this case were the only just result. Jussie is relieved to have this situation behind him and is very much looking forward to getting back to focusing on his family, friends and career."
A grand jury previously charged Smollett with 16 counts of disorderly conduct over allegations that he lied to police about a hate crime incident implicating supporters of President Donald Trump.
On January 29, Smollett was attacked by two individuals. He claimed they shouted a pro-Trump slogan, tied a noose around his neck and poured a chemical substance on him. The Chicago Police Department (CPD) initially investigated the incident as a hate crime.
"Overnight, the Chicago Police Department received a report of a possible racially-charged assault and battery involving a cast member of the television show Empire," a statement released by CPD spokesperson Anthony Gugliemi noted. "Given the severity of the allegations, we are taking this investigation very seriously and treating it as a possible hate crime. Detectives are currently working to gather video, identify potential witnesses and establish an investigative timeline."
Soon thereafter, leaks from the CPD quickly shifted the narrative against Smollett–and it was widely reported that Smollett may have fabricated a hoax-like incident by paying two brothers to stage the attack.
Prosecutor Kim Foxx said in a statement:
After reviewing all of the facts and circumstances of the case, including Mr. Smollet's volunteer service in the community and agreement to forfeit his bond to the City of Chicago, we believe this outcome is a just disposition and appropriate resolution to this case.
[image via Theo Wargo_Getty Images]
Have a tip we should know? [email protected]