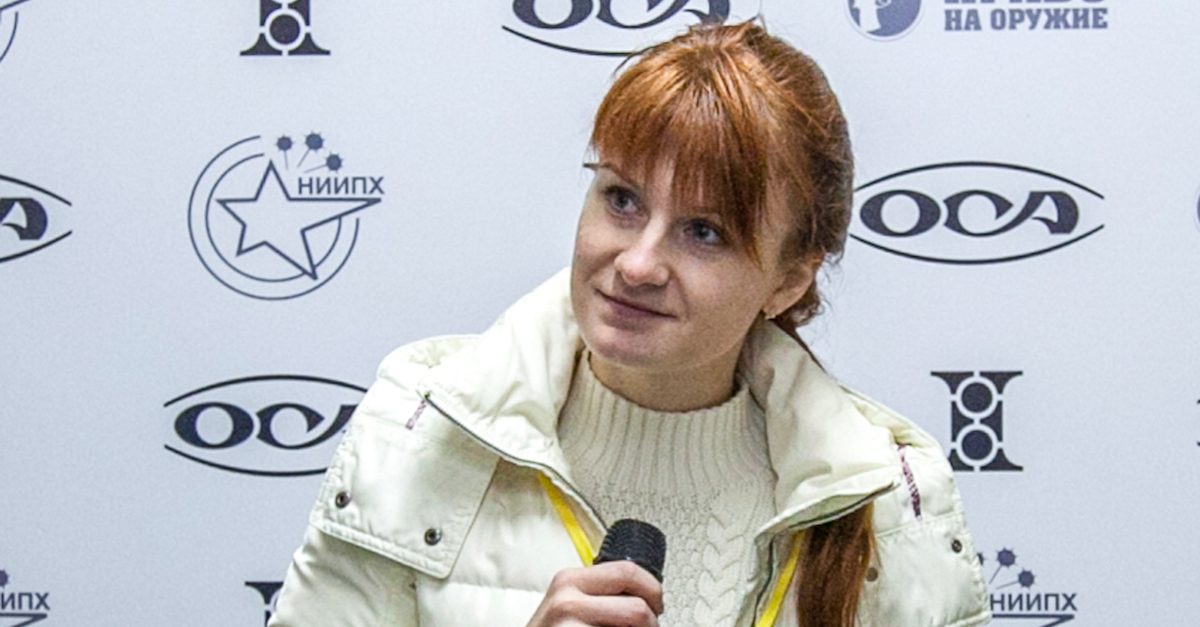 Alleged Russian spy Mariia "Maria" Butina is more than likely going nowhere until her trial, the latest filing in her case suggests. Prosecutors argue that Butina, who is scheduled to appear in court Wednesday, is a major flight risk, and they fear that the Russian government will attempt to sneak her back overseas under the cover of darkness. It's also been alleged that Butina offered sex in exchange for a position in a "special interest organization."
There are quite a few lines that jump off the page, so let's count the ways prosecutors are saying there's no way in hell it would be responsible to allow her to be released before trial.
Prosecutors say that Butina's history of "deceptive conduct," the potential seriousness of her sentence (if convicted of a crime),  evidence of guilt and lack of "meaningful ties" in the U.S. all suggest that she is not to be trusted.
In addition, they argue that because the charges also implicate a "senior Russian Federation official," Butina "presents an extreme risk of flight." They fear she will appeal to the Russian government to help her out of this predicament.
"Because Butina has been exposed as an illegal agent of Russia, there is the grave risk that she will appeal to those within that government with whom she conspired to aid her escape from the United States. In sum, the Court should grant the government's motion to detain Butina pending trial," prosecutors said.
"[T]he defendant engaged in a years-long conspiracy to work covertly in the United States as an undeclared agent of the Russian Federation in order to advance the interests of her home country. The plan was calculated, patient, and directed by the Russian Official," prosecutors continued. "The defendant's covert influence campaign involved substantial planning, international coordination, and preparation. The plan for Butina also required, and she demonstrated, a willingness to use deceit in a visa application to move to the United States and bring the plan to fruition."
What's more, prosecutors believe that methods like house arrest, electronic monitoring or another advanced monitoring technique or seizing Butina's passport will not be sufficient to prevent an escape from the U.S. Why? Because Butina could seek asylum at an embassy.
"The defendant need only seek refuge in a diplomatic facility, well before Pretrial Services would ever be alerted, let alone be able to respond," they said.
On the not so meaningful ties Butina did have in the U.S., prosecutors said the FBI determined she "gained access through U.S. Person 1 to an extensive network of U.S. persons in positions to influence political activities in the United States." Butina's photo ops with NRA execs and others figures within the U.S. conservative movement have been well-documented.
Prosecutors said Butina and U.S. Person 1, age 56, "are believed to have cohabitated and been involved in a personal relationship during the course of Butina's activities in the United States […] but but this relationship does not represent a strong tie to the United States because Butina appears to treat it as simply a necessary aspect of her activities."
As proof of this, prosecutors said Butina offered sex for access.
"For example, on at least one occasion, Butina offered an individual other than U.S. Person 1 sex in exchange for a position within a special interest organization. Further, in papers seized by the FBI, Butina complained about living with U.S. Person 1 and expressed disdain for continuing to cohabitate with U.S. Person 1," the filing continued.
As Law&Crime's Ronn Blitzer reported previously, Judge Deborah Robinson orderd Butina to remain in jail until her next court appearance, despite the objection of her attorney. Butina's lawyer Robert Driscoll argued that his client should not be kept behind bars because she is not a flight risk. As proof, he noted that she was questioned by the Senate Intelligence Committee earlier this year, and the FBI raided her home months ago, yet she still hasn't gone anywhere.
"She testified before the Senate Intelligence Committee in closed session — which was not public until today — several months ago, did not flee, cooperated with that request; had her house searched in April by the FBI with 15 agents going through everything she had, did not flee," Driscoll said, according to CNN.
Nevertheless, federal prosecutors claimed they were worried Butina would run, and that she should be kept incarcerated. Judge Robinson agreed. Based on what prosecutors have argued, there's little doubt Butina will be freed in any way before trial.
Butina is charged with conspiracy to act as a foreign agent, and faces up to five years in prison and a $250,000 fine.
Ronn Blitzer contributed to this report. 
[Image via STR/AFP/Getty Images]
Have a tip we should know? [email protected]