A Texas mother was sentenced to life in prison on Friday after pleading guilty to the starvation murder of her 1-year-old daughter, who died weighing less than she did at birth.
Sage Angel Rose Wright, now 24, pleaded guilty in the Wichita Falls case just two weeks after her husband Christian Miguel Bishop-Torrence, 26, was sentenced to life in prison over the death of 1-year-old Georgia Bishop-Torrence. Though the parents noticed their baby had been losing weight for months, they let Georgia starve to death in 2021, prosecutors with the Wichita County District Attorney's Office said. As in the case against Bishop-Torrence, the life sentence means there will be no capital murder trial and, therefore, there is no longer any chance Wright will be put to death by the state.
Baby Georgia died on June 11, 2021 after she was brought to United Regional Health Care System by her father, as Law&Crime reported previously. Bishop-Torrence had planned to get go get fast food with a friend before he checked on the baby girl and realized the victim was gasping for air, breathing slow and shallow breaths, and making a rattle noise as she exhaled. He took the baby to the hospital at 11:23 p.m., but the baby was pronounced dead at the hospital approximately 20 minutes later.
In the aftermath of the baby's death, forensic examiner Dr. Suzanne Dakil of the University of Texas Southwestern Medical Center determined that it was "highly unlikely" that a "genetic or metabolic problem" caused the baby's weight loss. The victim, who had sores visible on her body, starved to death, investigators found.
The starvation murder sparked even more outrage after jail records noted that both parents were obese — with Bishop-Torrence weighing in at 375 pounds and Wright at 381 pounds. Georgia, on the other hand, weighed just 8 pounds and 8 ounces when she died — which was less than what she weighed at birth. In addition, Wright was accused of telling investigators that she did not bond with baby Georgia like she did with her two other kids.
Wichita County court records reviewed by Law&Crime show that Wright's signed "judicial confession" admitted the following:
On or about June 11, 2021, in Wichita County, Texas, I did then and there intentionally or knowingly cause the death of Georgia Bishop-Torrence by failing to provide food or medical care for Georgia Bishop-Torrence while having a legal duty, as the parent of Georgia Bishop-Torrence, to provide such food or medical care.
The presiding judge accepted Wright's confession, sentenced her to life in prison, and credited her for the 687 days she's served so far.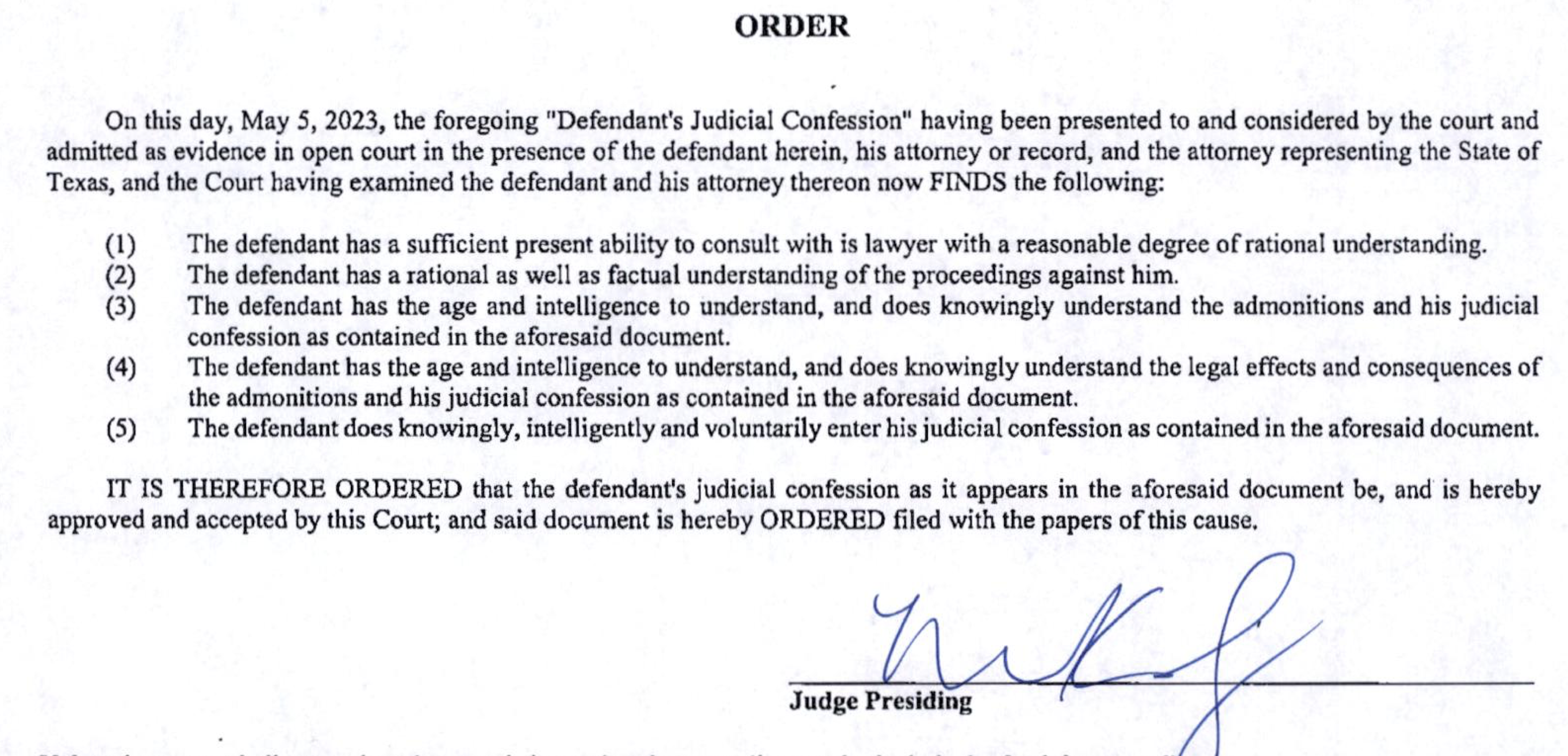 Read the judicial confession, judgment, and admonishment of the defendant for more.
Have a tip we should know? [email protected]