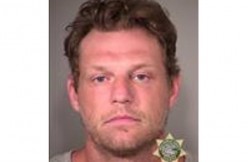 A man who allegedly ran over a black teen in Portland, Oregon is reportedly a white supremacist.
Russell Courtier, 38, and his girlfriend Colleen Hunt, 35, have been arrested for the murder of Larnell Bruce. Courtier and Bruce got into a fight at a gas station while Hunt cheered on her boyfriend, police said. Bruce reportedly pulled out a machete when he began losing the fight, and the white couple jumped into a Jeep.
It didn't end there. Bruce ran away, but they pursued, running him over. And to hear the prosecutors talk about it, this wasn't anything resembling a mistake. According to an affidavit obtained by The Portland Mercury, the couple accidentally missed Bruce in a first attempt, and later drove "across oncoming lanes of traffic and then intentionally struck him with the front of the vehicle." The teen died two days later.
The outlet looked into Courtier some more, and discovered he has been in prison on-and-off through the years, joining a white power prison gang while behind bars. They're called the European Kindred. The Southern Poverty Law Center says they operate out of Oregon. Courtier even got their logo tattooed on a calf.
Courtier and Hunt allegedly confessed to authorities, and a grand jury indicted them on August 18. Online county records show that as of Thursday, they are being held without bond at a Multnomah County jail. The reason they fought with Bruce has not been publicized. Also, they are not being charged with a hate crime at this time, though Oregon does have a relevant statue.
[mugshot via Multnomah County Sheriff's Office]
–
Follow Alberto Luperon on Twitter (@Alberto Luperon)
Have a tip we should know? [email protected]