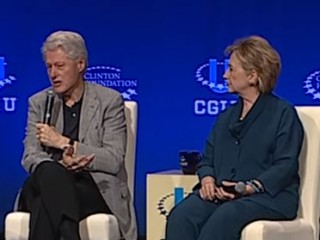 A new report published by Politico says that money President Bill Clinton received as part of a program for ex-Presidents went towards funding Hillary Clinton's private email server. Clinton's camp, however, is denying it completely.
Politico said that their investigation was based on a Freedom of Information Act request that provided documents from the General Services Administration (GSA). The report said that the documents showed that the Clintons "blurred the line between their non-profit foundation, Hillary Clinton's State Department and the business dealings of Bill Clinton and the couple's aides."
The money in question is provided under the Former Presidents Act, which provides for each ex-President a staff, and "suitable office space appropriately furnished and equipped." The report says that President Clinton used the public funds to purchase IT equipment and servers at the Clinton Foundation. Politico's original headline said, "Bill Clinton used tax dollars to subsidize foundation, private email server."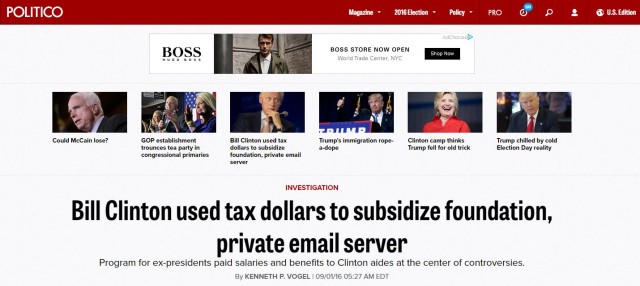 Clinton campaign press secretary Brian Fallon said on Twitter that the report is just not true.
This headline is egregiously false. Server hosting HRC's email during State tenure was paid for w/personal fundshttps://t.co/FblUHKlOhQ

— Brian Fallon (@brianefallon) September 1, 2016
Not only that, he said Politico heard their side of the story and ran the report anyway.
We told this fact to Politico days ago and will be demanding a correction.

— Brian Fallon (@brianefallon) September 1, 2016
Politico then changed their headline to say "Bill Clinton used tax dollars to subsidize foundation, private email support." They did not include any editor's note to accompany the change.

Then they changed the headline again, to say that the money was used by Clinton aides, not President Clinton himself. An editor's note was also added to the end of the article, saying, "Note: The headline on this story has been revised to reflect that GSA funds were used for IT support."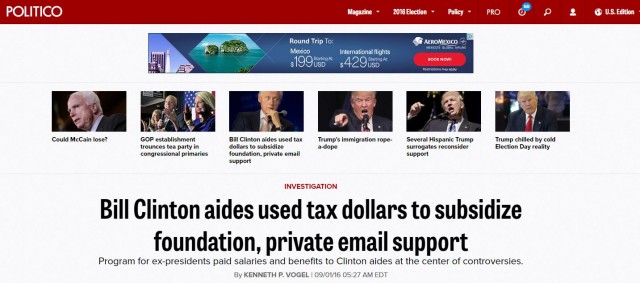 Besides discussing email-related expenditures, the report says that many Clinton staffers received payment from both the Former Presidents Act funds and the Clinton Foundation, but the Foundation's website says otherwise. It says:
All Foundation employees are paid for work through the Foundation payroll. As a former President, President Clinton has separately allocated funding for a private office and for associated costs (rent, utilities, and salaries and benefits for staff). No Foundation staff are paid for Foundation work with taxpayer dollars.
A Clinton aide told Politico that the President's staff and the Foundation's staff often had to coordinate, and shared a Lockheed Martin IQ database. The report says that a GSA spokesman said that they denied a request to fund a server for the database because there was not enough evidence that it would not be used for the Foundation. The Clinton aide refuted this, telling Politico, "We believe that the information GSA provided you with is incomplete. Our files show that GSA purchased the Dell server that operates the IQ database in 2010."
Despite this, the report says that the GSA documents, numbering in the thousands of pages, did not show any evidence of illegal activity.
This article has been updated to reflect Politico's headline changes and editor's note.
Have a tip we should know? [email protected]