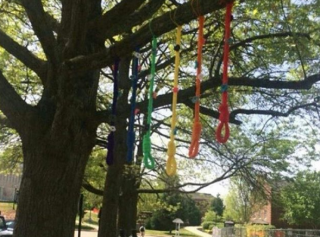 Several people complained Monday evening when they spotted six nooses, each a different color, from a tree on the campus of Austin Peay State Univeristy in Clarksville, Tennessee. Campus police removed the nooses, said to be arranged in a rainbow fashion, once they found them, WKRN reported.
University officials did not know who put them up or what statement they were trying to make, but president Alisa White said, "Regardless of the intent, the display has no place on our campus. I am saddened, and I am sorry for the hurt and offense this has caused and want our students, faculty, and staff to know that it will not be tolerated."
According to The Leaf-Chronicle newspaper, an Austin Peay student explained that the nooses were part of a project for an art class, and that the concept and location had been approved by the teacher. The school is still investigating. A representative from campus police told LawNewz.com that their office will issue a statement some time on Tuesday.
Update 4/19/16 1:35pm: The school has confirmed that the nooses were part of an art project for a course with a focus on yarn, WKRN reported. They say that the final version had not been reviewed or approved by the teacher. The student reportedly told officials they had "no intent for any statement regarding or representation of LGBQT or racially-related social issues." President White and university diversity officer David Davenport are scheduled to hold a school forum Tuesday afternoon to discuss the matter and answer questions from the community.
[Image via NAACP at APSU's Instagram]
Have a tip we should know? [email protected]